Netflix Releases Interesting Engagement Data and Reveals Most Popular Series and Films
So, who is watching what on Netflix? For the past years, we have needed to rely on word-of-mouth or the ever-changing "Top 10" lists on the platform's homepage. The Streaming King of the ongoing battle has been notoriously secretive about giving exact numbers regarding its viewership, and it's left us with more questions than answers. But now that some platforms are releasing day-and-date numbers and other metrics, Netflix has decided to release some fascinating engagement data in order to be more transparent.
What Can We Learn From The New Netflix Engagement Data?
Ted Sarandos, the co-CEO of Netflix, recently spoke at the Code Conference. The conference is home to essential players in the tech industry, and the 2021 event saw speakers including Chelsea Handler, Elon Musk, and more.
Sarandos took the opportunity to share some of their latest engagement data. This includes the most popular series and films based on the number of accounts that spent at least two minutes watching a title within 28 days of its release. Additionally, it revealed the most popular series and films data based on hours spent viewing each title in those critical 28 days.
But why this exact data? For Sarandos, it's all about engagement. This is considered one of their most important indicators of value. And clearly, it's helping them figure out strategies moving forward. The company was recently valued at $252 billion on the market, and shares are at an all-time high.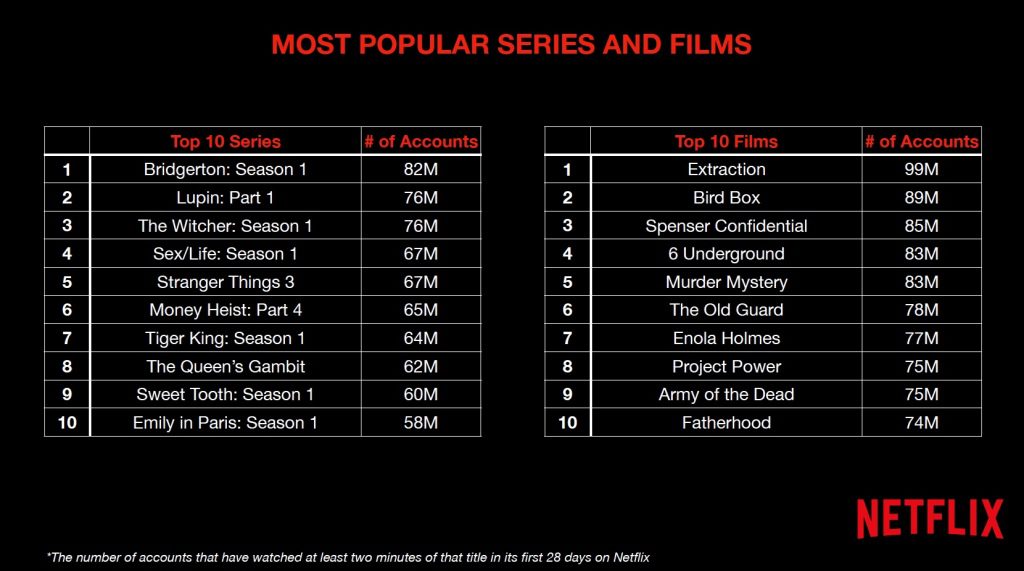 Image via Netflix.
Who Were The Most Popular Winners For Series?
When it comes to series, Bridgerton (season 1), Lupin (part 1), and The Witcher (season 1) all topped the list for the number of accounts watching. Similarly, Bridgerton, Money Heist (part 4), and Stranger Things 3 were amongst the top for total view hours.
Bridgerton is a clear winner, with 625 million viewing hours. Meanwhile, Stranger Things 3 jumped ahead multiple spaces with 582 million viewing hours and only 67 million accounts watching (compared to The Witcher's 541 million viewing hours and 76 million accounts watching.) This shows that you can't just start watching a series for it to dominate the Netflix engagement data. You have to keep watching and re-watching.
It's clear how the engagement data has helped series when it comes to renewals. The shows on the list have all picked up sequel seasons at the very least, other than the limited series The Queen's Gambit. It also points towards the potential success of larger franchises. Sarandos also took the time to hint at a possible spin-off for one of the streamer's biggest success stories, Stranger Things. He called the show a "franchise being born" and alluded to future series that branch from the main plotlines. More spooky sci-fi? Sign us up!
Image via Netflix.
The Movie Engagement Data From Netflix Is Interesting, Too
Most of the series on the list is no surprise. However, some of the top 10 films for both categories are a little more interesting. Extraction and Bird Box both topped the list. After all of the memes, the latter seemed like a guarantee to make the list. But did we all miss the period where everyone was talking about Extraction? I know that I did.
Other surprises include The Irishman. While we wonder how much of this is due to its long runtime, the film wasn't exactly a hit amongst audiences thanks to its niche audience and, well, very long runtime. We'll also admit a little bit of a shock with the high ranking of The Kissing Booth 2, but we'll never forget the force of young adult romcoms again!
Featured image via Netflix.
Netflix Will Be Dominating The Small Screen For Awhile
Plenty of streaming wars talk lately has debated the benefits of day-and-date release strategies. With the HBO Max release route and Disney+'s premiere access plans, Netflix hasn't bothered to compete with that. Sure, the streaming service has birthed all of its IP directly onto the small screen, but they've also dabbled in some theatrical releases for more dramatic pictures like Marriage Story. But Sarandos is honest in sharing that he can't compete with the people who want to go out. They're a "watch on the couch" service, and they'll likely stay that way for a long time.
Readers, we want to know if you're surprised with this Netflix engagement data. Did the shows that you binge-watch make it onto the list? Or are you as surprised as we are with some of the highest-ranking series and movies? Drop your thoughts in the comments!
Featured image via Netflix.
Meghan Hale is the kind of movie lover that has a "must watch" that is a mile long... and growing. When she isn't talking about the latest film and television news she is writing one of her many in-process novels, screaming film trivia at anybody who will listen, and working as a mental health care professional. Follow her on Twitter @meghanrhale for some fun theories and live reactions to all things entertainment.
Leave a comment