Multiverse Of Madness Cameos – Marvel Characters In Doctor Strange 2
There has been near-constant speculation about who we're going to see in Doctor Strange in the Multiverse of Madness. The MCU has always been about the small cameo fan service, but Doctor Strange 2 can do more than wink at Marvel characters from around the multiverse. Any Multiverse of Madness cameos can both make canon characters we've been waiting to join the MCU, and it can change how some of those old failed franchises feel just by acknowledging that they happened and were weird. Learning the 2015 Fantastic Four movie took place in some horrific parallel universe would finally let us move on from it. The MoM trailer drop has us all scrambling to identify and predict who all we're going to see, so we're going to breakdown all the potential Multiverse of Madness cameos. 
What MCU Characters Are Confirmed to Be in Doctor Strange 2
What Marvel characters Doctor Strange 2 is giving us is kind of a complicated question. We could get a character but not the one we've seen develop. We're definitely getting a Wanda (Elizabeth Olsen), Professor Charles Xavier (Patrick Stewart), and a few Doctors Strange (Benedict Cumberbatch). I'm not sure if Wanda counts as a cameo considering how big of a role she's going to play. Either way, the list of confirmed characters is short enough that whatever version (or variant) of Wanda is exciting. The trailer pretty clearly shows multiple Wandas, but where they're from remains to be seen. We even got a few flashes of what even looked like Zombie Scarlet Witch from What If…? and that's just the perfect way to traumatize a woman who already has awesome mental health.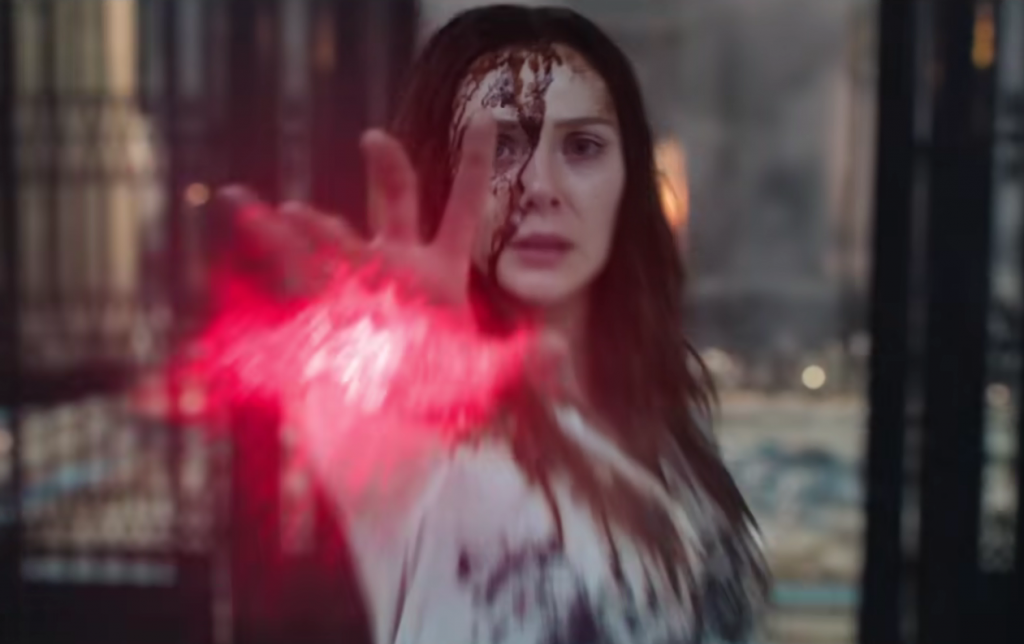 Image via Disney
Also seemingly from What If…?, Strange Supreme looks like he's back at the loss of his insane popped collar. We don't know how big of a role he's going to play, but we're happy with anything we can get. Strange Supreme's arc in What If…? was so sad and satisfying, and we're glad Marvel isn't treating it like a disconnected one-off. Doctor Strange 2 is grabbing Marvel characters from all over the multiverse and might just let them be traumatized at each other.
The big pull for Multiverse of Madness is the one we've been waiting for basically since the MCU began. That voice, that head, it could only belong to Patrick Stewart as Charles Xavier. Marvel has lied to us in trailers before. But even they wouldn't be so bold as to bait and switch us with our very favorite telepath. Xavier looks like he's one of the Multiversal Illuminati, and we just can't stress enough how amazing that the first Professor X cameo looks like he's at an inter-universal courtroom with a few other characters we need to know more about.
We can't know if this is the start of the MCU's introduction of mutants to the main timeline or if Patrick Stewart will be doing anything more than popping in for one scene. We're taking what we can get. Also how perfect would it be if Xavier could talk to Wanda and tell her that her dad is alive and also causes mass destruction while wearing shades of red. The real multiversal madness was the family we made along the way. 
What Marvel Characters We Expect in Multiverse of Madness
The list of confirmed Multiverse of Madness cameos is short, but there's a lot more to see. There are a lot of character appearances that are all but confirmed, and now we just have to wait to see them. First among them are the other Fox X-Men characters we miss so much. Hugh Jackman has said in the past that he was done playing Wolverine, but we can't help but hope for a cameo of the Wolverine we watched for 17 years. If Jackman isn't up for it, Daniel Radcliffe is a popular fan-casting for the MCU's version of Wolverine. And while he does have some of the look and the acting chops, it might be a little hard to reconcile the image of a 5 foot 3 inch Canadian bundle of rage and murder with Daniel Radcliffe, even if he was really good in Swiss Army Man.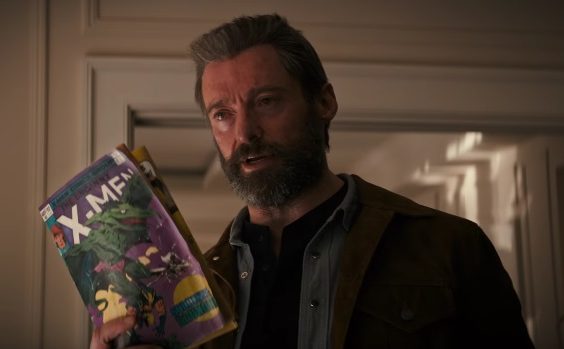 Image via 20th Century Fox
Marvel characters in Doctor Strange 2 can be from pretty much anywhere. That's what makes all this analysis so exciting. In the same spirit as Wolverine, Ian McKellan or Michael Fassbender as Magneto would be incredible to have back. We'd just want more of them after. Deadpool could also show up. If he did, we could see his cameo working like Venom in No Way Home: present but not in conflict, really confused, probably leaving a piece of himself behind if he ends up going back to the Fox universe. 
Namor has reportedly been cast for Wakanda Forever, and there's a chance he'll make an appearance in MoM. Namor, who we can over-simply describe as Marvel's Aquaman, would definitely fit with Marvel's favorite hype-building tool of just having a new character present in a movie they know is going to do well. Including him would be almost like having a cameo of Ben Affleck's Daredevil as a way to build up Charlie Cox's recent entry into the MCU. But that might happen, even though he said it probably won't.
Some Less Possible Multiverse of Madness Cameos 
The moment the Doctor Strange trailer dropped during the Super Bowl, we've all been searching every frame to find familiar or exciting faces we might have missed The MCU is pulling in timelines and parallel universes left and right, so what would have been ludicrous speculation 2 years ago is actually pretty reasonable now. No Way Home brought in Tobey MaGuire's Spider-Man, but can you really get enough of the OG? No Way Home happened to be filming around the same time as MoM. It would just be so perfect if we got another dose of Raimi Spider-Man or Kirsten Dunst's Mary Jane Watson. Dunst has said she'd love to return as MJ. There were rumors that Kirsten Dunst was coming to the MCU back during No Way Home's production, but now we're wondering if she was actually around because her and Tobey would be appearing in Doctor Strange 2.
Image via Sony Pictures Entertainment
The events of Loki set up some of the major conflicts we know are coming to Phase 4 and the release of Kang upon the multiverse. It would be odd to have the literal phrase "Multiversal Madness" in the first episode of Loki and not have some reference to the series. Kang could finally appear as himself. Or even just a sliver in the busted universe of Owen Wilson on a jet ski. We'd be happy with that. It would also be good timing considering the Loki season 2 directors were just announced. 
Other Marvel Characters That May Be In Dr Strange 2
Some of the cameo rumors range from very possible to optimistic and confusing, but we're still here for them. From the trailer, it really looks like there's an Iron Man at work in the multiversal illuminati judgment chambers.  Tom Cruise as Superior Iron Man is a favorite rumor, and it has a little weight. Cruise was supposed to play Iron Man before Robert Downie Jr. came into play. And it would also just be an excellent moment for Strange to reflect on the price everyone had to pay. Phase 4 is really leaning into the mental torment. It would be on-theme to see Strange's hope die because his version of Tony Stark is really gone forever.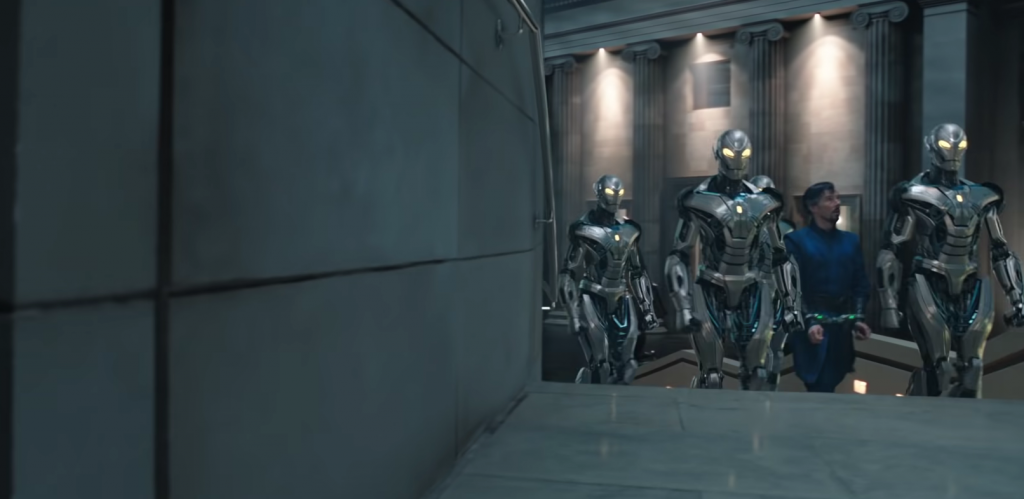 Image via Marvel
It has been 7 years since the last attempt at a Fantastic Four reboot. That's a long time in movie years, and there are rumors the wait might finally be over. Hopefully this time to some better result. Reed Richards is a possibility for the Marvel Illuminati, but it's anyone's guess who would be playing him. It could be John Krasinski, another popular fan-casting that has gained traction for reasons unknown to me. 
Or it could be Ioan Gruffudd from the 2005 Fantastic Four, Miles Teller from Fant4stic, or someone new. It could even be Alex Hyde-White from the unreleased Fantastic Four movie from 1994, though he did play Lord Thornally in Agents of Shield already. If Marvel wanted to pull from the past, they could bring in any of the 1994 Fantastic Four crew, all of whom are still active. It's a stretch because some of them have already done other Marvel projects, but we can still dream.
Doctor Strange in the Multiverse of Madness cameos so far
Charles Xavier (Patrick Stewart) – Confirmed
Wanda Maximoff, Scarlett Witch (Elizabeth Olsen) – Confirmed
Strange Supreme – Confirmed in all but name
Namor – Rumored
Reed Richards – Rumored
Superior Iron Man – Rumored
Wolverine – Rumored
Misc. X-Men – Rumored
Deadpool – Rumored
Daredevil (Ben Affleck) – Rumored
Kang (
Loki cast – Rumored
Mary Jane Watson (Kirsten Dunst) – Rumored
Spider-Man (Tobey MaGuire) – Rumored
Doctor Strange in the Multiverse of Madness comes out May 6th, 2022. 
What Multiverse of Madness cameos are you hoping to see? Tell us in the comments below.
Featured image via Marvel
Jessica Kanzler is a freelance writer and editor who lives with her wife and cats. Jessica has bad taste in tv and an MA in Rhetoric, Writing, and Digital Media studies. Talk to her about Frasier on Twitter @Jessicaakanzler
Leave a comment