Michael Keaton Batman First Look – See The Iconic Bat Costume And JK Simmons As Gordon In Batgirl
Get hyped DC fans because we just got our first look at Michael Keaton as Batman and JK Simmons as Commissioner Gordon in Batgirl! The HBO Max movie, which will star In the Height's Leslie Grace, is going to focus on the Barbara Gordon version of the superhero and will be directed by Adil El Arbi and Bilall Fallah (Bad Boys For Life). This caused some consternation amongst DCEU fans when the images first hit social media.
Some folks think that this is "proof" that the rumor The Flash movie erases the DCEU, specifically Zack Snyder's contribution, is true. After all, JK Simmons only appeared as Commissioner Gordon in Batman v Superman and Justice League, films with a different Dark Knight. Yet, Ben Affleck is done playing Batman. Pat Hingle, who played Commissioner Gordon in the Tim Burton and Joel Schumacher films has since passed away. It only makes sense in a multiverse where any combination is "possible" to put the two superstars together.
Let's look for ourselves and see what all the fuss is about.
Our First Look at the Michael Keaton Batman and JK Simmons as Commissioner Gordon In Batgirl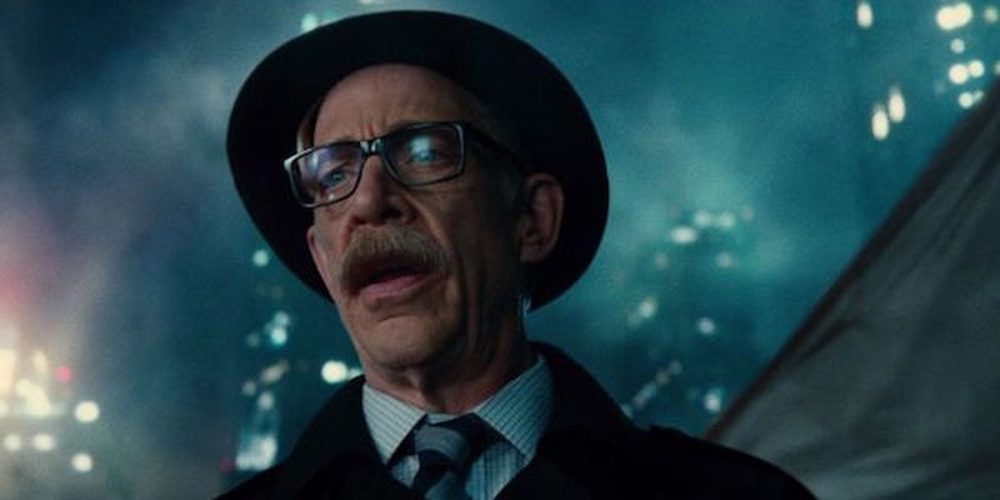 Image via Warner Bros.
Michael Keaton is already making his return as Batman in Andrés Muschietti's The Flash and it was later announced that his Caped Crusader would also be in Batgirl. In terms of star power, Arbi and Fallah's film is also bringing back Simmon's Commissioner Gordon and introducing Brendan Fraser as the supervillain, Firefly. Trans actress Ivory Aquino will play Alysia Yeoh, Barbara Gordon's best friend.
Filming has already started on Batgirl and an eagle-eyed fan in Glasgow spotted Keaton's body double in the Batman suit as well as Simmons as the Commissioner. It appears the duo have apprehended a criminal, although it's unclear if a bigger supervillain is involved. Check out the tweet below:
New! Michael Keaton's #Batman body double with J.K. Simmons as Commissioner Gordon filming #Batgirl in #Glasgow. Was holding on to these but the bat seems to be out of the bag already so here's some decent shots for you, internet! 🦇📽️ @BatgirlFilm #DCEU (Images ©️ Alan Fettes) pic.twitter.com/clHCn4MUL0

— Alan Fettes (@muntermunter) February 15, 2022
In addition, we also saw Keaton himself as Batman thanks to the Twitter account Batgirl Film News. Check that tweet out below:
EXCLUSIVE: 30 years later, Michael Keaton is still the goddamn #BATMAN! #Batgirl

[📸@LukeMcL36558743] pic.twitter.com/wlKA1JB74x

— Batgirl Film News 🦇 (@BatgirlFilm) February 13, 2022
The Hollywood Reporter noted that Michael Keaton's Batman could become something akin to Samuel L. Jackson's Nick Fury in the MCU: a mentor figure who appears in multiple projects. The rumors going around is that after Keaton makes his appearance in The Flash movie, he'll act as a mentor of sorts of Grace's Barbara Gordon, which could be how he becomes involved with Simmon's Commissioner Gordon. Simmon's first interaction with Batman was with Ben Affleck's Caped Crusader in Justice League and also the Snyder-cut. In an interview with Looper via Den of Geek, Simmons said:
"I was as surprised as I was when (Marvel) came back to ask me to do (Jameson) that they were coming to me to play Batgirl's father, Commissioner Gordon again, in this new version of the universe. We've already had lots of discussions about the script and how to play everything. I'm excited by the cast and the directors and…looking forward to diving back into the DC multiverse."
The excitement around Batgirl has been growing steadily as more is shared via social media. Grace recently went on her Instagram account and shared an image of her in the Batgirl suit, and of course, having Keaton and Simmons involved are sure to be a big draw for many fans. Having Michael Keaton in Batgirl is not only exciting because of the nostalgia, but also because it'll tie together the DCEU in a more cohesive way. In Spider-Man: No Way Home, Tobey Maguire and Andrew Garfield coming back proved that the multiverse is alive and well; whether it's DC or Marvel, having multiple timelines and planets allow for beloved characters to come back or be reintroduced.
Batgirl will premiere on HBO Max.
Follow Comic Years on social media for updates on the exact release date. What do you think of Michael Keaton and JK Simmons in Batgirl? Are you excited to see these two powerhouse actors teaming up in the DCEU? Let us know in the comments below!
Featured image via Warner Bros.
Leave a comment