MCU Black Panther 2 First Lesbian Kiss Removed From Final Version
Inclusivity is notorious nowadays, not only on a racial level but also on a gender level. In fact, this brought controversy for MCU and Disney movies, as was the case with Black Panther 2. These movies could not be released in some countries because of their inclusive content. Other films, such as Thor: Love And Thunder and Lightyear, also suffered the consequences.
Marvel, for its part, is known for its inclusion policy. In the Black Panther saga, you can notice actors and characters of different genders, races and sexual preferences. However, Marvel Studios recently deleted a scene containing a lesbian kiss. It would be Marvel's first scene of this nature, which could cause much controversy. 
Despite this scene being removed from the final cut, Black Panther 2 was unable to be released in China, a huge market for the MCU. Here the industry has an interesting debate about whether studios should put inclusive values before financial gain.
MCU Black Panther 2 First Lesbian Kiss Removed From Final Version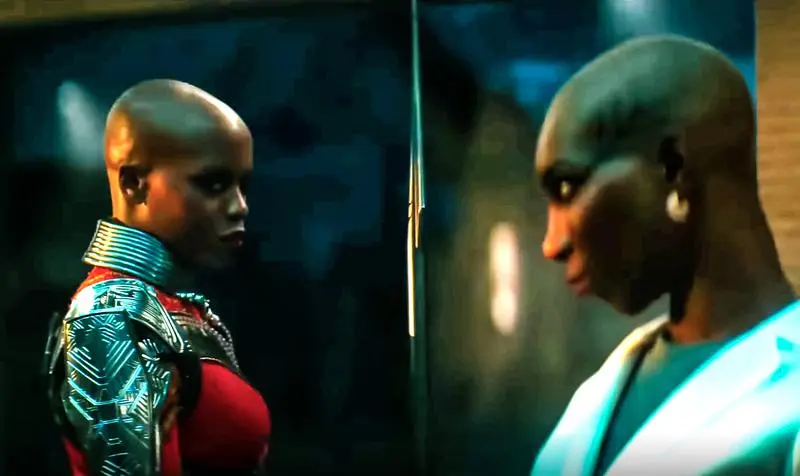 Image: Marvel Studios
Not everything the screenwriters wrote for Black Panther 2 ended up in the final cut. According to a version posted on Reddit's r/Screenwriting. Thanks to this information, we can see that Marvel Studios eliminated some scenes. One of these was a kiss between Florence Kasumba's character Ayo and her partner in Wakanda, Aneka.
The deleted scene occurs after the movie's final fight when the two meet at Aneka's apartment. Ayo offers to the hostess to " as Dora ." At the offer, Aneka kisses Ayo on the cheek, and Ayo kisses her back but on the lips.
The original scene in the movie had the following dialogue:
INT. ANEKA'S APARTMENT – RIVER PROVINCE – DAY

A house party is in full swing. Aneka, dressed in casual clothing opens a door, revealing Ayo in uniform.

Aneka: "General?"

Ayo takes in the revelers behind Aneka.

Ayo: "I am here on behalf of the Elders. They would like to offer you restoration as a Dora."

Aneka: "The Elders? That is kind of them, something tells me I had a strong advocate… (in Xhosa) I accept."

Ayo (in Xhosa): "I know."

Aneka gives her a kiss on the cheek, Ayo kisses Aneka on the lips.
The MCU movie Black Panther 2 did show a kiss between the two characters, but it was not on the lips as in the cut scene. It was a kiss on the forehead given by Ayo to Aneka, just as he was about to start the battle against Talocanil. The Hollywood Reporter informed that this was enough to ban the movie in China. 
Another moment they share that looks quite romantic was when the two are fighting against Talocanil's warriors. Aneka yells at her partner to duck. Ayo replies, after dodging the attack, "Thank you my love".
Why the Cut Scene in Wakanda Forever?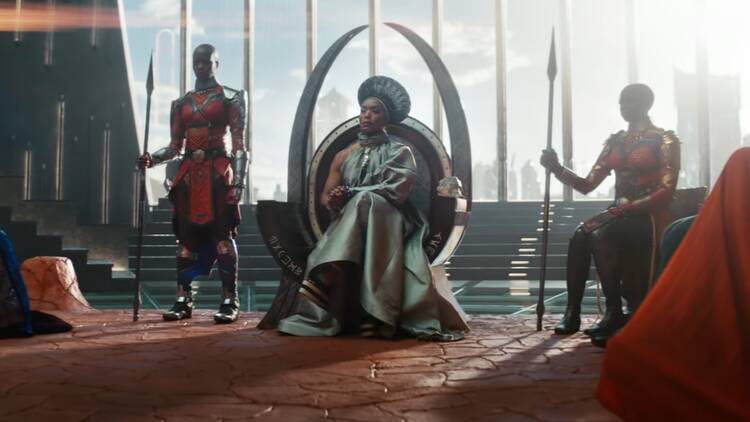 Image: Marvel Studios/Disney
Many wonder why they cut this scene in Black Panther 2, if the MCU has shown similar content before. Indeed, it was not as explicit as a kiss. However, the company was always open to showing elements regardless of gender, race, religion, or sexual preference.
One hypothesis is that it was removed to avoid Disney's controversy with Lightyear. When the movie of the character related to the Toy Story toy was released, there was a big scandal. There was a scene in the movie where two women kiss and care for an infant.
The MCU likely wants to avoid this kind of controversy, hence the change in Black Panther 2. However, the context of both productions is different, considering that Lightyear is intended for children and Wakanda Forever is for teenagers and adults.
Even Wakanda, the most advanced civilization in comics, still has equality issues. (Image: Black Panther: World of Wakanda #5, Marvel Comics)
Other comments allege that Marvel did not want to go that far with the inclusion. This is because it may seem like rejecting heterosexual relationships, so they call it a forced inclusion. They may have made this change to avoid problems with the general public.
A third reason is to avoid criticism of forced inclusion. Although this company is not a victim of these comments, its owner, Disney, has quite a few negative comments about it. Not only with the actress who portrays Ariel in The Little Mermaid, there is also the case of Pinocchio's Fairy Godmother. 
Featured Image Via Marvel Studios 
Leave a comment