The Teaser For Marvel's Eternals Movie Directed by Chloé Zhao Is Here, And It Looks Amazing
There are few Marvel movies more anticipated than the upcoming Eternals film, directed by Oscar winner Chloé Zhao. The film has a star-studded cast that includes Angelina Jolie, Salma Hayek, Gemma Chan, Brian Tyree Henry, and Kumail Nanjiani. There is also a reunion between two notable Game of Thrones actors in the movie, with both Richard Madden (who played Robb Stark) and Kit Harington (Jon Snow) appearing in prominent roles. And at last, we have an official teaser for the movie that is due out in November 2021. Let's take a look at what we know about the Eternals movie, and what the teaser had to reveal.
An Ancient Race Of Super Humans Form The Eternals
The Eternals teaser establishes a team of seemingly immortal beings. The Eternals are a splinter group of humanity, granted powers by the mysterious Celestials. Led by Thena (Angelina Jolie) the group has helped to guide humanity, but not interfere in the progress of human history. However, after the death of Tony Stark and the loss of Steve Rogers in Avengers: Endgame it might be time for this group to step up and start getting involved. (Check out our article for more information on the history of the Eternals.)
Image via Marvel Studios
The teaser shows us snippets of the characters across time and space. Their ancient wisdom is reinforced by the first shot of their giant ship emerging over a land of early humans. We see them being worshipped as gods, and we also see them as fundamentally human. This balancing act between human and god will almost certainly be a theme at the heart of the story.
The Eternals Takes Strides Towards Diversity And Inclusion
Image via Marvel Comics
The ensemble cast of the Eternals is definitely large and sprawling, with actors of all backgrounds appearing (I personally love how many comedic actors are appearing in this film). But if there is a protagonist to be found it is in the character of Sersi, played by Gemma Chan. In an interview with Variety, Marvel head Kevin Feige confirmed that Sersi would be the protagonist of the Eternals.
This marks the first MCU film starring an Asian woman, and directed by an Asian woman as well. These are big steps for the comic book industry, that has typically been dominated by white men. Notably, the Eternals also features the MCU's first queer protagonists in Brian Tyree Henry's character of Phastos.
Chloé Zhao Brings Her Award-Winning Directorial Skills To The MCU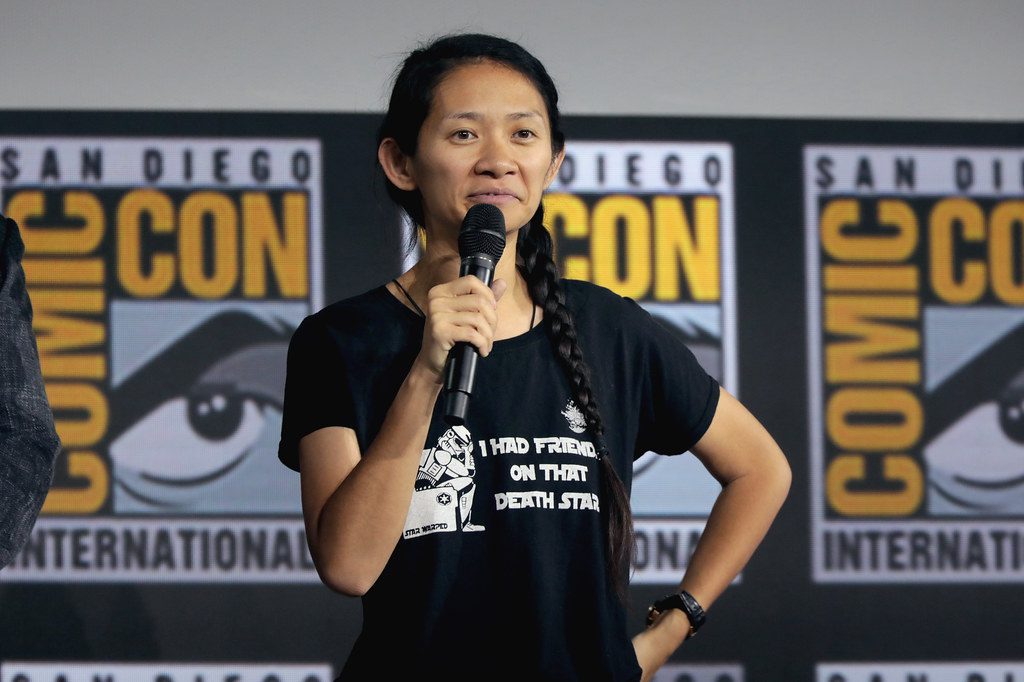 Image via Gage Skidmore on Flickr.
This footage in the Eternals teaser also reveals the stunning world that director Chloé Zhao has created. The visuals are lush and naturalistic, with much of the wide-open landscape photography that Zhao has quickly become known for. The filmmaker recently won multiple Oscars for Nomadland, making history as the first woman of color to win for best director. Nomadland also took home the top prize of the night – for Best Picture.
In that film, Zhao established herself as a nuanced and thoughtful director, who is deeply invested in what makes us human. She has the rare ability to evoke honest emotion from her actors. This is something that is especially valuable amidst all of the artifice of comic book movies. And it also looks like she is bringing a romantic touch to the MCU, with a focus on the love story between Sersi (Gemma Chan) and Ikaris (Richard Madden).
We are extremely excited for the Eternals. And you know we'll be following this film – and all of the other upcoming MCU projects – as we move deeper into Phase 4. Stay up to date by following Comic Years on Facebook and Twitter today!
Emily O'Donnell is a writer and photographer with roots in some of the earliest online fandoms. She cut her genre teeth on the Wizard of Oz books at the tender age of 6 years old, and was reading epic adult fantasy novels by the age of 10. Decades later, she still consumes genre fiction like there is no tomorrow. She is delighted to be living through the golden age of sci-fi and fantasy popularity. She is unashamed of the amount of fanfiction that still lingers online under her name.
Leave a comment