Marvel Star Sebastian Stan to Lead in Apple Original Sharper
Marvel star Sebastian Stan is set to star in the new Apple Original movie, accompanied by amazing actors such as Julianne Moore and John Lithgow. Read on to find out about the plot, cast, and release date for Sharper. 
Marvel Star Sebastian Stan In a New Role
Since 2011, we've seen and appreciated the effort of the Marvel star Sebastian Stan. His devotion to the character of Bucky Barnes a.k.a the Winter Soldier is on a higher level than your average Hollywood actor. His character has saved hundreds of lives across MCU movies such as Captain America: The Winter Soldier, and Captain America: Civil War. On the same note, Sebastian Stan is also going to reprise his role in the 2024 title Captain America: New World Order.
This time around, Sebastian decided to take on a rather different role. Moreover, he will co-star with Julianne Moore in the newest Apple+ Original movie titled Sharper. Read on to find out what the movie is going to be about. 
Sebastian Stan in Sharper
Apple Original Movie Sharper: Cast, Plot & Release Date
Apple+ has been one of the most popular streaming services of 2021 and 2022. Moreover, they are highly likely to keep their ratings high this year as well. To mark a great start to 2023, Apple+ just dropped the first trailer for their upcoming movie Sharper. 
The casting of the movie includes actors such as Julianne Moore, as well as the Marvel star Sebastian Stan. Moreover, some of the familiar faces we are about to see are John Lithgow, Justice Smith, and Briana Middleton.
When it comes to the directing and producing team, the director is the one and only Benjamin Caron. The production team consists of Jessica Switch and Erik Feig. Moreover, Julianne Moore and Bart Freundlich will join the production team. Julia Hammer and Amy Herman will fill in the seats of the executive producers. The official date of release on the streaming platform stands at February 17th, 2023. 
The plot of the movie starts with Julianne Moore in the role of a single mother. She has her eyes on a very wealthy man and plans on seducing him. On the other hand, her son, portrayed by the Marvel star Sebastian Stan, has his own bargain to win from this odd relationship. 
Lead stars Sebastian and Julianne Moore then plan on raiding John Lithgow's character's fortune. However, the plan starts to spiral down when they encounter the unexpected. With such an intriguing plot, as well as amazing production and acting teams, the movie is set out to be a major success for Apple+.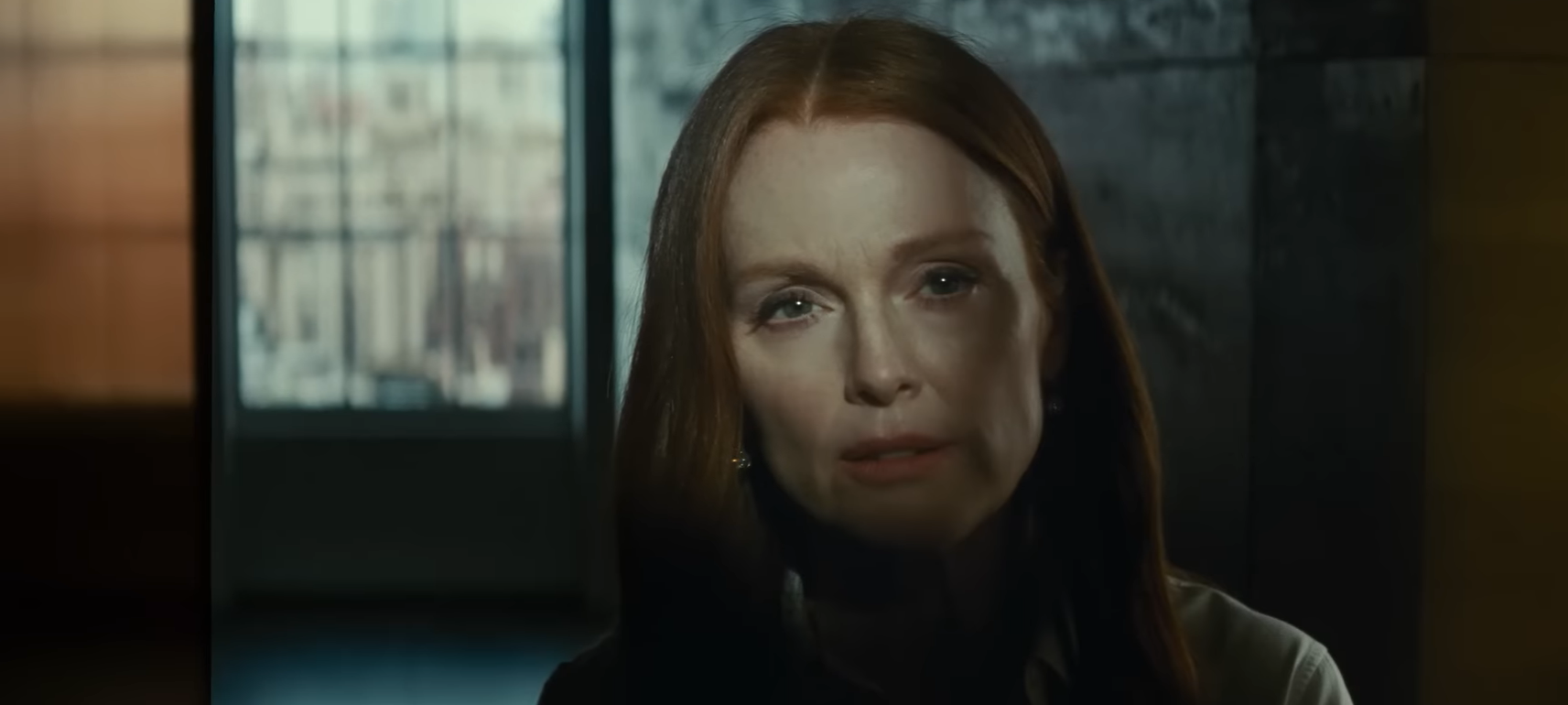 Julianne Moore in Sharper
Obsessed with anime, all-things magical, collecting rare editions and funko pops, Natalija is a young writer who strives to read every comic and manga out there!
Leave a comment