Marvel Star Dominique Thorne Talks How Wakanda Forever Affects The Ironheart Series
Black Panther: Wakanda Forever star Dominique Thorne shares how the Black Panther sequel will affect the events of Disney+'s Ironheart series.
The most-awaited sequel of Black Panther is finally showing nationwide, and it has already introduced more characters into the MCU. One of these characters is Dominique Thorne's Riri Williams. In the film, Riri was personally visited by Princess Shuri (Letitia Wright) and Okoye (Danai Gurira) after one of her inventions got involved in a crisis.
The genius 19-year-old MIT student later becomes an additional force against the new threats that Wakanda faces. With the help of the technological advancements in Wakanda, Riri made her very first Iron Man-inspired armor suit. But at the film's end, she had to surrender the suit back to Shuri and leave Wakanda without it. While that may sound unfortunate, it hints at what adventures the young genius will have, especially now that she finally understood the scope of her intellect.
The next time we will see Dominique Thorne reprise her role as Riri Williams is on MCU's Ironheart. Earlier this year, set photos of the show leaked online, revealing a look at Riri's armor. Some photos also revealed the first look at Antony Ramos' The Hood, who appears to be the main antagonist for the show.
With the events of Wakanda Forever, Riri Williams has experienced firsthand how enormous and complicated the world is outside MIT. But how would the fight in Wakanda against Namor's Kingdom of Talocan changes Riri's future in the MCU? Dominique Thorne shares her thoughts about it.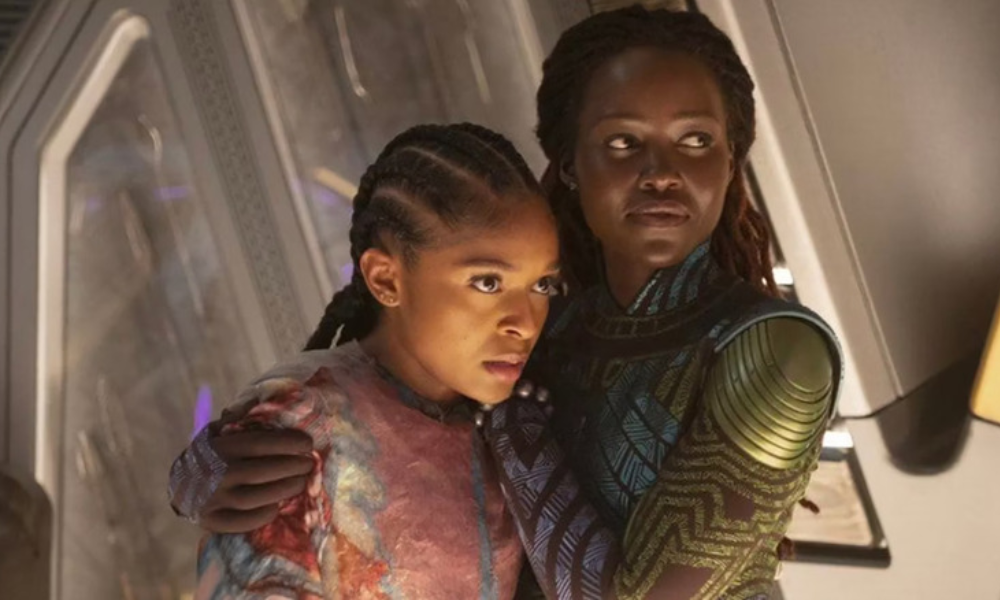 Marvel Studios
Dominique Thorne Teases 
Ironheart
 Series
The ending of Wakanda Forever reveals that Dominique Thorne's Riri Williams returns to MIT. One thing is for sure, Riri will never be the same genius college girl. Now that she learned about Wakanda and the hidden kingdom of Talocan, she'll be up for greater adventures.
In an exclusive interview with Screenrant, Dominique Thorne teases what would be inside Riri's head after the events of Wakanda Forever. She says that what she experienced will be the start of "her having to reckon with this ambition of hers and really start to understand what it might mean." Read Thorne's full statement below:
"It's definitely a question that's best answered by coming over to the series next year, but I definitely think that a lot of what we see with Riri in particular, in Wakanda Forever, is the beginning of her having to reckon with this ambition of hers and really start to understand what it might mean.

I think that up until that point, and as it's hinted in the show, she's moving through MIT. She's got her own little side business going, making a deal over there until she has a reason to look up quite literally and see these larger worlds that are in front of her that she now has no choice but to face. I think that sort of confrontation of nothing but her own brilliance and her own genius is a very exciting thing in itself. I think that, if folks were intrigued enough by that, they might find satisfaction over at the series next year too."
While the details about Ironheart are still in the dark, we know that Riri Williams will face a new threat in the series. Anthony Ramos' The Hood will introduce us to the side of the MCU that deals with magic. The question now is how Riri's technology could face these magical threats.
MCU's Ironheart will premiere in 2023, a few months after the release of Blade. Interestingly enough, Blade deals with another side of the MCU that involves vampires and monsters. This might be a great springboard to introduce The Hood before he appears in Ironheart.
Catch Dominique Thorne as Riri Williams in Black Panther: Wakanda Forever in cinemas worldwide.
Paul is many things. He's a fan of anime, superheroes, and everything in between. He dedicates his downtime to annoying the heck out of his cats and dog.
Leave a comment