Magic Mike's Last Dance Releases First Look Photo
Magic Mike's Last Dance came as a surprise for everyone. Now, don't get me wrong. The first two movies were a blast. And, the box office confirmed almost everyone felt the same way. But, it was supposed to end with the second movie.
However, we now know that Magic Mike 3 is a reality. And, it joins a list of exciting releases for next year. Black Adam was an interesting release. But, we're really excited about The Flash 2. Speaking of third installments, we also have Creed 3 down the line.
That said, I'd be lying if I said those movies hyped me up more. Magic Mike has always been one of my comfort movies. It's that safe place where we can just relax watching wholesome guys.
Thus, I'm sort of emotionally invested in this one. Let's see that sneak peek.
New photo and a new approach to the story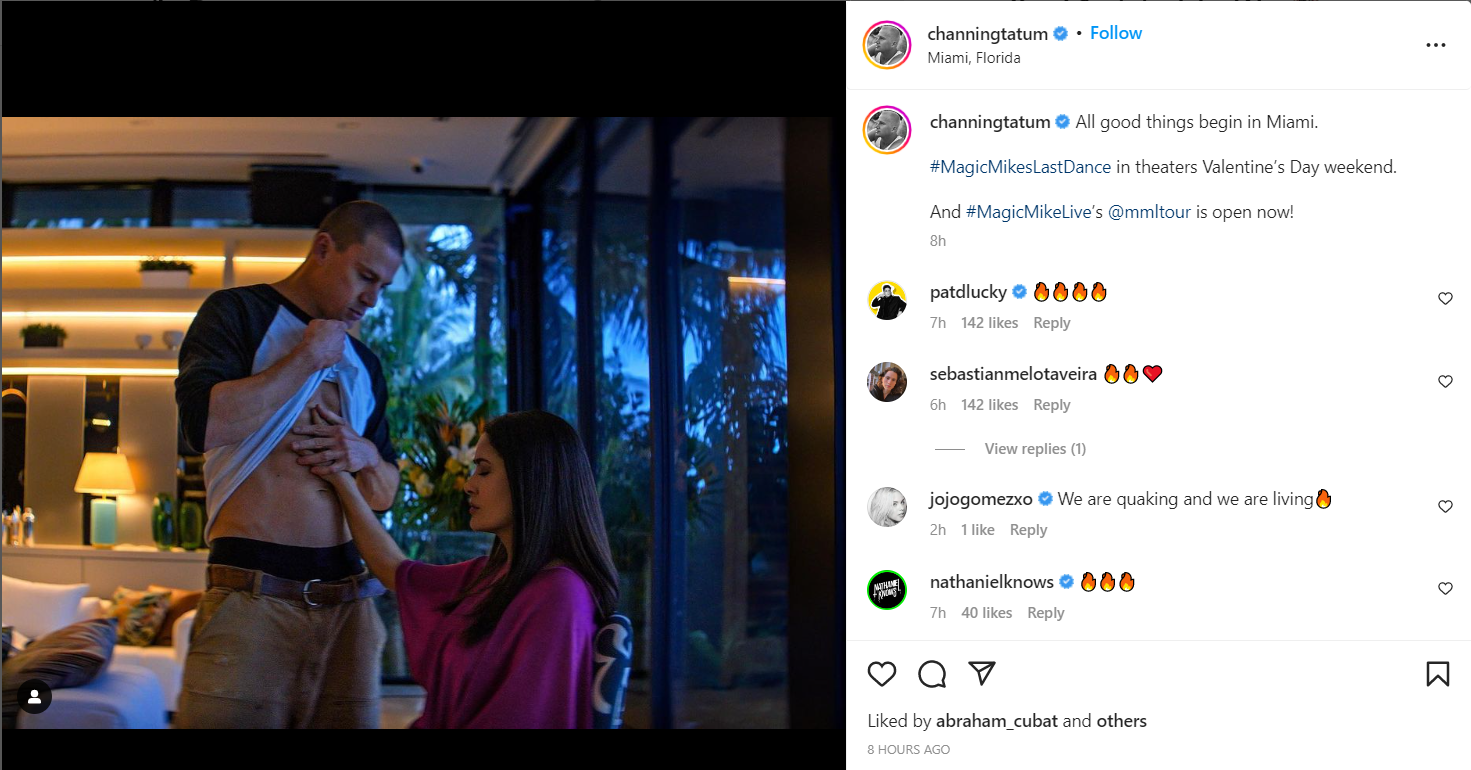 This photo already makes up for the Valentine's gift if you ask me.
The first photo revealed set off fans' thermometers. Just look at it: Channing Tatum and Salma Hayek. On his Instagram page, he shared a picture turning up the heat with the actress. The photo is as subtle as it is mesmerizing.
In it, we can see Tatum holding Hayek's hand as she caresses his abs. I'll be the first one to admit that I'm jealous. The thing is, I don't know who makes me feel more jealous. He's dressed fairly plainly.
Hayek, on the other hand, is wearing a fancy silk robe. I can't distinguish the color. But, it's somewhere between purple and pink. That's all I can say. Her eyes closed while Tatum guides her hand conveys a sense of intimacy.
This post marks the first time Hayek takes the center stage. She came as a replacement for Thandiwe Newton after family matters got in the way.
The details about the plot and story have been scarce. But, Steven Soderbergh has teased where things might go. The storyline will focus on Mike's growth over the films. According to Collider, we'll see his character grow both professionally and personally.
The movie will have a full-blown relationship at its center. The film will probably deal with Mike balancing his whole life. And, now that's a challenge we've never seen before. Yet, Tatum has assured us that it's not a traditional love story.
Magic Mike's Last Dance creating a real trilogy
As Recap Dose explains above, Magic Mike has been a phenomenon. The first movie grossed more than 160 million USD around the world. And, the second installment also surpassed the 120 million USD mark.
Both critics and viewers applauded the story, cast, and choreography. Magic Mike's Last Dance takes the story to new heights. We'll see Mike perform in England. However, we only know Tatum and Hayek are part of the cast. So far, I haven't heard about anyone returning.
Curiously, the movie's production proved how popular the series had become. Security breaches by fans wanting to see the cast oiled up were common. It got so bad that security measures had to increase.
Production has also been quite troublesome. With Hayek's entry, filming probably suffered a delay. The film was also supposed to release exclusively on HBOMax. Luckily, producers confirmed a theatrical release.
Newton's exit from the movie was also somewhat controversial. Some theorized that Will Smith's infamous slap was the reason. But, Newton's team stated that the rumors were untrue.
An unplanned entry in the Magic Mike series
The first two films came out fairly close to each other. Magic Mike XXL came out three years after its predecessor. Nevertheless, it took the third film six years to show up. Why would such a successful series take so long?
Well, the truth is that the plan was to end things with the second movie. But, the Magic Mike Live show in Las Vegas changed his mind. Soderbergh stated that he was blown away by the results. After seeing it, he knew another movie was necessary.
So far, the film is set to release in February 2023. Yet, we know almost nothing about the movie. Let's just hope Tatum reveals more in the future. I know I'll be waiting!
Featured image credit: Channing Tatum.
Leave a comment