A Live Action Last Unicorn Is Coming Along With A Stage Musical
When I was younger, I was obsessed with unicorns. I had unicorn stuffed animals, unicorn stickers, unicorn clothes, you name it, I probably had it in unicorn form. Thus, it makes a lot of sense that one of my favorite movies growing up was The Last Unicorn. While some of the more adult references may have gone over my head, I remember feeling for the Last Unicorn and wanting her to overcome evil and be reunited with her kind. Based on Peter S. Beagle's 1968 best-selling book of the same name, The Last Unicorn is the story of a unicorn who discovers that she is the last of her kind. She sets out to find the rest of the unicorns, and along the way meets new friends and foes. The movie came out in 1982 and had an all-star voice cast including Mia Farrow as the Last Unicorn as well as of Alan Arkin, Jeff Bridges, Angela Lansbury, and Christopher Lee. The book has sold five million copies worldwide and even though it hasn't appeared on more recent fantasy novel lists, it continues to be a noteworthy addition to the genre in general. Now, forty years later, we're going to get a live action Last Unicorn as well as a stage musical! My inner child can not wait!
What Took The Live Action Last Unicorn And The Stage Musical So Long To Get Up And Running?
Image via Jensen Farley Pictures
Beagle seems to have always wanted to expand on The Last Unicorn story, but he's had one heck of a time. After the movie came out, he actually did see two stage adaptations through. Beagle worked with director Elizabeth Huddle and the Pacific Northwest Ballet, and penned a play version of The Last Unicorn, which was performed in 1988 at the  Intiman Playhouse in Seattle. Then nearly two decades later, another stage production of the novel was presented by the Promethean Theatre Ensemble in Chicago in 2009. In 2006, Continent Films announced that they were going to work on their own live-action adaptation, but unfortunately it never got off the ground. This was likely due to the fact that Beagle was trying to regain the rights and creative control to his work. In 2015, he sued and prevailed against his ex-manager for elder abuse, fraud, and other serious claims, which effectively returned Beagle's body of works back to him. The Beagleverse was created, which is essentially a new entertainment company that will support Beagle and all his creative endeavors. The website description says:
"(The Beagleverse) SHP, LLC is a newly formed entertainment company founded by deeply experienced industry veterans Lauren Sands and Michael Heard in partnership with world-renowned fantasy author Peter S. Beagle. Beagleverse® possesses arguably one of the greatest collections of fantasy writings ever created by a single artist, a veritable gold mine of transformative content. Possessing a deep expertise in Live Action, Animation, Broadway Musicals, Comics, Gaming and Disruptive Entertainment Technology, Beagleverse® is poised to leverage Beagle's library and spread the Beagleverse® brand across traditional and emerging platforms and consumer markets."
Now that Beagle has creative control, creating more content from The Last Unicorn should be much smoother. According to the Beagleverse, one of his future projects will be to advocate and raise awareness about elder abuse, while also getting down to business, exploring new projects, and writing new material. He said, "I'm going to be working.  For me, that's perfect.  There are so many possibilities.  This feels like a rebirth.  I'm not only still here, I'm more still here."
Are The Live Action Movie And Stage Musical Going To Be The Same Story?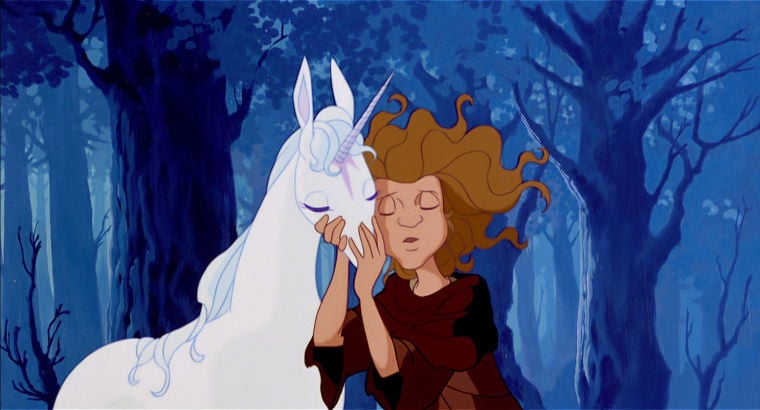 Image via Jensen Farley Pictures
There are no details on what the live action Last Unicorn or Last Unicorn stage musical are going to be like. The only thing we know is that the Beagleverse will be producing the live action film and that singer/song-writer Fergie (yes, Fergalicious Fergie) will be contributing to the musical. All I know if that no matter when these productions come out, I'll be one of the first in line (virtual or real) to grab tickets!
Just for nostalgia's sake, here's the old school trailer for The Last Unicorn:
You can currently watch The Last Unicorn on Amazon Prime Video, Hulu, HBO Now and Starz.
Are you excited about a live action Last Unicorn? What about a Last Unicorn stage musical? Let us know in the comments below!
Featured image via Jensen Farley Pictures
Leave a comment