Little Women Review – Greta Gerwig Reinvigorates A Classic Tale
Everybody knows what Little Women is. Maybe you've read the original novel by Louisa May Alcott. It's likely you've seen one of the many adaptations. Or, maybe you just remember the Friends episode dedicated to Joey reading it for the first time. Regardless of how you know this story, you'll know that above all else, it's a tale of family and sisters. Despite the fact that we may be going through a time of sequel/remake fatigue, our review is that the newest take on Little Women doesn't feel tired. Instead, Greta Gerwig, who both directs and wrote the new screenplay, manages to breathe new life into the more than 150-year-old classic novel. It feels timeless, smart, and refreshing, even though we've seen it all before.
Little Women Review – A Love Letter To Sisterhood
I had the pleasure of watching this film at an early screening as part of TIFF with one of my best friends. Neither of us grew up in a home with as many women as the March family, yet we both felt touched by the story and were able to understand that sisterly bond. So, while this story may be a love letter to sisterhood, you don't have to have grown up in a house full of sisters like the March family to understand the unconditional love shown on screen. Regardless of each of the characters' romances, it's not about romantic love. It's about the true love that comes from family, companionship, and genuine friendship we all can find. We don't all need Timothée Chalamet in our lives, but we do need connection. And that's what the story lives and breathes.
As with the source material, the film takes place in 1860s New England following the Civil War. It closely follows the lives of four sisters, Jo, Meg, Amy, and Beth March. They live with their mother, Marmee. Their father is still deployed. While the novel follows their lives in chronological order, the film flips between timelines. It shows them as young teenagers as they fight, fall in love, and make silly choices.
Once they're more grown, their lives become dramatically different as they each go on separate paths in life. Gerwig allows both timelines to swap back and forth, allowing us to compare their growth throughout. Tragedy ultimately brings them back together, and we're reminded that no matter what happens, they're always going to find their way back home to each other. Though, a review of Little Women is about more than just the plot. It's not the events that inspire us, but the heart throughout.
A Masterpiece In Casting
In what world do you watch a film with Meryl Streep and not have her be the shining star? When the casting for this film was announced, many were ecstatic to see such talented actors like Streep, Laura Dern, and Saoirse Ronan come together on the big screen. While Streep does her usual best, her presence seems to only be there to remind us how big of a film this story is. In fact, it's relative newcomer Florence Pugh (seen earlier this year in Midsommar) who steals the show as the dramatic and whiney Amy March. Amy may often be considered one of the most disliked sisters. Though Pugh brings a new take to the character and we're more than willing to accept her as she is.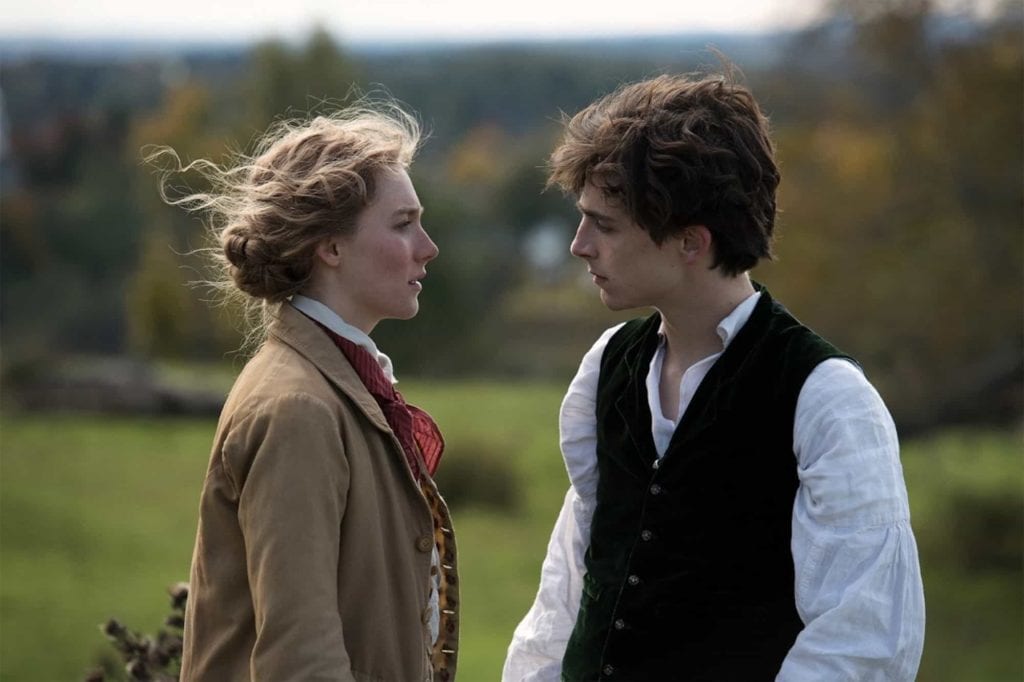 Image via Sony & Columbia Pictures.
Greta Gerwig seems to have a good grip on creating strong bonds amongst her castmates. We've seen Ronan and Chalamet on screen before in Gerwig's outstanding Lady Bird. So, we've known they have chemistry. Chalamet has had the chance to be moody, tough, and in love on the big screen plenty of times. But this film gives him a chance to be goofy and vulnerable in new ways. It's clear that he'll be one of the biggest draws to potential theatre-goers who are excited to see his take on Laurie Laurence. Ronan also has all of the strength to play the beloved and fearless Jo, and it's impossible not to root for her. Though, despite all of the great performances, nobody feels overshadowed. Even Beth (played by Eliza Scanlen), the sister with the least screentime, has the opportunity to showcase her skills.
Little Women Deserves All Of The Attention It Will Get
This film has a wonderful ensemble cast, a talented, must-watch director, and uses a well-known story that we already love. So, it's bound to be getting plenty of attention over the next few months as we navigate awards season. Though it may seem easy to pass up, especially if you already know the ending, it's still a must-watch film this Christmas. It gives a new era of film lovers something to inspire them. And, hopefully, it will remind young women everywhere that it doesn't matter what they want in life – they should go for it anyway.
I recommend that you see this film with somebody that you love like I was able to. Whether its a sister, a mother, a daughter, a friend or a lover, this film is going to make you feel closer to them in the ways that matter. Little Women is a story about empowerment. It's told through the idea that with the right love and support, we can all lead lives as fulfilling as any March sister, no matter what life goal we're chasing. The holidays are the perfect time for this movie to come out. So, I urge you all to watch it this holiday season.
Readers, are you planning on seeing the film this holiday season? We'd love to hear your own review of Little Women if you do!
Featured image via Sony and Columbia Pictures.
Meghan Hale is the kind of movie lover that has a "must watch" that is a mile long... and growing. When she isn't talking about the latest film and television news she is writing one of her many in-process novels, screaming film trivia at anybody who will listen, and working as a mental health care professional. Follow her on Twitter @meghanrhale for some fun theories and live reactions to all things entertainment.
Leave a comment