Lightyear Trailer Teases Buzz Lightyear's Origin Story
As much as I love the Toy Story franchise, I was a little confused when Toy Story 4 came out. Why Disney, why?? Toy Story 3 was such a perfect ending and all that we needed to say good-bye to Woody, Buzz, and company. After watching Toy Story 4 though, I had to admit, that was the ending I needed, which is why I was intrigued (and a little worried) when I saw the news about the Lightyear trailer. I thought it was going to be an iteration of Toy Story 5, but thankfully it's not. So what is the Lightyear trailer all about?
Tell Me More About The Lightyear Trailer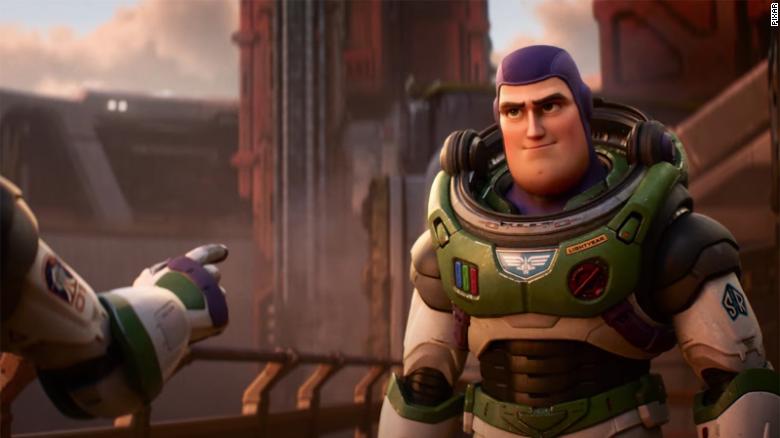 Image via Disney/Pixar
In the trailer, we meet Buzz Lightyear (voiced by none other than Captain America himself, Chris Evans). Not the action figure that Andy owned, but rather, the character that the toy would eventually be based off of. According to the film's director, Angus MacLane (Finding Dory), Buzz Lightyear was the protagonist of a "straightforward sci-fi action film." In an interview with Entertainment Weekly, MacLane said:
"In the Toy Story universe, it would be like a movie that maybe Andy would have seen, that would have made him want a Buzz Lightyear figure. The movie doesn't end and then you see Andy eating popcorn. This is its own thing…This is standalone. It's the Buzz Lightyear movie. It's that character but as the space ranger, not as the toy."
In the Toy Story films, we had learned that the Buzz Lightyear toy was based on a popular sci-fi franchise that starred a character who was captain of the Universe Protection Unit of the Space Ranger corps from the Intergalactic Alliance. When pitching ideas, MacLane thought, "What was the movie that Andy (from Toy Story) saw? Why don't we just make that movie?" Thus, the premise for Lightyear kicked off.
Yes, The Nostalgia Factor Will Still Be There
Image via screengrab
What I love about the Lightyear trailer is that fans of Toy Story will still get to see peeks of the franchises in the film without getting a full-on Toy Story movie. In the trailer, we see the outfit that the Buzz Lightyear toy wears and the familiar "To infinity…and beyond!" is almost uttered before being strategically cut off.
What about evil Emperor Zurg? MacLane has been keeping mum, although he did tease the following:
"If the core elements of what Buzz is were to be paid off correctly, you would want to make sure that he had a laser, you'd probably want to make sure that he had rocket legs, and you'd probably want to make sure that at some point he had a recognizable antagonist. But of course, I'm not at liberty to say anything about anything at this time."
I'm personally hoping for the green aliens to make an appearance, but we'll see. For those that are protective of the Buzz Lightyear character, Evans himself promised that the film "doesn't step on a single thing."
Most Importantly, Who Is The Robot Cat?
Image via screengrab
While I was getting serious Goose the Flerken vibes, I also genuinely want to know what role this "cat" will play in Lightyear! Unfortunately, MacLane is once again keeping us guessing. In an interview with Collider, he said:
"I have been advised that we are not yet ready to share all of the details of the robot cat, but I can tell you that the robot cat does a feature prominently in the film and will be an audience favorite, not in a cynical way, but by design. It's funny, it's a robot cat, but it's still under wraps right now."
At least we won't have to wait until infinity and beyond to learn more because the movie is blasting into theaters next summer.
Watch the Lightyear trailer below:
Lightyear is set to take off June 17, 2022.
What do you think of the new Lightyear trailer? Let us know in the comments below!
Featured image via screengrab
Keilin Huang is a freelance writer that likes the Oxford comma, reading from her neverending pile of books from the library, and Reeses peanut butter cups. She thanks her Dad for introducing her to his Superman comics and probably majored in Journalism because of Lois Lane. Contact her at [email protected]
buzz lightyear
Chris Evans
Disney
lightyear
Pixar
Leave a comment