Kevin Smith Releases First BTS Video: 'Jay and Silent Bob Reboot'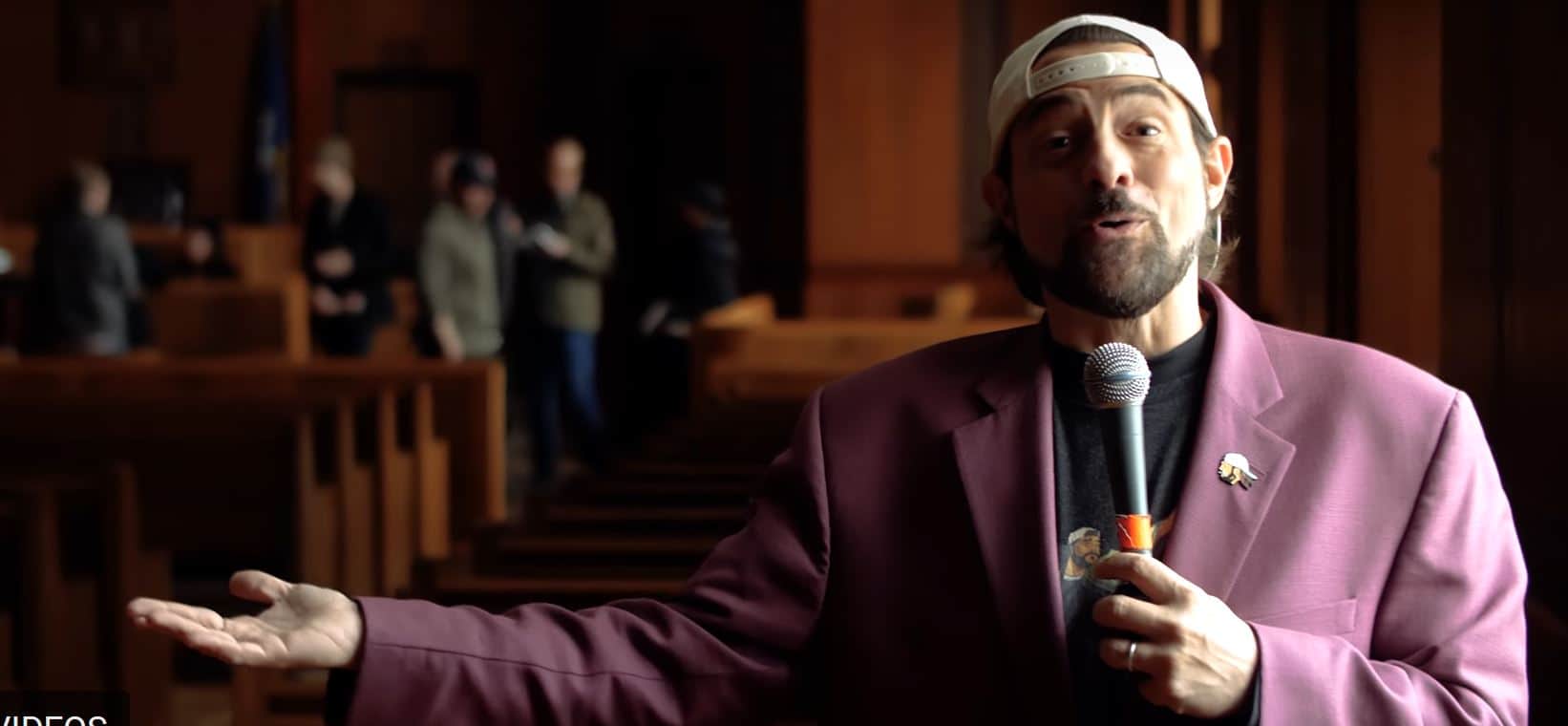 All is set for the long-awaited film Jay and Silent Bob Reboot to be released sometime this fall. As the producers of the Kevin's Smith movie get set for the release date, they are now giving fans a behind-the-scenes view of the soon to be released video.
Chapter 1 of the movie, Road to Reboot takes the fans on a journey to see the works that went into making the movie and also some of the awesome locations where the movie is made. The tour is more like a tech scout in film making where heads of departments hop on buses to see the locations of any movie in the making.
Kevin Smith took fans on a tour of what he used to hate as a kid which he himself confirms. According to him, he said that he was a changed and matured man hence he now loves tech tours. What he used to see as boring and techie, he now embraced wholeheartedly. After suffering a heart-attack, Smith started seeing things from a different perspective. Today, rather, he sees every detail of film-making as important; revealing further his maturity as a filmmaker.
Jay and Silent Bod Reboot
Not much is known about the movie, Jay and Silent Bod Reboot but one thing is certain, Kevin is poised to put so much into the film to exceed the expectation of fans. According to Smith's Twitter post on Tuesday 26th February, almost 10 percent of the film's script was shot on day one. Even more, he further noted that Jason Mewes (Jay) and Jason Lee (Brodie Bruce) talked pop culture in dialogue in two separate centuries.
In his post, Smith also mentioned that Lee made his debut in his View Askewniverse universe in 1995's Mallrats as Brodie. Brodie, in that movie, played an unemployed, comic book-obsessed guy living with his parents. He was jilted by his girlfriend, Rene (a role played by Shannen Doherty) at the beginning of the film. However, at the end of the film, they both reunited while the movie mentioned that Brodie goes on to become the host of The Tonight Show.
Jay and Silent Bob Strike Back revealed that he (Brodie) owned a comic book store called Brodie's Secret Stash. Smith on his twitter posts shared that same store will feature in Jay and Silent Bo Reboot. The store featured in Jay and Silent Bob Strike Back as a location where Smith's fan-favorite characters returned for minor cameos. Consequently, Lee also made an appearance so also his other View Askewniverse character, Banky from Chasing Amy.
Finally, as far as the movie is concerned, fans are looking forward to having the comic book store see similar cameos in Reboot. As you look forward to the film, Jay and Silent Bob Reboot, keep the date saved in your calendar and remember it's going down this fall. Are you ready?
Stay glued to our page for updates on the movie release.
Leave a comment