James Gunn Set To Make A Debut For Lobo in DCEU
Following the revelation of Aquaman's Jason Momoa, it seems like James Gunn will make the debut of Lobo in DCEU finally possible.
With James Gunn, Zachary Levi, and Peter Safran taking the lead for DC, it seems to be a head-to-head battle between DC Extended Universe and Marvel Cinematic Universe. Gunn is a few months away from releasing his latest project in MCU Guardians of the Galaxy Vol. 3. The film will release on May 5, 2023. It might also be his last movie in the franchise, given his crossover to DC with The Suicide Squad.
Having worked closely with both DC and Marvel, Gunn has proved his storytelling powers greatly. After being promoted to take charge of DC Films Creative Division, he made a buzz on his Mastodon account. He shared an image of the DC character Lobo, which sparked speculation among netizens. Some thought that Gunn was eyeing making Lobo part of the DCEU. 
With the recent showing of Black Adam and Gunn's post, it is more likely that DC will bring another anti-hero to the DCEU. Lobo was the creation of Roger Slifer and Keith Giffen. The character first appeared on the pages of Omega Man #3 in 1983. Lobo is a super powerful alien bounty hunter born on the planet of Czarnia and was often pitted against Superman. This could be another plot device to bring Henry Cavill's Superman back into action.     
Jason Momoa, From Aquaman To Lobo
Aside from Gunn's subtle post, there have been rumors about who will play Lobo in DCEU. After landing the role of Khal Drogo in Game of Thrones, Jason Momoa has also played Conan the Barbarian, but he is best known for his role as Aquaman. In 2018, James Wan and Jason Momoa took to waves one of DC's oldest superheroes. And many fans loved the first Aquaman film starring Momoa.
For years, Momoa has openly expressed his interest in playing Lobo in DCEU even before being cast as Aquaman. In an interview with Brandon Davis of ComicBook.com, he asked Momoa if there was a connection between Gunn's post and his dream project to play Lobo in DCEU. He teased, saying,
"Well, everyone knows I'm a comic book fan. The comic I collected the most, and I have every comic there is… you can do your research and find out what it is."
Momoa also revealed that, since 2014, he wanted to play a badass character and not the usual goody-two-shoes persona.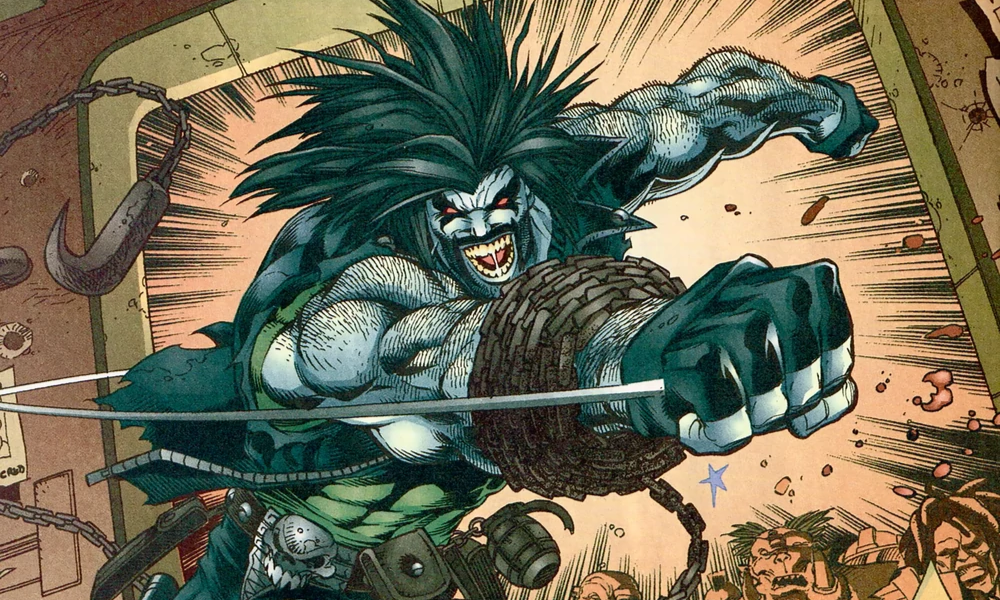 DC Comics
What's in Store for Lobo in DCEU? 
In 2009, DC/ Warner Bros tapped Guy Ritchie to work on the Lobo film but left because he was busy with Sherlock Holmes: A Game of Shadows. Aside from Momoa, other actors who have expressed interest in playing Lobo are Jeffrey Dean Morgan from The Walking Dead and Dave Bautista from Guardians of the Galaxy. In recent years, there have been talks on the resumption of a Lobo film. There were news that the new film would feature Brad Peyton or Michael Bay as its director.   
Since Gunn will be taking the helm in DC Studios, through his wild imagination and Momoa's persistence, we might see Lobo in DCEU. 
Lobo made his live-action debut on the premiere episode of Krypton portrayed by Emmett J. Scanlan in 2019. In the comics, Lobo is closely associated with Superman. Aside from being both aliens to arrive on Earth, the two have the same level of strength. This made him a frequent opponent of Superman in the comics. Aside from being enemies, there were also some instances that they became allies, but given their opposite personalities, this might not happen anytime soon.
Now that Gunn is leading DC Films, it'll be just a matter of time before he makes incredible choices for DC. Whether he'll bring Lobo in DCEU or other prominent DC characters into the mix would be exciting to look forward to. 
Paul is many things. He's a fan of anime, superheroes, and everything in between. He dedicates his downtime to annoying the heck out of his cats and dog.
Leave a comment