How To Watch House Of Hammer
Actor Armie Hammer's career ended abruptly in 2021, following the uncovering of a scandal. Who once had a promising career went from a Golden Globe nominee in 2018 to a man with serious sexual abuse and assault allegations. The issue was so controversial that it even splashed his family, unveiling a dark secret. This article will explain how a victim uncovered the scandal and how to watch House of Hammer.
How to Watch House of Hammer
Hammer in Call Me By Your Name, image via Sony Pictures Classics
Discovery+ airs a new documentary on House of Hammer. All this with the promise of delving deeper into the allegations against the actor in 2021. Highlighting a dark past, with a wealthy family hiding several secrets.
During the official trailer released by Discovery+, you can see clips of conversations with some of the actor's ex-girlfriends, Julia Morrison and Courtney Vucekovich, who provide screenshots of discussions held with Armie. All this to sustain an alleged abuse by the actor. The highlight is how the trailer ends, where Casey, Hammer's aunt, appears to be talking about her own family.
The documentary's directors are Julian P. Hobbs and Elli Hakami, which several archives will support and interviews of surviving victims and family members that expose the "debauchery, deceit, abuse, addiction and corruption" that engulfed five generations.
This scandal involves Armie Hammer, star of several films and great-grandson of oil tycoon Armand Hammer. Last year his agency WMF fired him for facing serious "allegations of sexual abuse and inappropriate behavior".
The scandal in 2021 earned the actor his career, causing his cancellation in Hollywood. Against all this, Hammer has flatly denied these fetish behaviors towards cannibalism. But, this scandal is still on the rise, as we will see in House of Hammer, where a family and its perversities are laid bare.
As for how to watch House of Hammer, the series will premiere this September 2 on Discovery+. To watch it, you will need to register on the platform. Plans are varied, ranging from $4.99/month. New users will be able to sign up for free for seven days.
How Courtney Vucekovich Uncovered Armie Hammer Scandal
Rebecca, image via Netflix
The famous actor from the 2018 movie Call Me By Your Name, in March 2021, was accused by Effie of violent rape and physical abuse. But these accusations were closed by LAPD without filing charges, after nine months of investigation.
These accusations were just the culmination of several months of scandals and confusing rumors surrounding Hammer. At first, these rumors were downplayed as entertaining nonsense, but they ultimately ended his career.
Courtney Vucekovich is the main accuser in "House of Hammer,". She claims that the actor tracked her location on his phone. "One day, when I was on a walk with a friend, Hammer showed up on his scooter", she said. In January 2021, an Instagram account anonymously leaked sexts. These early reports "tended to linger" on lewd acts by Hammer tending toward cannibalism.
As time passed, more women continued to emerge, making accusations against Hammer of some serious behavior. They reported constant manipulation and psychological abuse against them.
All this caused the actor's agent to leave him. His last film was in July 2021, Death on the Nile, "Hammer was almost erased from the publicity push."
Armie Hammer's Family Involved in Controversy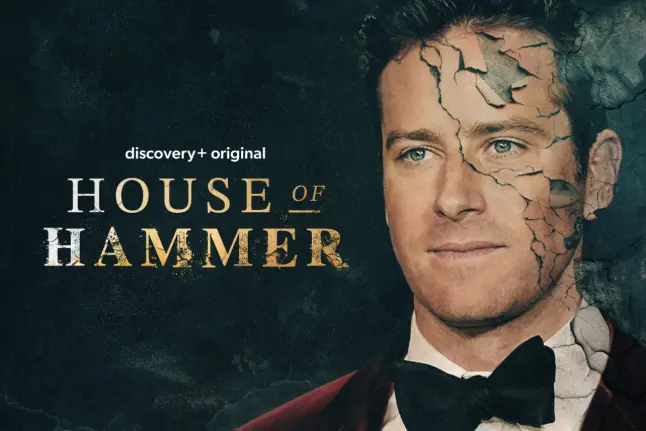 Image: Discovery+
The documentary's name is House of Hammer because he and his family are the focus of true-crime broadcast shows. That family background has included big money, sexual sadism, and dysfunction.
We are referred to by Julie Miller of Vanity Fair that House of Hammer's fortune is linked "to some pretty messed up family patterns." His predecessors have accusations of money laundering and political crimes, among others.
The author mentioned above refers to the old man Armand and his relations with the women and his children, which "were very unpleasant." Where he pressured especially one of his mistresses for more than ten years, subjecting her to very humiliating actions.
Armie Hammer comes from a family background of money, sexual sadism, and abuse of power. His physical appearance has nothing to envy the beauty of the Ken that accompanies Barbie. And his personality, charisma, and confidence make him one of the most attractive rich men.
What made a Hollywood celebrity fall into a tailspin. The constant accusations "seem to speak of a fetish for cannibalism, blood consumption and violent and dominant sex." Changing the actor's beautiful appearance to someone who likes to explore violent fetishes with others, whether they like the idea or not.
Featured Image Via Discovery+
I am a circus aerialist influenced by Dick Grayson and Spider-Man. Fortunate to write about the characters that inspired me. I also have a Bachelor's degree in Political Science and a Master's degree in International Trade.
Leave a comment