A History of James Bond in Film – From Connery to Craig and Everything in Between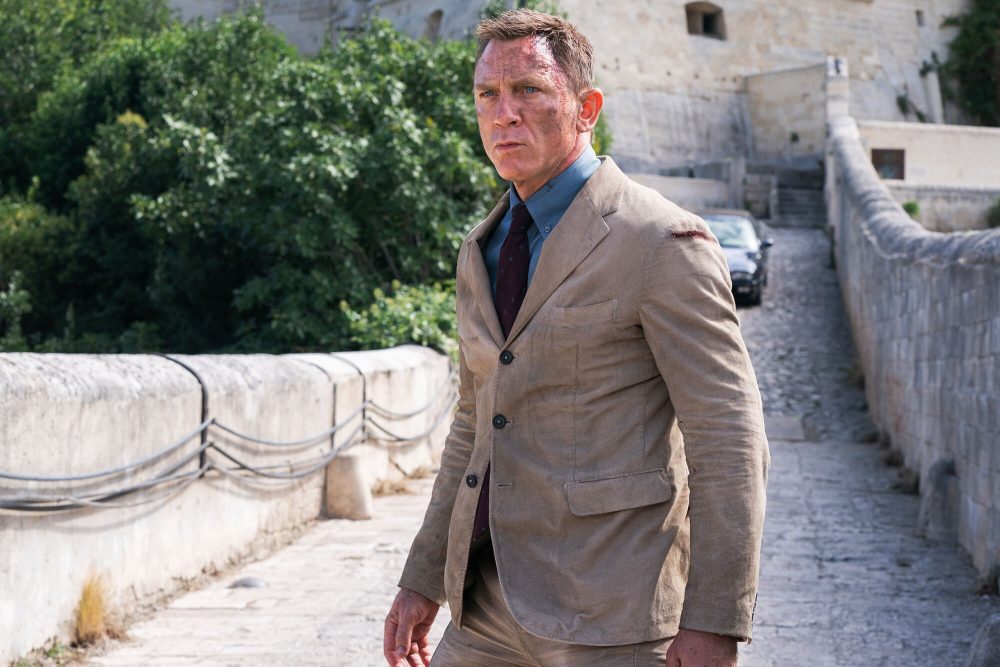 Fast cars. Charismatic wit. Beautiful women. Martinis, shaken and not stirred. James Bond has become one of the most recognizable names globally, and new content within the franchise keeps on coming. But how did we get to where we are today, where 007 is as well known as actual celebrities and history-making icons? In this guide to the history of James Bond in film, we'll look at how the character went from a dull man on paper to one of the most influential men on the big screen.
A History of James Bond In Film Started Long Before The Big Screen
The character of James Bond was created almost a decade before the first film hit the big screen. British writer Ian Fleming, also known for creating Chitty-Chitty-Bang-Bang, brought the character to life in 1953. Part self-insert and part inspiration from the men he saw while working as a naval intelligence officer, Fleming designed a spy that was so cool that we would still be making content about him decades later.
The name itself comes from somewhere completely unexpected. James Bond was an American ornithologist and author of Birds of the West Indies. Fleming, a bird watcher himself, appropriated the name because he thought it to be incredibly ordinary. His original intentions were for him to be a pretty dull guy that exciting things happened to. While he may have started that way, he is now anything but boring.
Casino Royale was the first book written to feature Bond. Published by Jonathan Cape, the book followed our leading man as he goes up against Le Chiffre in a game of baccarat. The stakes are more than just money, and Bond finds out that there is more than one way to lose.
Fleming had written 12 novels and two short story collections featuring Bond before he passed away in 1964. The novelization of Bond has continued, with various authors continuing the legacy.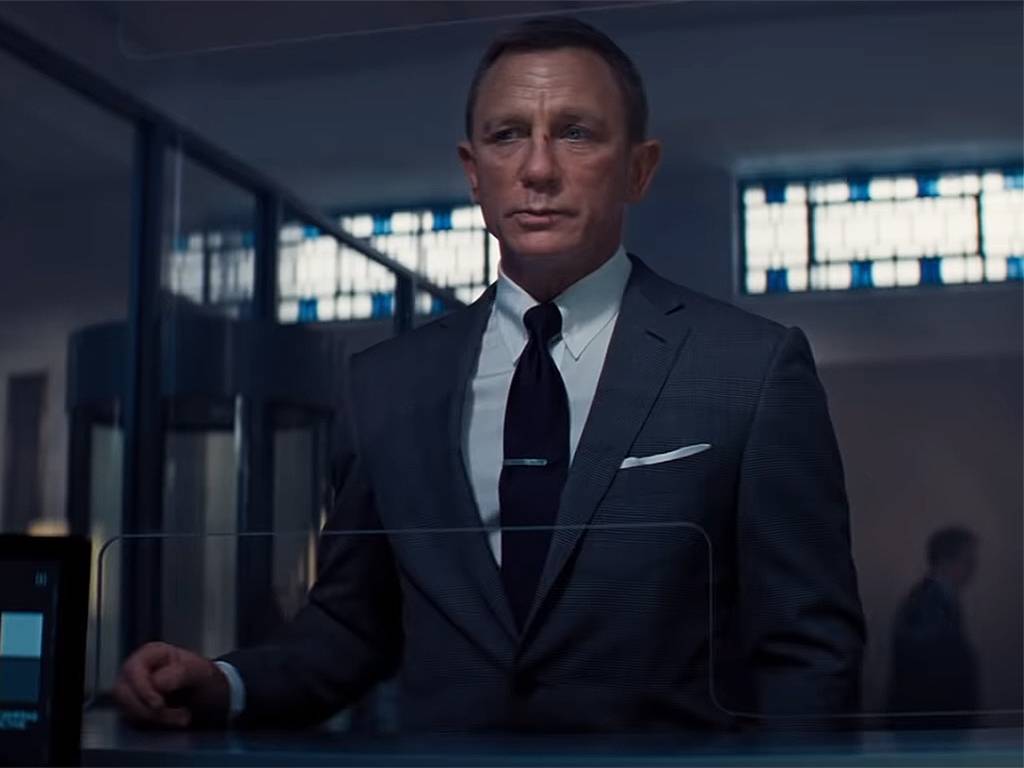 Image via Universal Pictures.
The Beginning Of The History of James Bond in Film
The first instance of James Bond in the history of film is not a part of the larger franchise that we've grown to recognize. Casino Royale, a 1954 television adaptation, told one of Ian Fleming's stories during an episode of the anthology series Climax!. This is an often forgotten adaptation, but it does mean that Barry Nelson will forever hold the title as the first Bond.
Finding famous fictional characters and putting them in other forms of media is an artful skill and the creators of Climax! didn't pursue it further. It was clear that Bond could find similar fame like Sherlock Holmes did, going from Sir Arthur Conan Doyle's pages to dozens of films, television shows, and games. So, Albert R. Broccoli and Harry Saltzman purchased filming rights in 1961, when they began their production company, Eon Productions.
Even as the first films were created with movie magic, Eon Productions knew they had struck gold. No actor, director, or screenwriter was above the franchise at hand, and it was sure to become a project that would span generations. What comes next is a collection of talented actors pushing the character forward, no matter the continuity.
Welcome, Sean Connery
Sean Connery was the first to find the privilege of playing such an iconic character, despite Fleming initially insisting that he was not suitable for the part. He proved Fleming wrong and the casting directors right, holding on to the role for a total of seven films. Six were produced by Eon Films between 1962 and 1971. These films included Dr. No, From Russia with Love, Goldfinger, Thunderball, You Only Live Twice, and Diamonds Are Forever.
Another Bond film took place between You Only Live Twice, and Diamonds are Forever. 1969's On Her Majesty's Secret Service was the next Bond film, but Sean Connery did not appear. Instead, George Lazenby appeared in the role after Connery left the franchise.
Eon was eager to replace the actor once it was learned that Lazenby was not interested in continuing with the character after the film. The behind-the-scenes team could not agree, and producers were adamant that Connery return. After offering him a financial deal of a lifetime, Connery accepted and used the money to establish The Scottish International Education Trust.
Connery would later reprise his role once last time with Never Say Never Again in 1983. The film was one of two Bond films not produced by Eon Productions. This movie got to see Connery out of Bond-retirement while also portraying a storyline that did the same.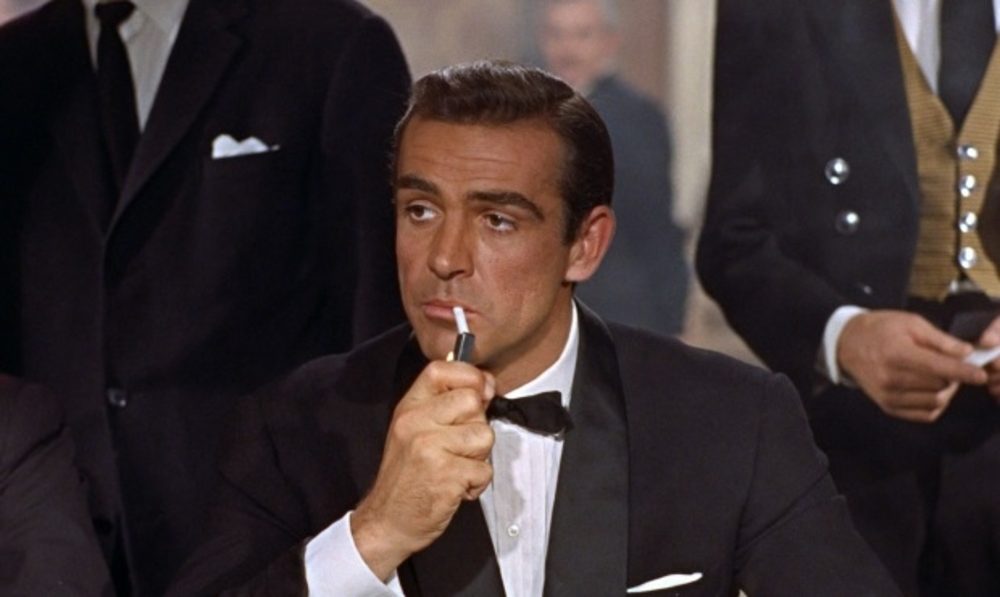 Image via Eon Productions and United Artists.
And a Surprise Appearance By David Niven
As mentioned, Eon Productions had secured the rights to Fleming's work. However, like with Never Say Never Again, some films snuck on through. 1967 saw a parody approach to the franchise with Casino Royale. Starring David Niven and directed by John Huston, the film has Bond out of retirement to go up against SMERSH.
Despite not being a part of the Eon Productions franchise, Casino Royale was a success at the box office and was nominated for an Academy Award. Critics were less fond of the film, though.
Metro-Goldwyn-Mayer Pictures has held the rights to the film since 1999.
Roger Moore Puts On The Suit
The next actor to take on the role of a lifetime is Roger Moore. He played Bond in seven films, tying with Connery for the most Bond portrayals. Moore's included Live and Let Die, The Man with the Golden Gun, The Spy Who Loved Me, Moonraker, For Your Eyes Only, Octopussy, and A View to Kill. He is often seen as a competent and charming Bond, but seven high profile films do put a lot of pressure on an actor.
Moore's 12 years as the character came to an end in 1985. This was reportedly due to the actor's age, as he was in his late 50s by the end of the era. (For reference, Daniel Craig is 53 right now as he retires from the role.) Moore remains the oldest actor to claim the 007 title.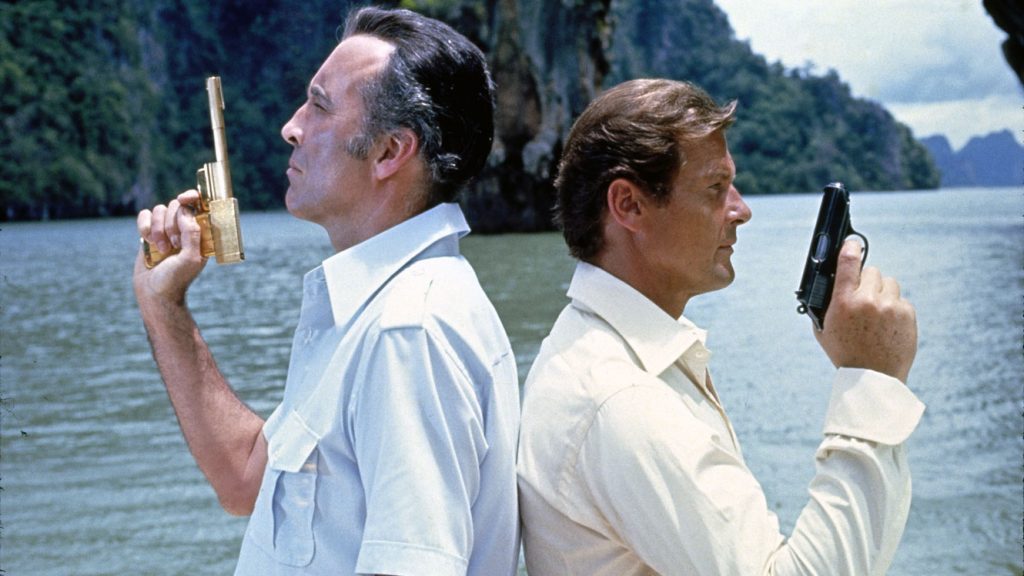 Image via Eon Productions and United Artists.
Timothy Dalton Comes Next
Long-term Bond director John Glen welcomed in the next actor, Timothy Dalton, with 1987's The Living Daylights.  This came after a lengthy casting process. Actors including Sam Neil, Pierce Brosnan, and even Mel Gibson were considered before Dalton signed his contract. Brosnan was very close to taking over and was even offered the role at one point. However, contractual obligations got in the way.
Despite the drama, Dalton would play the character for two films, The Living Daylights and License to Kill. His films saw a different approach compared to the past version of Bond. They were darker, and even Bond himself seemed more hesitant to take on the role of a worldwide hero.
A third film with Dalton was almost made. Legal battles occurred between MGM and United Artists regarding the rights of the character. Production was delayed, and eventually, Dalton walked away after his contract expired.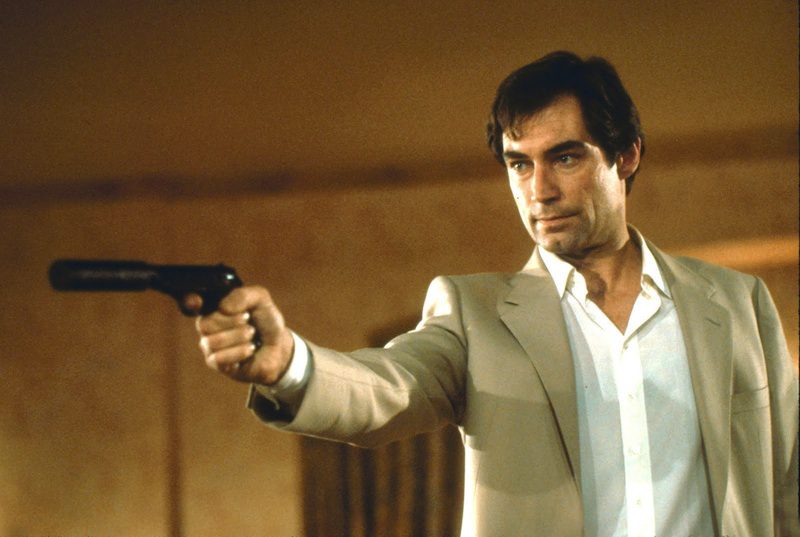 Image via Eon Productions and United Artists
Pierce Brosnan Leaves Some Loving, Some Hating, 007
The casting process was much quicker with the next James Bond film. Producers had already wanted to bring Pierce Brosnan into the role, and he was eager to join. Despite the natural passing of the torch, other actors like Ralph Fiennes, Paul McGann, and Hugh Grant were approached.
Brosnan played the role in GoldenEye, Tomorrow Never Dies, The World is Not Enough, and Die Another Day. Some fans are adamant that Brosnan was the best Bond, bringing in a more modern and fun approach. And while his films did receive critical acclaim, others claim that he nearly ruined the franchise, with his final 2002 entry being one of the most disliked Bond films of all. Despite the hate, it did crush it at the box office, earning $431.9 million.
Unfortunately for fans of the actor, Brosnan was eventually dropped before his fifth appearance could happen.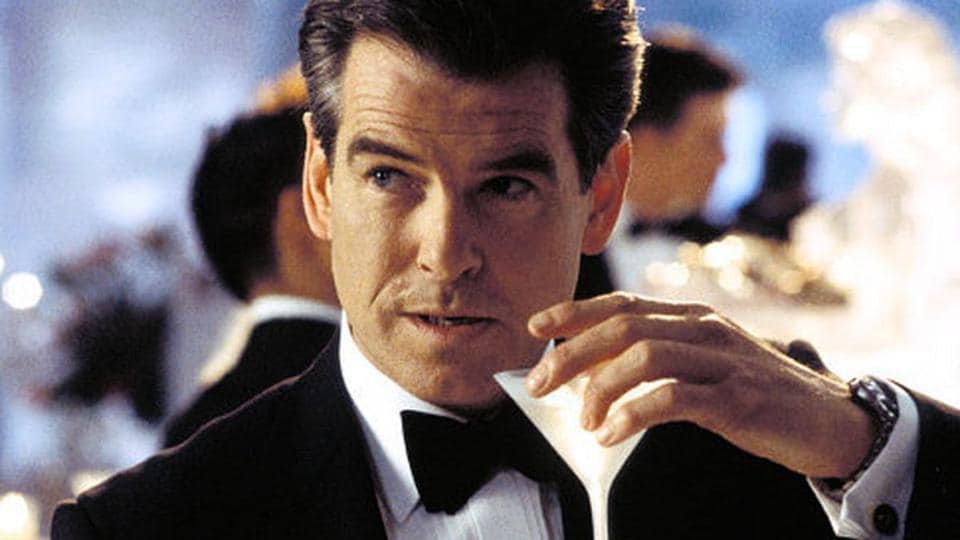 Image via MGM Distribution Co.
Daniel Craig Refreshes The Timeline
The timeline of the James Bond films has been a source of many questions for the decades they have been releasing. While the movies don't necessarily need to be watched in order, and different heroes, villains, and allies sometimes appear at random, they exist within the same universe. This requires some suspension of disbelief at times, but that's all a part of the fun.
Despite the ongoing timeline, the next and newest James Bond was a complete reboot of the timeline with Daniel Craig taking over in 2006 with Casino Royale. Craig goes on to play Bond in 5 films. Casino Royale, Quantum of Solace, Skyfall, and Spectre lead up to his finale, No Time to Die. The film was heavily delayed due to the coronavirus pandemic, eventually releasing in October of 2021.
Craig has been considered one of the best actors to play Bond, and his films have been the highest-grossing of the franchise. While they continue the cool and calculated approach to the character that other films have included, they have been markedly darker in tone. Despite the success, Craig decided to step down after a lengthy stretch of playing the same guy.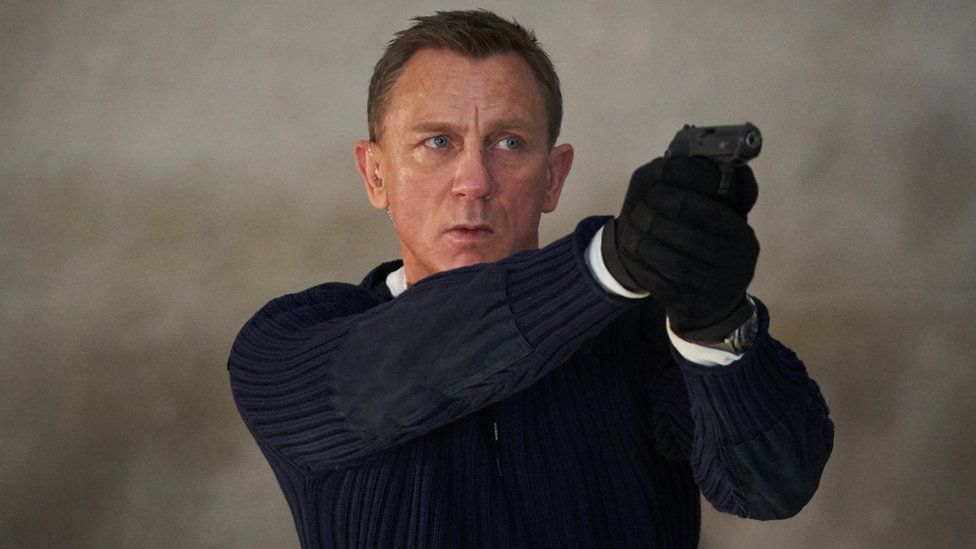 Image via Universal Pictures.
James Bond Has A Lot of Legacy Within Its History In Film
The films have not just made an impact on how we order our martinis. Bond's collection of films has left a massive change in how we approach spy films and espionage plots. Some attempts did their best to capitalize on Bond's success, including The Man from U.N.C.L.E. Others parodied the spy, like the Austin Powers series.
In addition to the catchphrases that entered the pop culture lexicon, the James Bond films have left more than a mark on the future of filmography as a whole. It remains the longest continually running film series of all time and currently stands as the sixth-highest-grossing franchise with more than $7.04 billion. One report even suggested that at least 25% of the world has seen more than one Bond film, and various filmmakers continue to call the franchise an essential piece of cinematic history.
Despite the legacy, there remains criticism of the character and franchise. Accusations of sexism and misogyny in the franchise, especially how certain Bonds have approached women, have been common. Moving forward in today's cultural landscape, it's clear that changes will be made. Will the next Bond be the one to make them? Only time will tell.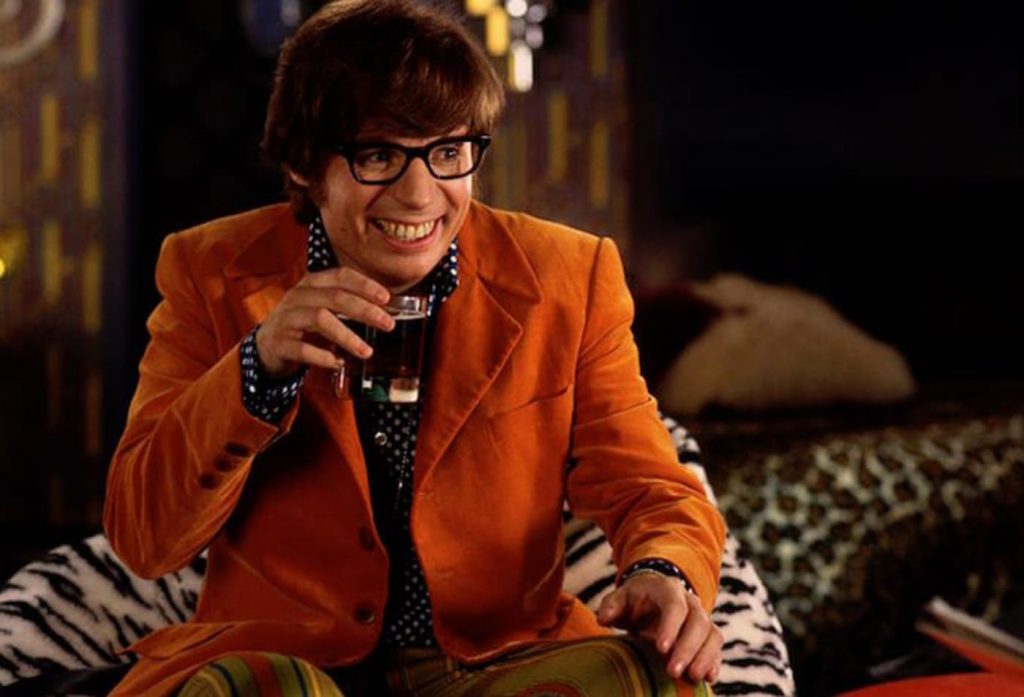 Image via New Line Cinema.
We All Want To Be Spys, Thanks To James Bond
The long history of James Bond in film has forever changed how we look at movies. Few franchises are as popular as this one, especially amongst such a large demographic. People grow up and grow old with Bond, and they'll do so as long as they keep throwing films at us. And they'll keep doing it, too, because we're going to keep watching.
Readers, we want to know your thoughts about everything that has happened in the history of James Bond in film. Do you have a favorite actor to play Bond? Or any thoughts about the future of the franchise? Let us know your thoughts in the comments.
Featured image via Universal Pictures.
Meghan Hale is the kind of movie lover that has a "must watch" that is a mile long... and growing. When she isn't talking about the latest film and television news she is writing one of her many in-process novels, screaming film trivia at anybody who will listen, and working as a mental health care professional. Follow her on Twitter @meghanrhale for some fun theories and live reactions to all things entertainment.
Leave a comment