Henry Cavill On A Possible Sherlock Holmes Solo Movie
Henry Cavill talks about the possibility of him leading a Sherlock Holmes solo movie after the success of Enola Holmes 2.
Netflix's Enola Holmes is back! Together with her famous detective brother, Sherlock Holmes, new mysteries await the siblings with old characters and new enemies. Millie Bobby Brown is back playing the titular character and Henry Cavill, the famous Victorian-era detective, Sherlock Holmes.
Enola Holmes 2 premiered on Netflix last November 04, 2022, and got positive reviews from viewers. The teenager Holmes started her own detective agency but is having a hard time getting clients. Since women are not yet recognized as doing male work during this era, this movie has included aspects of gender equality and coming into adulthood for the younger Holmes.
On the verge of failure, she gets her first official job to find the missing sister of her client, who works at a matchstick company. While working on the case, she gets entangled with Sherlock Holmes, who has his own mystery to solve. From there, the siblings work together to solve their own cases and learn from each other.
With the popularity of Enola Holmes, fans were curious if there would be a possibility for a Sherlock Holmes solo movie starring Henry Cavill.
Henry Cavill Is Back As Sherlock Holmes
SPOILER ALERT!
In the post-credits scene, Enola introduced Dr. John Watson to her brother. In the books, Dr. Watson serves as Holmes' friend and confidant. He also provides comedic relief to Sherlock Holmes' serious persona. Netizens speculated that this post-credit scene would serve as an introduction to a Sherlock Holmes solo movie or series.
After Henry Cavill announced that he would no longer be playing Geralt of The Witcher, there were rumors that he would be reprising his role as Superman. Given his busy schedule, fans are puzzled if he will still be able to do a Sherlock Holmes solo movie. Given that movies are getting rebooted, fans are hoping that Sir Arthur Conan Doyle's famous detective will be given his own Sherlock Holmes solo movie.  
Henry Cavill's portrayal of Sherlock Holmes in the series also received a positive response. From portraying the well-loved Man of Steel to playing Geralt in The Witcher, his portrayal of Sherlock Holmes proved his versatility as an actor. With the rumors of an Enola Holmes 3, we might see more of Sherlock Holmes. It may also highlight a development in the relationship between the siblings. 
That said, will we be able to see a Sherlock Holmes solo movie?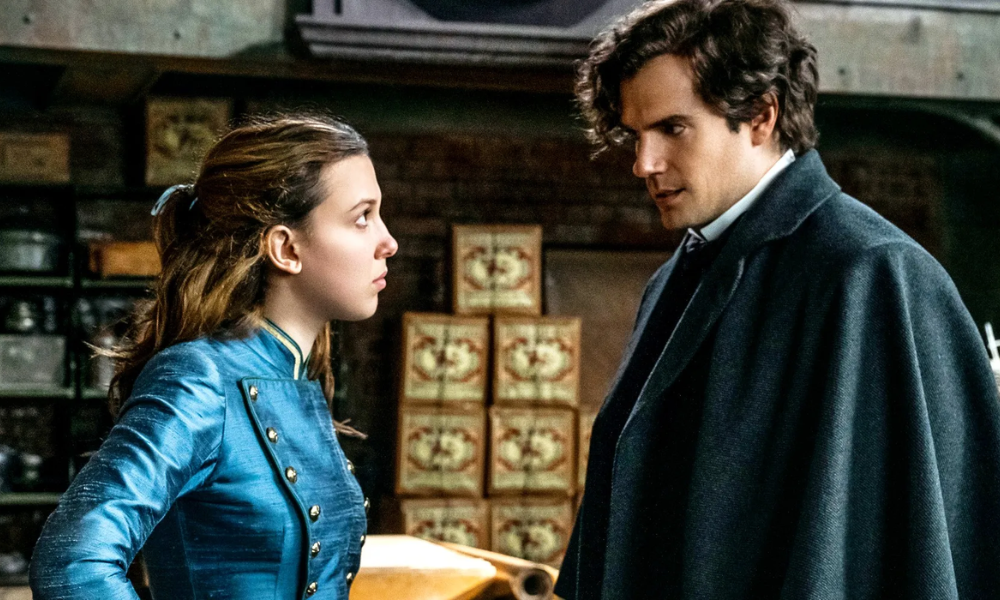 Image: Netflix
Will there be a Sherlock Holmes Solo Movie?
Actors who previously played Sherlock Holmes include Robert Downey Jr. and Benedict Cumberbatch, who are also part of the MCU. Director Harry Bradbeer explained the post-credit scene of Sherlock Holmes. The introduction of Dr. Watson serves as a foil for Sherlock since Enola noticed that her brother was all his lonesome. This may be a possible plot or backstory for a Sherlock Holmes solo movie.
In an interview with The Wrap, Cavill talked about the future of his character in the possible sequels for Enola Holmes. 
"I think 'How is there hope for him?' would be answered in any future movies were they to happen. There's always whisperings of these sorts of things, but nothing is ever official until you enter the first day of shooting, and even then until you finish shooting and even then it has to come out. Right now that's always brought but I don't know of anything official just yet."
But despite this hopeful comment, Cavill turned down the rumors that there would be a Sherlock Holmes solo film. He said that "the universe is pretty much Enola's, so she'll always be involved." Following his words, a standalone film for Cavill's Sherlock is far from happening.
Fans will just have to wait on whether there will be an Enola Holmes 3. Perhaps, things will change in the future, and they'll make a Sherlock Holmes solo movie. Given the storyline and powerful casting, there might be more to the series. 
Enola Holmes 2 is now streaming on Netflix.
Paul is many things. He's a fan of anime, superheroes, and everything in between. He dedicates his downtime to annoying the heck out of his cats and dog.
Leave a comment