Guardians of the Galaxy Vol.3: Near Finishing And Possible Plot
The film's director, James Gunn, has responded via his Instagram account to a comment revealing only eight days of shooting left. A follower asked Gunn if Nathan Fillion would be in Guardians of the Galaxy Vol.3, to which the director replied, "Well, if he did, it would be way beyond what was planned as we only have 8 more days of shooting (GoTG Vol.3)." This comment tells us that the movie is almost ready, so it won't be long before seeing the official trailer.
Guardians of the Galaxy Vol.3 Synopsis
Although at the moment, we don't have an official synopsis of what we will see in Guardians of the Galaxy Vol.3, we do have some data with which we can put together a puzzle of what may happen. Both James Gunn and some cast members have been making comments over the years, and everything points to the fact that we will have a spectacular ending to this adventure that began in 2014.
Image via Insomnia Games
The director made a statement regarding the character of Rocket, claiming that he would like to finish that character's arc. Recall that the intelligent raccoon voiced by Vin Diesel does not yet have an origin story, so we may travel to his home planet and see how he was created.
Another storyline could revolve around Adam Warlock, a villain whose birth we saw in the post-credits scene of Guardians of the Galaxy Vol. 2. This villain is intimately linked to the Infinity Gems, and it may be that their continued use during phase 3 of the Marvel Cinematic Universe could have awakened him. Everything points to this being the big threat to Star Lord's team in this third installment of the saga.
We know that the movie will begin after Avengers: Endgame. However, we don't know if the events of Marvel's Phase 4 will impact the plot or if it will be more independent. One of the Guardians, Gamora, dies in Avengers: Endgame. However, a version of the character travels from the past. Gamora fights in the final battle but then disappears. It may be that a subplot of the film revolves around finding Star Lord's love.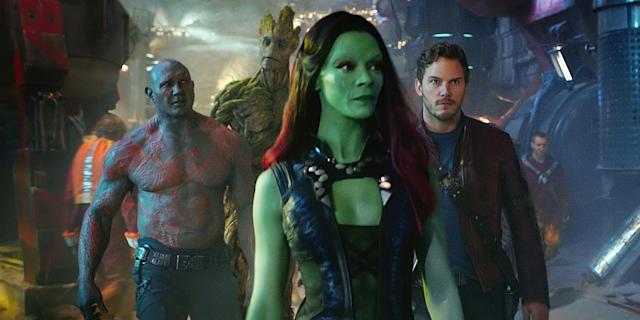 (Image: Marvel Studios)
Another important aspect to note is that Thor joins the Guardians. The God of Thunder movie Thor: Love and Thunder will be released before Guardians of the Galaxy Vol.3. So we can deduce that this will serve as a prelude to the adventures of Quill and company.
Even Closer to See the Adventures of Star Lord and his Partners
With this new information, James Gunn has just confirmed that Starlord, Drax, Rocket, and Groot's adventures are getting closer to their premiere, which will see the light of day on May 5 next year.
Image via Marvel Studios.
This comment could indicate that the first teaser or trailer is getting closer. In just 8 days, the first material will be sent to the VFX team so that they can start working on the first teaser of the movie.
The fan's question to James Gunn via Instagram came as Fillon worked on The Suicide Squad, the director's latest film. The actor played the colorful character TDK (The Detachment Kid or Fall-out-arm-boy), who dies shortly after the movie begins. Fillon and Gunn have a good relationship, so many fans wondered if the actor would be in the film.
Our next date with the Guardians of the Galaxy in Thor: Love and Thunder. In this movie (July 8th in theaters) we will indeed have clues of what will happen in Vol.3. What would you most like to see in this movie? Leave us a comment.
Featured Image Via Marvel Studios
I am a circus aerialist influenced by Dick Grayson and Spider-Man. Fortunate to write about the characters that inspired me. I also have a Bachelor's degree in Political Science and a Master's degree in International Trade.
Leave a comment