Freud's Last Session: Images Of Matthew Goode And Anthony Hopkins Revealed
Westend Films is developing a film based on true events about a meeting that the renowned psychoanalyst Sigmund Freud had, Freud's Last Session. This session was with another famous character, writer CS Lewis, the man responsible for The Chronicles of Narnia franchise.
These two characters will be portrayed by Anthony Hopkins, who will play Freud, and Matthew Goode will play Lewis. Little information had come out about this filming. However, the studio gave away the first sample of this production. It is a photo where both actors appear, representing this last session between personalities.
First Images of Freud's Last Session
Image: WestEnd Films
Today Westend Films released the first photo of the film Freud's Last Session. In the image, Anthony Hopkins and Matthew Goode are at the beginning of a conversation between both characters before World War II.
According to the descriptions given in the film, this meeting between Freud and Lewis occurs one day before the beginning of World War II. They were discussing the existence of God in the psychoanalyst's house in the city of London.
Another focus of Freud's Last Session is on the relationship between the psychoanalyst and his only daughter Anna, played by Liv Lisa Fries, an actress who participated in Babylon Berlin, Hilde With Love. They also include Lewis's strange relationship with his best friend's mother.
The film is filming in Ireland and is in its final shooting stages. The image shown was during the filming process of one of the last scenes of the production. This implies that the next previews of this one would be its initial trailer or a teaser.
Other Details of the Famous Psychoanalyst Movie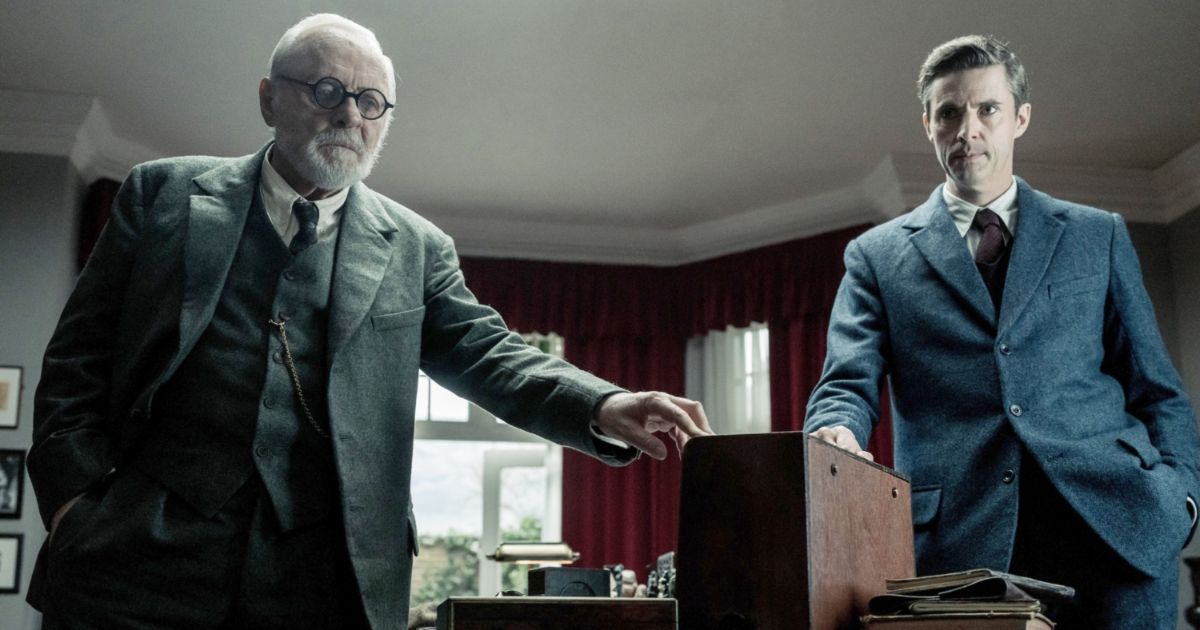 Image: WestEnd Films
The film of the famous doctor Freud's Last Session is a production based on real events that Matthew Brown directs. This director is known for the success of The Man Who Knew Infinity. The screenplay was developed by screenwriter Mark St. Germain, who wrote the plot of The God Committee and revised by Brown himself.
The English producers of this film are Alan Greisman, Meg Thomson, Rick Nicita, Matthew Brown, Hannah Leader and Robert Stillman. Irish producers include Aoife O'Sullivan of Subotica Productions and Tristan Orpen Lynch.
Matthew Goode and Anthony Hopkins lead the cast of Freud's Last Session. Also starring are Liv Lisa Fries, Jodi Balfour (The Crown, For All Mankind), Jeremy Northam (The Crown, Gosford Park), Orla Brady (Star Trek: Picard, Rose Plays Julie) and Stephen Campbell Moore (The History Boys, Masters of the Air).
As for distribution and sales rights for Freud's Last Session, they are handled by Sony in various world areas. Among the areas of the planet they are working with are North America, Turkey, the Middle East, Latin America, Eastern Europe (Except CIS) and Asia (Except China, Japan and Korea). 
WestEnd Films and CAA Media Finance oversee all aspects of the film's sale. In fact it closed several deals in various areas, such as Scandinavia (Scanbox), Australia (Sharmill Films), Benelux (Just Entertainment), Israel (United King), Italy (Adler), Portugal (NOS), Greece (Spentzos).
The film is a joint production with English and Irish organizations. Support was provided by Screen Ireland and UK Global Screen Fund, which financed its development. WestEnd Films is currently in charge of production, although it shows leadership by delegating other actions to major companies such as Sony.
Featured Image Via WestEnd Films / Subotica Productions / Last Session Productions / MYRA Entertainment 
Leave a comment