The Ratings for Eternals Are Here and They're Some of the Worst in the MCU
Some movie lovers will see a Marvel movie no matter the plot, who the actors are, or how the reviews sound. After all, if you're keeping up with the MCU, then you've already dedicated yourself to the big mouse behind Marvel. Reviews and ratings can make or break the box office chances for a new film for more casual fans. The latest attention-grabbing upcoming release, Eternals, is starting to see some pretty bad ratings by MCU standards.
What Is Going On With The Ratings Of MCU Addition Eternals?
Eternals was always going to be something a little bit different than the superhero stories that we have come to expect from Marvel. Most new heroes are introduced in their own film (like with Shang Chi) or as secondary characters in an already established hero's movie. Meanwhile, Eternals is giving us a new crop of characters without an Avenger in sight. There are plenty of familiar faces. This includes Richard Madden, Kumail Nanjiani, and Gemma Chan, among others. Still, they aren't familiar to the franchise.
The story focuses on an immortal race of Celestial-created beings that are up against evil counterparts. It already has the potential to be a beautiful film cinematography-wise, and the odds of this happening were only boosted when Chloé Zhao (Nomadland) was announced as its director.
Can a visually breathtaking but introductory tale break past expectations to find a critically acclaimed box office success? We don't know how much money will come out of it, but we can answer the first half. Unfortunately, early reviews are more than a little negative.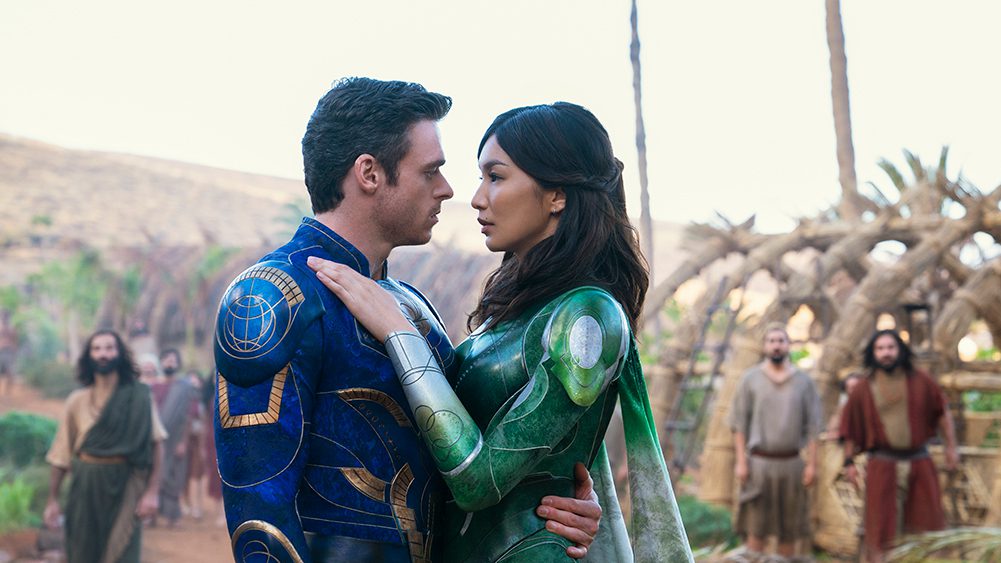 Image via Marvel Studios.
What The Ratings And Reviews Are Saying
For a long time, Thor: The Dark World sat at the bottom of the rankings for the worst-rated Marvel movie on Rotten Tomatoes (with 66%), closely followed by The Incredible Hulk (with 67%.) These weren't a surprise. While they have their charm, they simply didn't stand up to the expectations set by such a notable franchise. As a comparison, Black Panther (96%) and Avengers: Endgame (94%) lead the winners.
Thor has been dethroned as the holder of this title because the ratings for Eternals are even worse. With a 60% critic score on the platform, we're left feeling a little confused. Where did the movie go wrong?
Various reviews of Eternals claim that it tried to do something too big while simultaneously creating something that felt like there wasn't a lot going on. Some call it "unadventurous" and even "one of the MCU's worst movies in ages."  There are plenty of positive reviews that concentrate on the humanity behind the heroes, but these are bogged down by the reviews that say it is ultimately a pretty bland film.
Image via Marvel Studios.
Are All Reviews Truthful?
Some films draw negative attention due to on-screen diversity. We saw it happen with Captain Marvel in 2019. MCU fans thought that it was too much of a feminist take on heroism and pandering to a social justice crowd. They especially attacked star Brie Larson, who is outspoken outside of her on-camera life. Unhappy campers would leave negative reviews of the film on platforms like Rotten Tomatoes and IMDb. Oftentimes they would do so without the reviewer even watching the movie! This is what is called "review-bombing," when people leave bad reviews before a film releases so that they can hurt its chances of success.
Whether Eternals is being review-bombed or not is a highly discussed topic. The film includes the representation of queer characters and has a diverse cast. These qualities have made a few reviewers angrily rush to their keyboards. Some of their words have been deleted, including one review that commented on how the film checks "woke boxes" and nothing more.
So, since review-bombing is usually audience-generated, this isn't that. These are Rotten Tomatoes-approved critics. Some less obvious reviews may be colored by discrimination, too, based on the personal biases of different writers. But we're less likely to uncover those, as there is no accounting for taste. As far as Comic Years is concerned, we're not going to let a few negative reviews keep us from seeing the film. We'll watch it for ourselves before we make any opinions!
Find out where the ratings for Eternals, the next big MCU film, are coming from when it hits theaters on November 5th, 2021.
Readers, do you let negative reviews stop you from seeing a film? Let us know how these low critic scores impact your desire to head to a theater next week!
Featured image via Marvel Studios.
Meghan Hale is the kind of movie lover that has a "must watch" that is a mile long... and growing. When she isn't talking about the latest film and television news she is writing one of her many in-process novels, screaming film trivia at anybody who will listen, and working as a mental health care professional. Follow her on Twitter @meghanrhale for some fun theories and live reactions to all things entertainment.
Leave a comment