El Camino: A Breaking Bad Movie Full Trailer Reveals A Haunted Jesse Pinkman
With only two weeks to go before release, the El Camino: A Breaking Bad Movie full trailer just dropped. The trailer gives some clues as to what to expect from the movie that will premiere on Netflix and in select theaters. Creator Vince Gilligan is a master of suspense. And he is proving that with the tiny bits of information that have steadily been dropping about this movie. Here is what we know so far, and what we have gleaned from the trailers.
El Camino will pick up immediately after the 2013 series finale of Breaking Bad. The final episode – Felina – saw protagonist turned villain Walter White breaking his former student and protégé out of captivity. Pinkman manages to escape amidst a hail of gunfire from White's remote-controlled machine gun. In the chaos he steals a car from one of his captors – the titular El Camino. The last time viewers saw Jesse Pinkman he was driving away from the meth lab into the unknown, laughing and crying.
The Breaking Bad El Camino Trailer and Teaser Give Scant Clues
A teaser released during the 2019 Emmy Awards on Sunday shows Pinkman smoking in that same car, parked in the desert. He listens to a news report about the violent scene that he just drove away from. The radio informs us that nine male victims were found dead at the scene. This report confirms for Pinkman (and the fans) that Walter White definitely died at the end of the series finale (there were only eight Neo-Nazis in the building at the end of the finale). Police are looking for a person of interest who fled. Cut to Pinkman's tearful eyes in the mirror. He is that person of interest. One thing that we can easily glean from the teaser is that Pinkman's mental state is… not great.
The El Camino: A Breaking Bad Movie full trailer dropped this week, on the heels of this one-minute teaser. And clearly Gilligan doesn't want to reveal too much about what is going to happen in El Camino. The trailer opens with police cars speeding down the road. A shadowy figure with a gun sits in a car (presumably this is Pinkman). Cut to a shot of Jesse despondently knocking on a door that is opened by an old friend – Skinny Pete. He is joined by another familiar face, and old friend of Pinkman's – the character of Badger looking uncharacteristically somber.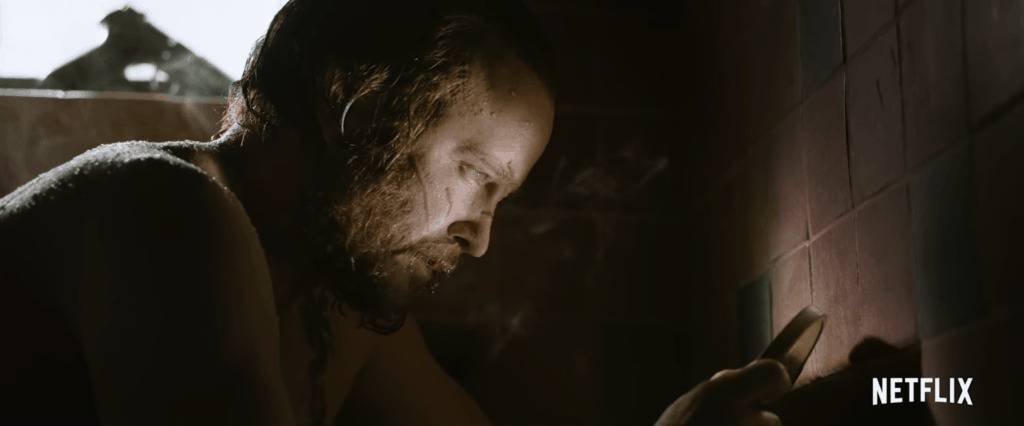 Image via Netflix
The music of the trailer then transitions to the song 'Black Water' by Reuben and the Dark. Gilligan often picked inspired song choices throughout Breaking Bad – coming to a peak with the song 'Baby Blue' that played over the last fatal moments of the Breaking Bad finale. The music of Breaking Bad often provided subtle clues, or outright narration for the events onscreen. This song is no different, with the following lyrics giving us insight into Pinkman's current mental state.
"Well I get high and I get low
Oh but that's the way
These things go
I saw my face in the mirror
Though I know I've changed
Though I look
Much the same
I found grace in the black water bathe my soul"
What Does The Full Trailer Reveal About El Camino: A Breaking Bad Movie?
The rest of the trailer is comprised of shots that (perhaps intentionally) look like they could have come from any episode of Breaking Bad. This leaves the viewers wondering how much of Jesse's past will come back to (literally) haunt him. A scarred Pinkman emerges into the daylight, and leaves his friends behind. A quick shot of his hand holding a gun beside a dusty car. Wide lingering views of a river; police cars streaming down the road, a car driving down the highway against a beautiful but lonely vista.
Among these snippets is a close-up of a photograph of one of Jesse's (dead) ex-girlfriends – Andrea- and her son. Andrea was murdered in the final season of Breaking Bad by Todd, who was in turn killed by Jesse in the series finale. Presumably her son Brock is still alive. Will Jesse attempt to do right by Brock, since he was indirectly the cause of Andrea's death?
There is also a shot of Jesse digging into the desert sand with a shovel. Is he digging up Walt's money, or is he burying something? Notably, Jesse has hair and a beard in this shot. This would indicate that this scene happens before he visits Skinny Pete and Badger for a bath and a shave. But, speaking of hair, there appears to be a lock of brown hair spilling out of the burlap sack in the foreground of this shot. Who is Jesse burying? Is this a flashback, or something new?
Image via Netflix
The most intriguing part of this trailer comes towards the end, with a shot of Jesse Pinkman facing down an unknown opponent, in an image reminiscent of an old Western showdown. It is at this point that the only lines of dialogue in the trailer occurs. An unknown (but vaguely familiar) voice asks "You ready?" as the screen smashes to black. It comes back to a profile of Jesse Pinkman's face as he responds simply: "Yeah." Who is Jesse speaking to here? Many have speculated that the voice belongs to Bryan Cranston, but it seems clear that the character of Walter White definitively died at the end of Breaking Bad. It also appears that Jonathan Banks will somehow appear in El Camino, despite the fact that his character of Mike Ehrmantraut was also killed off in the original show.
What Can We Expect From El Camino?
My guess would be that these characters will appear as figments of Jesse's imagination, specters from his past that haunt him as he seeks redemption for his past actions. Jesse Pinkman's character will clearly have to deal with his PTSD caused by the everything that happened in Breaking Bad. One thing that made Jesse the heart of the show was his constant struggle to be a better person. Now that Heisenberg is no longer around to thwart him, perhaps Jesse Pinkman can finally find some peace. I anticipate that El Camino will be a meditative character study about how to move on, and find redemption after living through (and causing) so much horror. It is entirely possible that Jesse will die in El Camino, finally shutting the door on the Breaking Bad-verse for good. The question is, are we ready?
Image via Netflix
We will find out the answer to that question – and much more – when El Camino: A Breaking Bad Movie premieres on Netflix and in select theaters on October 11.
For the latest movie and pop culture news follow Comic Years on Facebook and Twitter.
(Featured image via Netflix)
Emily O'Donnell is a writer and photographer with roots in some of the earliest online fandoms. She cut her genre teeth on the Wizard of Oz books at the tender age of 6 years old, and was reading epic adult fantasy novels by the age of 10. Decades later, she still consumes genre fiction like there is no tomorrow. She is delighted to be living through the golden age of sci-fi and fantasy popularity. She is unashamed of the amount of fanfiction that still lingers online under her name.
Leave a comment