Doctor Strange 2 Debut Scores 84% On Rotten Tomatoes
People are already talking about Doctor Strange in the Multiverse of Madness a few days before its premiere. The new Marvel film debuted with 84% on Rotten Tomatoes, and one specific review places it as the best production of the MCU. The movie, directed by Sam Raimi, has been a sensation this week and has caused a great furor among fans.
Only three days before the premiere of Doctor Strange in the Multiverse of Madness, the movie's score and reviews are optimistic. This film follows a thoughtful Doctor Strange who has to face the consequences of his decisions on What If…? and Spider-Man: No Way Home. 
The critic has displayed quite positive comments towards director Sam Raimi. The common opinion is that Marvel made a wise decision when hiring him to direct the film. Most reviews praise his "spooky" style and the horror elements Raimi imprinted in this movie. Doctor Strange 2 will give the public looks to talk about this May 6.
Doctor Strange 2 Debuts with a High Score
Dr. Strange 2 debuted with 84% positive reviews on the Rotten Tomatoes website. The appraisals, in general, were quite good, and one of them placed this production as an out-of-the-box movie. That is a good start for this sequel to the Marvel character just three days before it's released in theaters.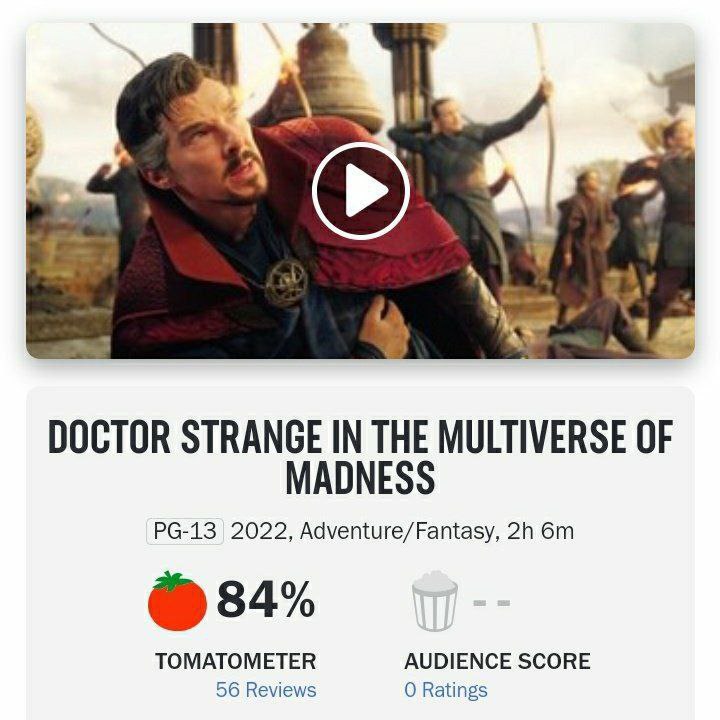 Image via Rotten Tomatoes
There have been over 5o reviews for this Sam Raimi and Marvel movie while writing this post. The opinions overall praised every aspect of the film. Not only the special effects, but set design, acting, plot, and those little details in every scene.
Many stated that despite not being a horror movie, this one had some terrifying scenes, which is part of Raimi's signature. Marvel's touch feels in the action, comedy, romance, and drama scenes. These characteristics made most Rotten Tomatoes critics fall in love with the movie, giving it excellent reviews.  
Critics Acclaim Sam Raimi's Direction
One person who has received congratulations on this excellent product has been its director Sam Raimi. People have stated that they see this director's touch in the film, and it has caused it to be remarkable. Despite being an eccentric director who goes out of all the standard parameters, Raimi managed to imprint his horror in this story.
Peter Bradshaw from The Guardian said the movie was a "freaky adventure handled with lightness and fun."
My review of Doctor Strange In The Multiverse Of Madness (dir. Sam Raimi) is up here: https://t.co/XXuD12JLIb

— Peter Bradshaw (@PeterBradshaw1) May 3, 2022
On the other hand, Variety stated that the film "It's a somewhat engaging mess, but a mess all the same."
#DoctorStrangeInTheMultiverseOfMadness is an unhinged ride, a CGI horror jam, a Marvel brainteaser and, at moments, a bit of an ordeal. Our review: https://t.co/fZYZB1PlEf

— Variety (@Variety) May 3, 2022
The Hollywood Reporter said Director Sam Raimi shows "flashes of his distinctive style" by adding his signature horror elements into a superhero movie. Their review states, "It's fun to imagine them giving Raimi a small fraction of the usual budget, authorizing an R rating for the third Doctor Strange and saying 'go make a Sam Raimi horror film.' "
'Doctor Strange in the Multiverse of Madness': Film Review https://t.co/7zLnkC3bNm

— The Hollywood Reporter (@THR) May 3, 2022
Finally, IGN's review says Raimi's "full range of weirdness and spookiness is on full display from start to finish here There's not a bad actor in the bunch, but Elizabeth Olsen is constantly reminding us how easily she can shift into a capital-a-Actor as Wanda Maximoff."
Doctor Strange in the Multiverse of Madness has a score that's to die for, some rockin' performances, and fans will never once be bored. Our review: https://t.co/tIcFAmuDyi pic.twitter.com/It8pVpUe12

— IGN (@IGN) May 3, 2022
We want to know your impressions of Doctor Strange 2 Debuts if you have already watched it. Leave us a comment below!
Leave a comment