James Gunn Responds To Immense Backlash After Restructuring DCEU Future Movies
With 2022 finally coming to a close, the new DC CEO, James Gunn addresses the backlash after the decisions he made affecting the DCEU future movies. His response came after the underperformance of Black Adam at the box office and the apparent axing of Wonder Woman 3. But perhaps the biggest trigger of fans' backlash was when Henry Cavill announced that, after all, he'd not be returning as Superman. A few weeks ago, Henry Cavill announced on his social media that he'd be wearing the iconic cape again after his post-credits appearance in Black Adam. 
James Gunn finally addressed the issue through an Instagram post to control and stop the backlash. The director emphasized that "no one loves to be harassed or called names, but they have undergone significantly worse". He later maintained that these "disrespectful outcry will never affect their actions".
It's been a challenging year for DC. The company has axed and moved its movies so many times this year. One of these was Batgirl, which was in its final production steps when Warner Bros. and DC announced that they would not be pursuing the female-led movie. The issues brought upon by Ezra Miller also affected the DCEU future movies, especially the actor's standalone film The Flash. Despite the numerous criminal complaints and allegations, the company stood firm on its decision to cast the actor and pushed through with the film.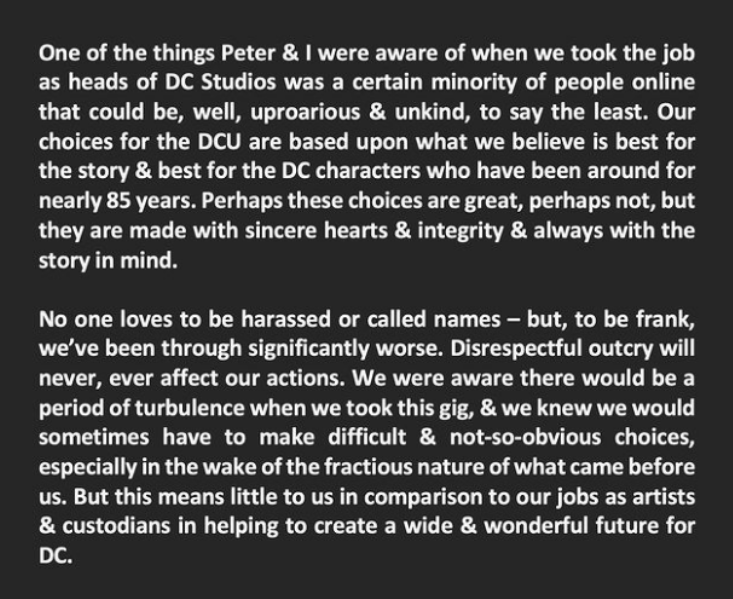 Image: Instagram | James Gunn
DCEU Future Movies in a Nutshell and Changes Underway
James Gunn thinks of rebuilding the DCEU future movies from the ground up. For instance, James Gunn is working on a new Superman movie project. With Henry Cavill officially out of the Superman movie, fans have lost their motivation to watch it. But Gunn emphasizes that this is because the upcoming Superman movie features the younger years of the Kryptonian superhero. It's still unknown if Cavill will be part of DC again, but Ben Affleck and Jason Momoa, his fellow actors in Justice League, have shared their interest in taking part in Gunn's vision for DC movies. 
Additionally, James Gunn has crafted a ten-year plan to address the DCEU future movies. He emphasized in a previous statement that "to make DC as great as it can be and as it should be — that is the reason why I'm doing this job because I know that Peter (Safran) and I can do that." 
Producer Peter Safran is Gunn's partner in creating such a vision for DC. Safran has worked with some of the best writers and thinkers in the industry. These "best of the best" helped the two DC execs create their plan in mapping out and crafting the ten-year plan. Gunn is even taking cues in rebranding from its competitor Marvel.
James Gunn and Peter Safran's Vision for DC Universe
The vision of James Gunn is to create a rebranded DCEU with "a stronger framework" that will serve as a guide for the studio in the coming years. For example, Shazam! Fury of the Gods, The Flash, Blue Beetle, Aquaman and the Lost Kingdom are scheduled for next year. These would be the first movies under Gunn's leadership for consumption in 2023.  
While their plans for DCEU future movies are still under wraps, fans should eagerly await the details and specifics. James Gunn and Peter Safran's vision for the company is quite promising. They might reveal it in a future convention, so this should serve as a clue for enthusiasts. 
The backlash James Gunn received from fans is understandable. Henry Cavill is one of the most well-received actors in a DC film. However, fans must understand the situation Gunn is going through. While his decisions may look bleak at the moment, we're hoping that they will be fruitful in the end. Let's not forget that Gunn was responsible for two movie blockbusters, The Suicide Squad and Marvel's Guardians of the Galaxy franchise.
As we await more news about the DCEU future movies, catch many of the DC blockbusters streaming on HBO Max.
Paul is many things. He's a fan of anime, superheroes, and everything in between. He dedicates his downtime to annoying the heck out of his cats and dog.
Leave a comment