Dan Levy Romcom To Premiere On Netflix And Will Star And Be Directed By The Actor
IMHO Dan Levy can do no wrong. Fans fell in love with his character (the adorably neurotic David Rose) on Schitt's Creek and he was fantastic in the feel-good holiday movie (also starring Kristen Stewart) The Happiest Season; then last month, we learned that Levy would be co-writing and producing a new animated series for Hulu about guardian angels with 20th Television Animation, a part of Disney Television Studios. I'm of the opinion that more Dan Levy content is always a good thing, so when I found out that there will be a new Dan Levy romcom on Netflix, I literally squealed with delight!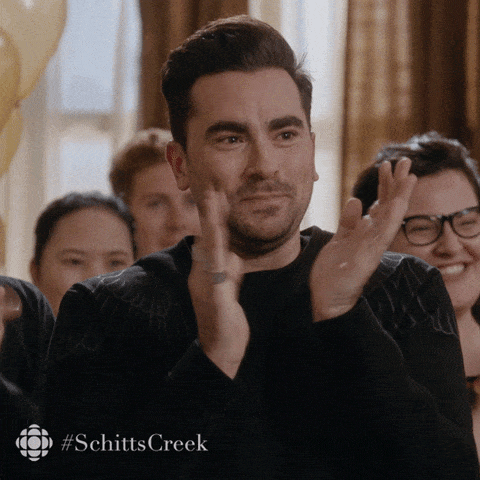 Levy currently has a three-year deal with ABC Signature, but he has a contract with Netflix that will officially start in July 2022. In this new deal with the giant streaming service, Levy will get to work with original script content. One of his first projects? A new romantic comedy that he will direct, write, produce and star in. He'll be joined by producers Stacey Snider and Kate Fenske, who are part of the independent media studio Sister.
Netflix changed Levy's life when it picked up Schitt's Creek and introduced it to American audiences. The show quickly became the most popular series on the streaming service and became the most awarded comedy series in 2020's Emmy Awards. Levy himself won in four major categories (acting, directing, writing, producing). Levy said:
"Netflix offered Schitt's Creek a second home at just the right time and opened the doors to a whole new audience for us. Watching the show thrive there has only enhanced my excitement about continuing to tell specific, meaningful stories with them in both tv and feature film. A full circle moment."
No word yet on what the plot will be, but if it's anything like Levy's other work, it's sure to be full of heart and laughs. Scott Stuber, Head of Global Film, and Bela Bajaria, Head of Global Series, called Levy "an incredible all-around creative talent, who thoughtfully approaches every story with a meaningful perspective," and said that they're "thrilled to partner and create new films and shows with Dan."
If you need your Dan Levy fix ASAP, all six seasons of Schitt's Creek are streaming on Netflix.
Are you excited about the upcoming Dan Levy romcom? Let us know in the comments below!
Featured image via Netflix
Keilin Huang is a freelance writer that likes the Oxford comma, reading from her neverending pile of books from the library, and Reeses peanut butter cups. She thanks her Dad for introducing her to his Superman comics and probably majored in Journalism because of Lois Lane. Contact her at [email protected]
Leave a comment