Damon Lindelof Star Wars Project Derailed Explanation
Well, well, guess what we've got here? A spicy leak just hit the internet, and it's all about Damon Lindelof Star Wars project! That's right, folks. Rumor has it that Damon Lindelof, the creative mind behind some of your favorite shows and movies, was asked to leave his Star Wars project. Can you believe it?
Now, let's take a stroll down memory lane. Remember Lost? Of course, you do! Who could forget the mysterious island, mind-bending plot twists, and unforgettable characters? Damon Lindelof, along with J.J. Abrams and Jeffrey Lieber, gave us this iconic series. And, oh boy, what a wild ride it was.
Following that, Lindelof co-wrote the blockbuster sci-fi movie Prometheus, directed by the legendary Ridley Scott. Did we love it or hate it? It doesn't matter because it got people talking! Then, Damon Lindelof continued his career by co-writing another sci-fi gem – Star Trek Into Darkness.
But wait, there's more! Along came HBO's The Leftovers, and Lindelof made us question everything we knew about life, loss, and human connections. So, it's no wonder that everyone was beyond excited when we heard that Damon Lindelof Star Wars project was happening.
However, not everything was sunshine and rainbows. Before we knew it, whispers started swirling about possible creative differences. Then, the bombshell dropped: Damon Lindelof was asked to leave his Star Wars project.
Why Did The Damon Lindelof Star Wars Film Get Canceled?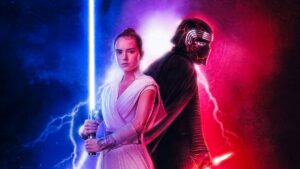 Image: Disney/Lucasfilm
Now, you might be wondering, "What happened?" Well, according to a recent Esquire article, Lindelof and Lucasfilm didn't see eye to eye on the project's direction. And as we all know, it's never easy when creative geniuses collide.
You know what they say, "All good things must come to an end." Unfortunately, this applies to the Damon Lindelof Star Wars project as well. Although we'll never know what could have been, we'll always have the fantastic body of work Lindelof has given us so far.
But don't despair! Damon Lindelof has more tricks up his sleeve. Currently, he's working on a Peacock miniseries called Mrs. Davis, which will undoubtedly be another mind-blowing experience. So, while we mourn the loss of this project, we can look forward to new adventures in the world of television.
Naturally, it's a bittersweet moment for all of us Star Wars and Lindelof fans. We can't help but wonder what amazing twists and turns Damon's project would have taken. However, we can still enjoy the incredible stories Lindelof has already shared with us and eagerly await his next masterpiece.
Stay tuned, folks! You never know what other juicy leaks might come our way. And always remember: in a galaxy far, far away, Damon Lindelof once tried to bring us his version of Star Wars.
Hi! I'm Arvyn, and I'm an English teacher from the UK. I've been teaching English online for over 4 years to students from all across the world and all ages. Outside of work, I'm a huge fan of reading, video games, and playing with my adorable kitties. See ya!
Leave a comment