Come From Away Musical Delivers Hope Despite The Tragic Backstory
For the 20th anniversary of the September 11th, 2001 attacks, Apple TV premiered the Tony-winning Broadway musical Come From Away. The original musical debuted at the San Diego La Jolla Playhouse in 2015. Then, it found its way to Broadway in 2017. Four years later, it's still on the Gerald Schoenfeld Theater marquee. Despite not having the high profile that other Broadway productions have, Come From Away is wildly successful. Major productions like Beetlejuice: The Musical and The Prom coming, making boatloads of money, and leaving, Come From Away still goes on. In fact, they've announced closing dates several times before, only to extend the production again. And, since the musical focuses on finding hope during a time of utter devastation, it's also fitting that it is one of the first Broadway productions re-opening after the COVID-19 lockdown. Thankfully, the filmed version captures the production wonderfully.
Yes, Come From Away is a Musical Set During the September 11th Attacks – and No, it is Not Depressing.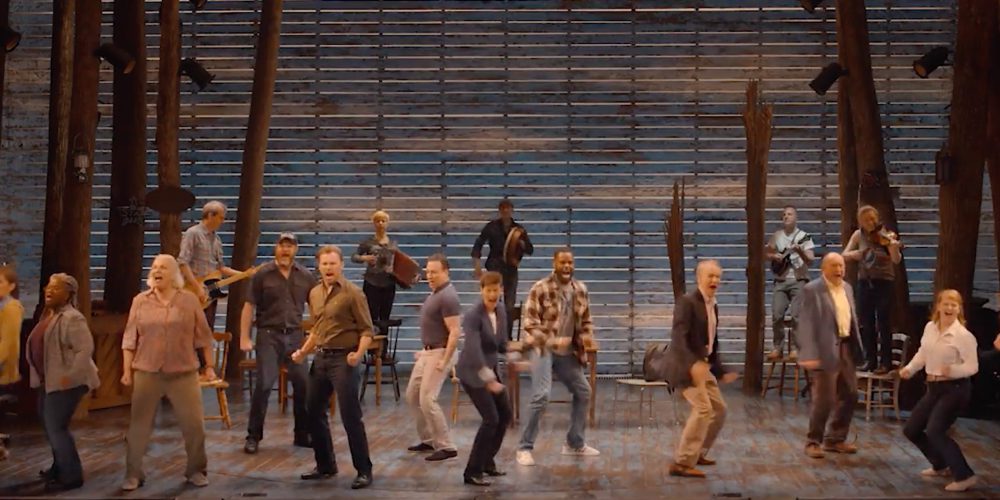 (Image: Apple TV+)
The fact that this musical, about people stranded in Newfoundland the week of the 9/11 attacks, is somehow capable of bringing viewers immense joy is remarkable. While they address the tragedy and fear, there are more moments where you'll laugh and smile than when your heart will break. But the real amazing thing? It's based on a true story and real people. All of this happened. And these stories are funny.
For instance, there's a small-town Canadian mayor telling a large, Black Brooklynite to just take peoples' grills out of the yards for a cookout. But, of course, the displaced Brooklyn "plane person" thinks that he's going to get shot for robbing people. So instead, as he tells us, he's offered tea at every single house. Or when a gay couple is in a bar, afraid to let people know about their relationship – only to find out that Gander is the "gayest town in Canada."
That's the theme of Come From Away and why it works so well as a musical. Everyone starts with fear, only to find a warm embrace. For some passengers, like a chef from Egypt, this takes a bit longer. However, the people of Gander and the surrounding towns literally drop everything to help over 7,000 displaced passengers from all over the globe. But they did more than just provide meals and cots. They folded them into their community. Literally – they made several of them honorary Newfoundland citizens. It's a musical that keeps reminding us of the good that people can do. But that doesn't mean Come From Away, being a mostly upbeat musical, cheapens the tragedy of the events, either.
When Come From Away Turns From Upbeat Musical to Solemn Reminder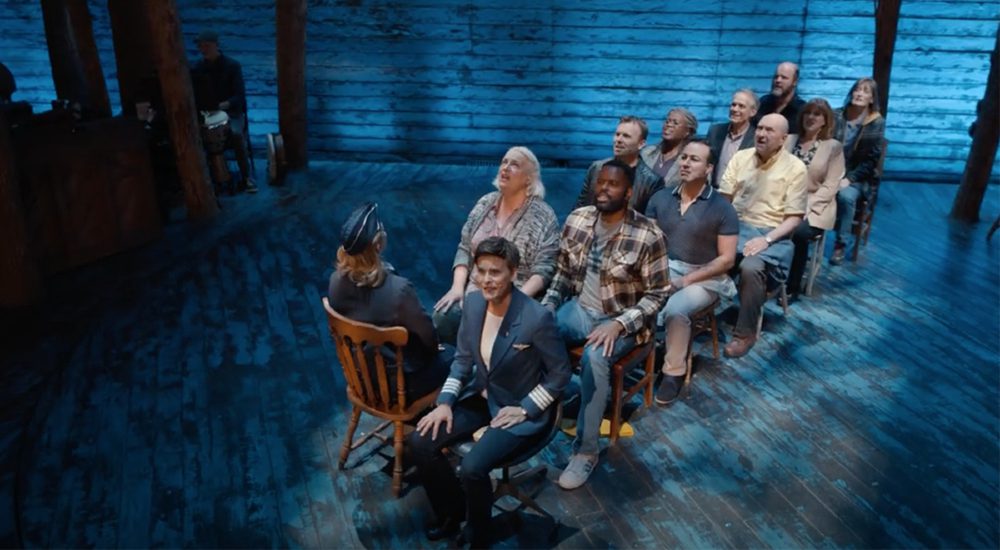 (Image: Apple TV+)
Later on, the Brooklynite from earlier finally makes it back to New York City. From the plane, he sees that ground zero is still on fire. Then he recalls his father asking him if he was okay wherever he was stranded. "How do I tell him I was better than okay?" he asks. The gay couple from earlier eventually broke up because they processed the stress of that week differently. We see that one woman who was desperately trying to contact her NYFD son arrived home to find out he was one of the firefighters who died. She calls a friend she made in Newfoundland, who helped her, to let her know "it's over. He's gone."
Then there's the incredible story of Beverly Bass, the first female captain of a commercial American airline. First, we learn how she went from an eight-year-old girl dreaming of flying to piloting the Dallas to Paris American Airline flight. She even started teaching people of all genders to fly. But then her story catches up to September 11th, when she learned over her comms that "the thing I love was the bomb."
She's also part of a horrendous moment for the Egyptian chef. Because he is a Middle-Eastern Muslim, people consider him a possible threat. So, the police take him in for questioning. As the pilot, officials required her to be there. The police then strip-search him, a devout Muslim who believes that only his wife should see him naked, in front of a woman he doesn't even know.
Finding Balance
Hell, there's even a story about Unga, a rare bonobo chimpanzee who lost her baby because of the stress. Throughout the musical, Come From Away never fails to honor the tragedy of September 11th. But balancing that with, let's say, singing about having to kiss a freshly caught Cod on the lips for to be a real Newfoundlander, should be impossible. Yet, they make it work.
Twenty Years Later, They Still Celebrate How They Built a Community for Just One Week
(Image: Apple TV+)
The musical ends with several characters returning to Gander for the 10th anniversary, and it's like they had returned just a week later. But this time, they didn't have the fear and stress. We see how they've healed over time. However, the most endearing story is Nick and Diane, a British guy and a Texan woman. They met during the crisis, fell in love, and within a year, they married. He moved to Dallas to be with her, and they are still together 19 years later.
Oh, and Unga later had a healthy bonobo baby chimp (one of the most adorable word combinations ever). Come From Away doesn't shy away from the darkness that sets the stage (excuse the pun) for the musical, but it also continually reminds us that there is hope, even in the darkest moments. Kind of like one of our best movies of 2001.
Whether you need a good cry or good fun, Come From Away is one of the few musicals that can do both, even if it shouldn't be possible.
What did you think of the musical?
(Featured Image: Apple TV+)
Roman Colombo finished his MFA in 2010 and now teaches writing and graphic novel literature at various Philadelphia colleges. His first novel, Trading Saints for Sinners, was published in 2014. He's currently working on his next novel and hoping to find an agent soon.
Leave a comment