New Video Shows the Truth Behind the Charlie Cox Debate in the New Spider-Man: No Way Home Trailer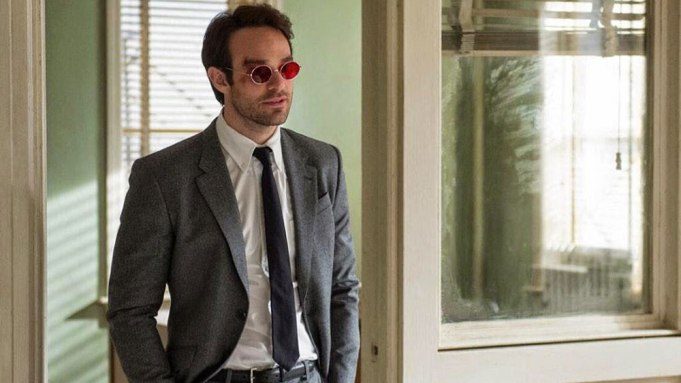 The world was buzzing with excitement mere weeks ago when the trailer for Spider-Man: No Way Home was leaked and later dropped online for the world to see. In fact, it was such an event that the official trailer is now the most viewed movie trailer in 24 hours. At the time of this article, it has 62 million views! We were all hoping to catch a glimpse at Spidey's latest adventures, but we were even more hopeful to see a sneak peek at some characters that are rumored to return. One scene had us thinking we'd saw Matt Murdock, a.k.a. Charlie Cox, but a new video of the Spider-Man: No Way Home trailer seems to suggest otherwise.
Sorry, Folks. That's Not Charlie Cox In The Spider-Man: No Way Home Trailer
Image via Netflix
Charlie Cox brought a beloved Marvel hero to the small screen with Netflix's Daredevil in 2015. The actor did such a great job playing the titular character that we've been desperate to see his return to the franchise, especially since the shows aren't referenced in the MCU (so far.) With the upcoming Spider-Man: No Way Home bringing rumors of returning characters like Andrew Garfield and Tobey Maguire's versions of Spider-Man and confirmed returns like Doc Ock, some of us held out hope that we'd see Matt Murdock, too.
Cox has continued to deny his involvement, but we all know that actors are prohibited from being open about their casting in the MCU until it's officially revealed. But after the No Way Home trailer was released, eagle-eyed fans thought that there might be a glimmer of hope. In a scene where a man in a white shirt and tie slams some files on a police desk, we were quick to believe that it could be Murdock working a case during his day job as a lawyer.
"I can promise you those are not my forearms," Cox explained in an interview with ComicBook.com last week. Did we believe him? No, because we didn't want to. However, new proof shows that he isn't lying. A Twitter user was among the many who were fortunate enough to catch Shang-Chi and the Legend of the Ten Rings in IMAX over the weekend, and the trailer played with an increased aspect ratio. It gives us a better look at the man, and it's clearly not Cox. It's just some regular worker at a police station. I bet that actor has been bragging to his friends all week about how his forearms are newsworthy!
Saw #Shangchi  in imax and they played the #SpiderManNoWayHome trailer before and because of the increased aspect ratio I was able to see the face behind the arms and can confirm it is NOT Charlie Cox #Daredevil pic.twitter.com/5l9r8aOQQ0

— Gymblonski (@Gymblonski77) September 4, 2021
We Still Have Hope, Obviously
We take everything that Marvel actors say with a grain of salt until we can find out for ourselves. The hype of Charlie Cox appearing in an MCU film is up there, but the Maguire and Garfield appearances are also pretty high up on our list of people that we're desperate to see. Of course, it also makes sense that they'd want to keep the biggest surprises secret so they can be enjoyed in the theater.
Readers, are you as bummed as we are to see the hope shot down regarding Charlie Cox in the Spider-Man: No Way Home trailer? We'll finally be able to learn the truth when the film releases on December 17nd, 2021. In the meantime, we'll be rewatching the full trailer to see if we missed other possible clues.
Featured image via Netflix.
Meghan Hale is the kind of movie lover that has a "must watch" that is a mile long... and growing. When she isn't talking about the latest film and television news she is writing one of her many in-process novels, screaming film trivia at anybody who will listen, and working as a mental health care professional. Follow her on Twitter @meghanrhale for some fun theories and live reactions to all things entertainment.
Leave a comment