The Cats Trailer Released, and We're Confused
A musical movie about cats sounds fun, right? Cute, fluffy little creatures, singing their worries away. But wait, now imagine it as a live-action film. And no, it isn't a live-action remake of Disney's The Aristocats. Instead, audiences are being given a film adaptation of Andrew Lloyd Webber's 1981 musical production, Cats. Ever since the adaptation was announced in early 2018, audiences have been trying to imagine how it can be done. If you're imagining something weird, then, well, you're right. And now, watching the Cats trailer, we're even more dubious about the film's potential.
The film will release on December 20, 2019. The Universal Pictures production snagged an all-star cast, including James Corden, Jason Derulo, Idris Elba, Jennifer Hudson, Ian McKellen, Rebel Wilson, Taylor Swift, and Dame Judi Dench. Which means we'll get to watch some of the best actors and performers of recent history dancing around in full-bodied catsuits. Like I said, weird.
What's Cats Even About? And Does The Trailer Even Tell Us?
The plot of Cats revolves around a tribe of our feline friends called the Jellicles. These cats have to decide which of their tribe will ascent to the Heaviside Layer, which they call the "Jellicle choice." Confused? So are we. I saw a theatre production of Cats for my 8th birthday, and all I remember are dancing and singing cats. And, that's all the trailer really seems to show us. It's clear that they want us to know just how many influential names there are contributing to this film. Along with the A-list stars, Tom Hopper is in the director's chair. Hopper is best known for the 2012 version of Les Misérables and The King's Speech, both of which earned plenty of major awards.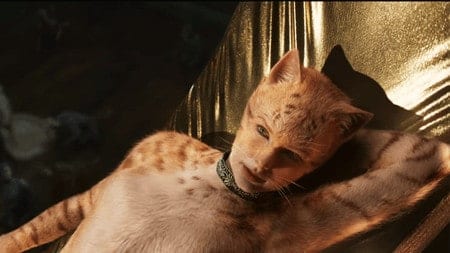 There's no doubt that this film will make some money at the box office. But my bet is that half of that will be Taylor Swift fans. Since the Cats trailer dropped, most fan reactions have been negative, especially on Twitter. Everyone seems to agree that the film seems both confusing and unnecessary, but the soundtrack will likely be worth a download. Come back to us in December, and we'll finally know if this film is as weird as it seems. And for now, we'll be busy watching all of the more exciting trailers (like It Chapter Two) coming out of SDCC.
Featured image via trailer screengrab.
Meghan Hale is the kind of movie lover that has a "must watch" that is a mile long... and growing. When she isn't talking about the latest film and television news she is writing one of her many in-process novels, screaming film trivia at anybody who will listen, and working as a mental health care professional. Follow her on Twitter @meghanrhale for some fun theories and live reactions to all things entertainment.
Leave a comment