Captain Marvel 2 Cast: New Actress Joins The Team!
The sequel to Captain Marvel is still in the planning and has a newly added actress to the cast. Zawe Ashton, Tom Hiddleston's fiancée, will join the upcoming MCU film. We also knew that Ashton was expecting a child with Hiddleston, a pioneer in the Marvel Cinematic Universe.
Image via Marvel Studios
Although it is not sure what the actress's role will be in the production of Captain Marvel 2, we know that she will be playing a villain. It would be Ashton's first time doing a movie related to this comic book universe. She joins several new additions, such as Iman Vellani, who portrays Miss Marvel in the Disney + series.
Ashton stated that she also doesn't know what role she will be portraying. Zawe Ashton didn't even know she would be cast until recently. She also exclaimed her excitement at portraying a role in the Marvel Cinematic Universe for the first time.
Zawe Ashton Joins Captain Marvel 2 Cast
Zawe Ashton is the new addition for Captain Marvel 2 Cast. The actress herself made it public in an interview with Vanity Fair, stating that she did not plan her participation in the casting for the villain character. The actress said she was thinking about stepping away from acting moments before the casting.
In the interview, Ashton spoke about what direction she was headed before casting, detailing, "I didn't see the pendulum swinging hard enough and thought my time can be better spent behind a computer or potentially behind a camera. I went unrepresented for a while. While I was on Broadway, I really cleared the decks. I needed to reenter the business in a very new way."
Image via Netflix
Zawe Ashton emphasized that she wanted to help female directors of color, being of Guanda descent. "I my team that I wanted to be of service to first-time female directors. Specifically, first-time female directors of color. Don't throw me into a bunch of auditions. Set me up with Zooms where I can understand how I, in the sea of people that they might want to choose, can help to understand them or enable them."
Concluding the interview, she stated how the Zoom interview with director Nia Dacosta went and her impressions of the interview. "One of the first people that I was set up on a Zoom with was Nia DaCosta, and we vibed really hard. Actually, we really geeked out on Jane Austen and Persuasion. She's such an unbelievably intellectual and intelligent woman. I'd loved Little Woods, her first film, and knew that she had Candyman coming up. We signed off after a couple of hours going, Let's do something, even if it costs like five to make. Then she called and asked if I would do her new movie. I was like, yeah, absolutely! Where are we ? In the backwaters of somewhere? How small is the budget? And it was this follow-up to Captain Marvel, which had not been on my radar at all. The expectation was just to fulfill Nia's vision."
What We Know About Captain Marvel 2
We have several pieces of information about the film, starting with the planned release date. It will be in theaters on February 17, 2023, as part of the fourth phase of the Marvel Cinematic Universe. The synopsis will be based on events after the battle against Thanos in Avengers: Endgame.
In this sequel, we could see Captain Marvel's number one fan, Miss Marvel, who would appear as a sort of apprentice to Carol Danvers. The villain has not been confirmed; however, it would probably be the Skrull Queen. That would also be the character Ashton would play.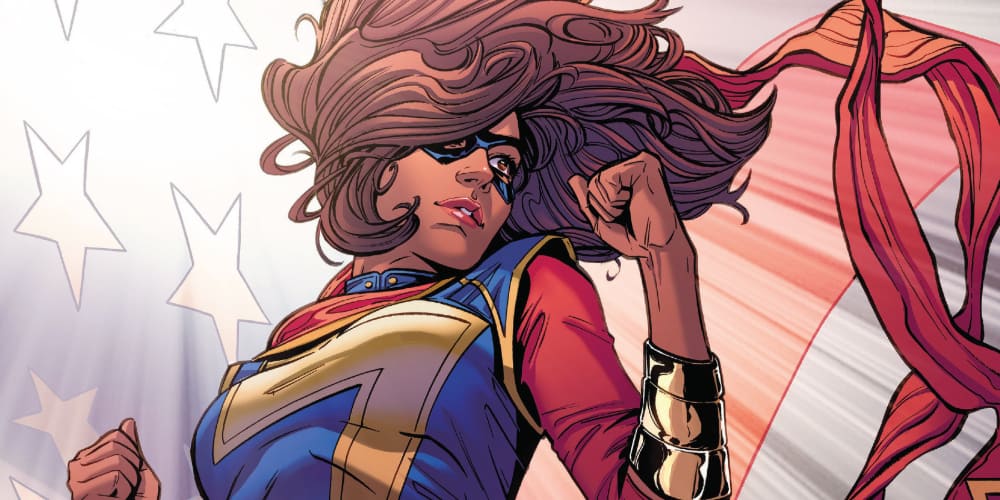 (Image: Ms Marvel (2015) #13, cover by Joelle Jones and Rachelle Rosenberg, Marvel Comics)
The confirmed Captain Marvel 2 cast is composed of Brie Larson, who plays Carol Danvers/Captain Marvel, and Teyonah Parris as Monica Rambeau, Maria Rambeau's daughter. Other actors are Iman Vellani as Miss Marvel and Samuel L. Jackson as Nick Fury.
Other characters and actors are part of the Captain Marvel 2 cast, although their characters remain unknown. The first one is Zawe Ashton, and the second is South Korean actor Park Seo-joon, famous for the movie Parasite.
Image via CJ Entertainment
The first part of Captain Marvel was a resounding success, grossing $1128 million in theaters. The film and the character's acceptance were high, although Marvel has left her out a bit. Captain Marvel only appeared in a few scenes in Avengers: Endgame. Let's see how this second part pushes the franchise forward and how it connects with the rest of the MCU.
Leave a comment