Captain America 4, Anthony Mackie First Images Revealed With His New Suit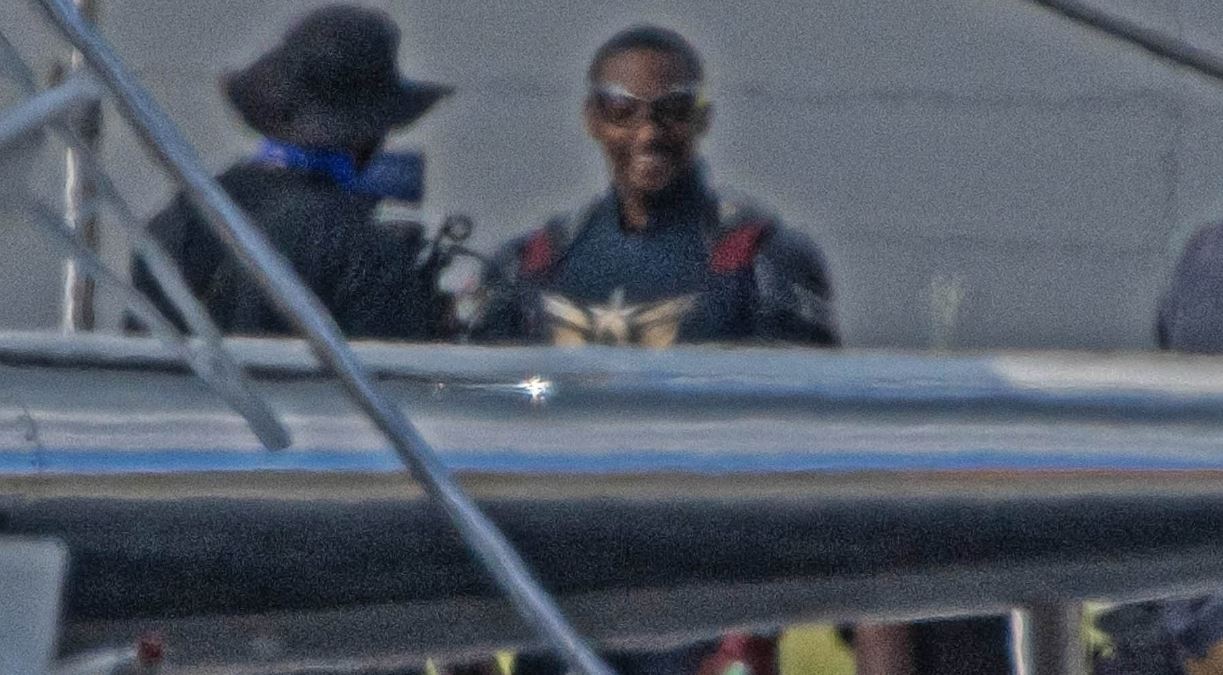 The Captain America 4: New World Order movie starring Anthony Mackie has been developing for some time. Recently some blurry images emerged of its leading man, Anthony Mackie, wearing a new suit. They released a short film with the actor doing some stunts in his new outfit.
The short appeared on social media, showing the new look of Sam Wilson, no longer as Falcon, but as Captain America. As for his appearance, we could see features of several outfits worn by his predecessor, Steve Rogers, in previous events.
First Look at Anthony Mackie in Captain America 4
Captain America New World Order filming stunts at Brown Airport in Atlanta,Georgia. #stunts #spoilers #CaptainAmericaNewWorldOrder #CaptainAmerica #marvel #setphotos #MCU #atlanta #TheSerpentSociety The Serpent Society is an organization of snake-themed supervillains. pic.twitter.com/RVB57AoGaR

— Christopher Oquendo Photographer (@Christo45951886) May 19, 2023
In a Twitter post by user Christopher Oquendo Photographer, we saw a 7-second video with Anthony Mackie in Captain America 4 in his new suit. In it, we saw features combined with the one used by Steve Rogers in Captain America: The Winter Soldier and Avengers: Endgame.
This one is a dark blue color, with a pattern of red and white stripes on the abdomen, just like the one worn by Rogers in Endgame. It also has a star pattern with silver stripes on the chest. It should be noted that as a background, it has the dark blue characteristic of all the character's costumes.
There are more differences between this new Sam Wilson suit and the one he wore made of vibranium that was given to him by the leaders of Wakanda. We can denote that it is less shiny than the previous model, and it does not have the white stripes on the character's man section.
The short film showed Wilson performing a sort of pirouette or somersault. Aside from the leaked photos of Anthony Mackie, we don't know what developments exist about Captain America 4. However, there should be interesting developments, considering the previous leaks. Previously we could notice photos of other scenes, such as a funeral of an important character and the first image of the villain called The Leader.
What do we Know About Captain America so far?
As for its plot, for the moment, we know that the Leader will seek to create a new world order. Anthony Mackie will don the classic suit in Captain America 4 to defeat this villain. This may be the origin of the film's official title. It will also showcase several new characters and the return of old MCU members who have long been missing from its story.   
One of the characters that will appear will be General Thunderbolt Ross, whose alter ego in the comics is Red Hulk, played by Harrison Ford. There are several theories about the origin of his powers. One is that The Leader experiments with and controls him momentarily, giving him the power to transform into this character.
Another theory is that President Ross would seek this power to help Wilson defeat The Leader because the Hulk is not on the planet. To do so, he would ask the favor of a character who has not appeared since 2008, his daughter Betty Ross, who would use Bruce's research to help him. The general's daughter could also be the person who would help free him from The Leader's control in the previous theory put forward.
Other characters to appear will be Samuel Jackson's Nick Fury and a new heroine named Sabra, also known as Ruth BatSeraph and played by Shira Haas. 
The cast of Captain America 4 includes Harrison Ford, Anthony Mackie, Shira Haas, Danny Ramirez, Tim Blake Nelson, Samuel L. Jackson, Liv Tyler and Julia Louis-Dreyfus. Filmmaker Julius Onah guides these actors. The film will hit theaters on May 3, 2024. We are a year away from its release, so we should have more details shortly. 
Featured Image Via Christopher Oquendo Twitter 
I am a circus aerialist influenced by Dick Grayson and Spider-Man. Fortunate to write about the characters that inspired me. I also have a Bachelor's degree in Political Science and a Master's degree in International Trade.
Leave a comment