Brandon Routh Hallmark Holiday Movies Are Predictably Cheesy, A Lot Like Superhero Movies
Now that it's December, I've been watching a lot of holiday movies. Yes, I know they're not highbrow Academy Award-winning films, but they're comforting and familiar. They're about love and family and holiday spirit! Granted, some are definitely better than others, but when I saw that Brandon Routh was in a couple of Hallmark holiday movies, I knew I had to watch. The Hallmark Channel was promoting The Nine Kittens of Christmas, but after doing some digging, I realized that said movie was actually a sequel to another movie, The Nine Lives of Christmas. So how were these movies? Let's get into these Brandon Routh Hallmark holiday movies and how they're actually pretty similar to Routh's superhero roles.
The Brandon Routh Hallmark Holiday Movies Were Wholesome Holiday Fun
How could you give the movie a bad review with BOTH of these faces?!/Image via Hallmark Channel
Besides his adorable smile and his uncanny resemblance to Christopher Reeves, Routh has always brought a depth and warmth to his characters. From playing the Man of Steel in 2006's Superman Returns to Ray Palmer/The Atom on the Arrowverse, Routh kicks butt in the superhero realm; however, he's also shown he can do the kind-hearted bachelor in cheesy holiday movies. Based on the best-selling novel of the same name, The Nine Lives of Christmas is about aspiring veterinarian Marilee White (played by Kimberley Sustad) and firefighter Zachary Stone (played by Routh). They're brought together after Zachary takes in a stray cat named Ambrose and ends up meeting Marilee while looking for cat supplies.
Of course, Zachary is scared of commitment and also has a terrible model girlfriend, whereas Marilee is a sucker for true love, but just doesn't have time to date because she's putting herself through vet school. You know how it ends though: they get together and live happily ever after…or do they? The Nine Lives of Christmas was positively received, so much so that Hallmark Channel decided to make a sequel called The Nine Kittens of Christmas. In the sequel, we learn that Marilee and Zachary are no longer together (*gasp*), seemingly due to different career aspirations. Zachary is now a Fire Captain and Marilee is a vet and co-owns a clinic in Miami. She returns home only to be thrown back into Zachary's life when he discovers a box of nine adorable kittens left at the firehouse. As they work together to find the kittens homes, they realize that the spark is still there.
Holiday Movies and Superhero Movies: More Similar Than You Think?
Image via Marvel Studios
So, what do cheesy holiday movies and kickass superhero movies and TV series have in common? Besides crossover actors and actresses like Brandon Routh, J.K. Simmons (he played Santa in Klaus), or Idris Elba in This Christmas, not much. Bear with me here though: I would argue (and my Comic Years editor would too) that both are very formulaic in terms of plot and characterization. There's usually the hero/unlucky in love protagonist; their sidekick/best friend; the villain/the terrible boyfriend or girlfriend who the protagonist has to deal with; and the wise "mentor"/older person who doles out sage advice.
Both holiday movies and superhero movies basically follow this story: our hero or protagonist is presented with an obstacle. Whether this said obstacle is an alien invasion or being single in their 30s, they know that something has to be done about it. With their sidekick/team/best friend by their side, our hero takes on the obstacle, often having to figure out how to defeat the associated villain. In the Brandon Routh Hallmark holiday movies, the "villain" was his terrible girlfriend and later, his own fear of committing to a relationship. They finally realize the secret to overcoming their obstacle thanks to a meeting with their wise mentor or elderly neighbor who always gives them cookies.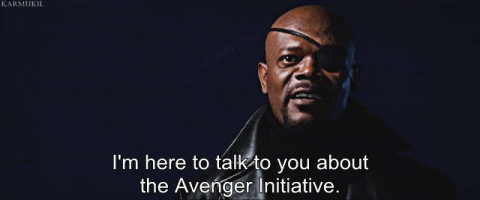 Nick Fury doing some f**kin' mentoring
It's interesting to think about and it got me wondering if this formulaic plot really matters at the box office and in how a film is received. Many critics said Eternals "didn't feel like a superhero movie" and it received a lot of negative criticism, whereas a movie like Shang-Chi and the Legend of the Ten Rings was praised. Was it because Eternals didn't check off all the "typical" superhero movie boxes? Maybe? Overall, I enjoyed watching the Brandon Routh Hallmark holiday movies, especially seeing him carry around cute cats. Were they cheesy and predictable? Of course. But I think that's the appeal of both holiday movies and superhero movies: audiences know what kind of stories to expect and the character tropes to look for. I do believe that there can be successful films that don't follow this specific formula and as someone that liked Eternals, I look forward to seeing more holiday movies and superhero movies breaking the mold.
Watch the trailer for The Nine Lives of Christmas below:
You can currently see Routh as firefighter Zachary Stone in The Nine Lives of Christmas and its sequel, The Nine Kittens of Christmas, on the Hallmark Channel. 
Are you going to watch these Brandon Routh Hallmark holiday movies this season? Do you think holiday movies an superhero movies are similar? Let me know in the comments below!
Featured image via The Hallmark Channel
Keilin Huang is a freelance writer that likes the Oxford comma, reading from her neverending pile of books from the library, and Reeses peanut butter cups. She thanks her Dad for introducing her to his Superman comics and probably majored in Journalism because of Lois Lane. Contact her at [email protected]
Leave a comment