Bombshell Review – Expected, But Still Pleasing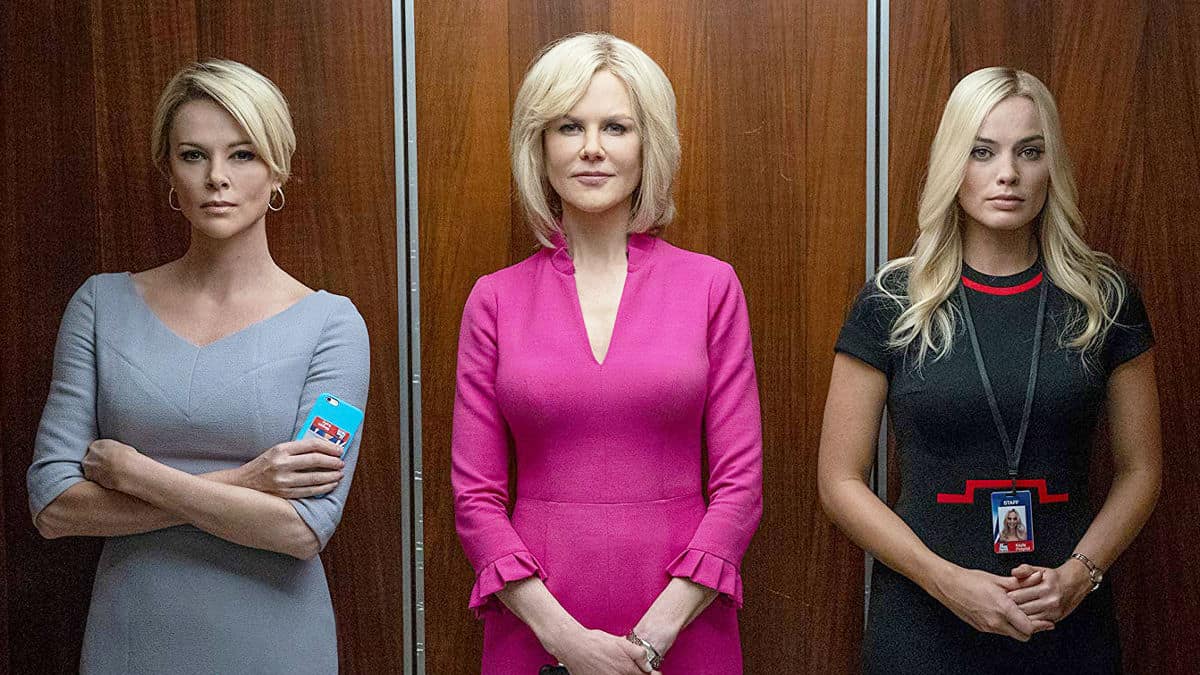 The cultural climate surrounding sexual harassment has taken some noticeable turns over the last decade. The MeToo movement sparked an impressive amount of conversations surrounding appropriate conduct, and plenty of brave individuals have come forward with their own stories. While the MeToo movement is often thought of as starting with cases like Harvey Weinstein, there were plenty of scandals that came before it. In our review of Bombshell, we take a look at where the Fox News Channel sits amongst it all. Bombshell manages to give us the story that we've been expecting, but its true talent comes from bold performances that give the story that heart that it needs.
A Fox News Recap
Since this film is based on a very true story, it's hard to avoid spoilers. In a film like this, I also think it's handy to go into the film having a general idea of what went down. In stories about sensitive material, remembering that these things happen every day can make the impact even stronger. Bombshell tells the story about the Fox News Channel's scandal with Roger Ailes (played by the always strong John Lithgow). Ailes, who has since passed, was the chairman and CEO of the news channel until 2016. His firing came after a hefty amount of sexual harassment cases.
During the summer of 2016, very reputable claims of harassment by Ailes were brought forward by Gretchen Carlson (portrayed by Nicole Kidman), a co-host of Fox & Friends. Shortly after, Megyn Kelly came forward. Kelly has easily been one of the biggest faces of Fox this decade and has appeared across various talk shows. The film explores what went on behind the scenes while all of these allegations came forward. While it's easy to read the news and understand what's happening, the film explores just how impactful these events are on the lives that they personally touch.
Theron as Kelly. Image via Lionsgate.
Bombshell Is Full Of High-Hitting Performances
Have you ever watched a performance on screen and thought how the role almost seemed tailor-made for the actor? Well, that's how it feels watching Charlize Theron playing Megyn Kelly. The fact that she's emulating a real person with plenty of distinctive traits almost makes it more impressive. Though, since it's Charlize Theron, who can really say that they're surprised? She's an actress who thrives in roles that are complete opposites from her genuine self and her performance in Bombshell is no different. Though, we do need to give plenty of credit to Kazu Hiro, the lead on Theron's prosthetic work, and Vivian Baker, the makeup department head.
Another unsurprising acting win in the film is Margot Robbie's portrayal of Kayla. She is not exactly based on a real person, though we can imagine the thousands of women who have found themselves in similar positions as Kayla. She is the go-getting new employee at Fox and wants to prove herself. This role has more flexibility than the rest since the film can use creative freedom in what happens to Kayla. With this, Robbie is able to remind us how damaging and real sexual harassment is. We feel so deeply for her, and it makes us rage at how often this stuff goes on.
Bombshell Is Almost Surface Level But Still Packs A Punch
It's important to learn about the numerous sexual harassment and MeToo allegations that have gone on over the years. Though, with such a touchy subject matter, it's crucial that some of these stories are told in a way that people want to watch and read. Yes, reading the dark stories that people have gone through is also important. But films with harsh subject matter don't always draw the most viewers. Bombshell manages to navigate a set of stories with vulnerability and sensitivity, while still being something that people want to go out and watch.
Our review of Bombshell is that it's a film that's worth going to for the all-star performances, that will leave you with a reminder about the importance of speaking up, and recognizing the bravery of those who do. The film is nothing new, yet it tells the story in a way that will resonate with plenty of viewers. With this and Little Women (read our review here!) in theatres at the same time, it's a great month for watching women shine on screen!
Readers, have you checked out Bombshell in theatres, and if so, what's your review of the film? We'd love to hear what you think!
Featured image via Lionsgate.
Meghan Hale is the kind of movie lover that has a "must watch" that is a mile long... and growing. When she isn't talking about the latest film and television news she is writing one of her many in-process novels, screaming film trivia at anybody who will listen, and working as a mental health care professional. Follow her on Twitter @meghanrhale for some fun theories and live reactions to all things entertainment.
Leave a comment