Black Widow Tops Opening Weekend Box Office, Including Disney+ Revenue
The Marvel Studios streak continues. Every film in the Marvel Cinematic Universe has won its opening weekend box office. With the opening weekend box office numbers for Black Widow, it seems that trend will remain unbroken. That alone should be good news, but Marvel fans and Disney shareholders have other reasons to celebrate. Like other new Disney releases, Black Widow was not just in theaters but also available via Disney+ premier access. This means that Disney+ subscribers can pay a premium of $30 to watch the movie over and over from the comfort of their home. What makes the Black Widow numbers unique is that, for the first time, we have some data on how much that earned for the company.
The most recent film to dominate the post-pandemic box office was F9, which brought in a respectable $70 million which was on par for non-Marvel blockbusters but below franchise expectations. Complicating matters is that this film was only in theaters, with no video-on-demand options to speak of. Black Widow earned $80 million domestically for a total of $158 million worldwide. Disney also reported that the film made $60 million (which translates to 2 million subscriber accounts spending the extra cash). If you're willing to count that as box office revenue (and some aren't, more on that below), that brings the opening weekend total to $215 million. Yet, Disney keeps all of the money from Disney+ so their takehome is equivalent to an extra $120 million in ticket sales.
The bottom line here seems to be that home-release access did not deter some folks from seeking a theater experience. Either way, the movie business is entering new territory that just might be the new normal.
Is Disney 'Cheating' Including Disney+ Numbers in the Black Widow Opening Weekend Box Office?
Image via screengrab
Now, some folks think that Disney is 'cheating' by including their premier access numbers as part of the opening weekend box office for Black Widow. While it is important to note the distinction between the two metrics, when talking about the film's overall performance this does seem fair. If you want to be annoyingly literal, it's fair to say that the Disney+ revenue for Black Widow is not part of the box office returns even on the opening weekend. And, the $215 million figure does not present an accurate picture of how well this movie performed for theaters, which is an important thing to note.
Yet, if we are using 'box office' as a catch-all term for people paying money to see the film as soon as they can, it does fit. Many of the complaints against the immediate home-release model said that this would hurt the film in theaters. Unless you had very high expectations for the opening weekend box office numbers for Black Widow, it's safe to say it did not. Yet, the availability of the film at home is something that could hurt the ultimate box office numbers.
This is an assumption, but I'd wager that people went to see Black Widow in the theater for that opening-night experience. But rather than returning to the theater to see the film multiple times (as they did for Avengers films or the higher-earning solo outings), they might just spend the $30 to rewatch at home. Looking at how Saturday and Sunday numbers compare to the Thursday night and Friday numbers, that feels like a fair assumption. F9 dropped off by a massive percentage on each subsequent weekend, and it's not a film that fans could get at home.
Day-and-Date Releases May Be Here to Stay as Theaters Re-Open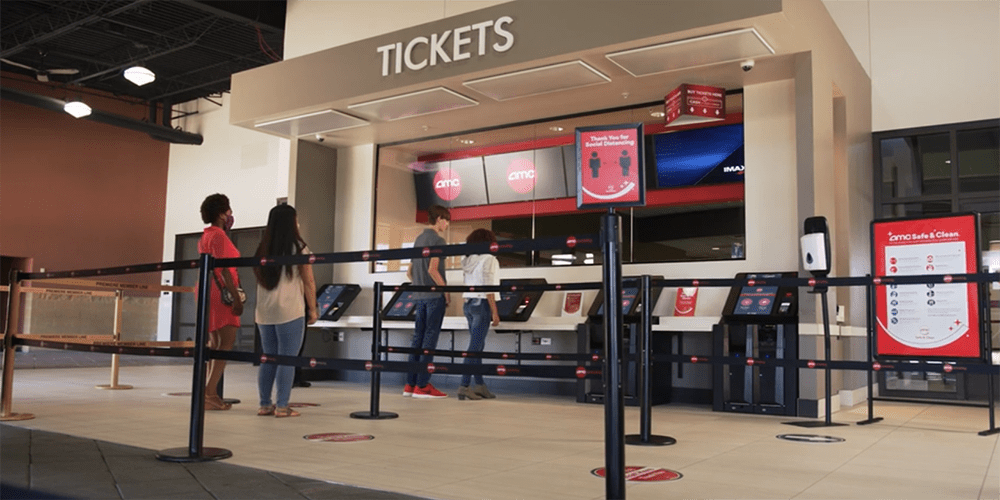 Image Credit: AMC Theaters
When Warner Bros. announced their 2021 movie slate would debut on HBO Max and theaters at the same time, people reacted strongly. With other studios like Disney and Universal following suit, some felt that movie theaters were in jeopardy. Others said this was a unique circumstance because of the COVID pandemic and, thus, a temporary change. The opening weekend numbers for Black Widow are just one data point here, and despite our deep desire for it to be so the pandemic is not over yet.
Nonetheless, Black Widow enjoyed a respectable opening weekend (and this was never going to be a HUGE MCU film at the box office). If the "repeat viewers" opt for premier access rather than return trips to the theater, this is not necessarily grim news for Disney. Again, they get to keep all of that money rather than splitting ticket sales with the theaters. If this trend continues with Shang-Chi and the Legend of the Ten Rings and Eternals (though whether these will be available via premier access is not yet certain), Disney may prefer this. A new MCU movie is still a big cultural event that is experienced with a group in a theater. But any "legs" the movie has will be represented via premier access revenue, which goes right in their pockets.
Warner Bros. may be finally satisfied with their HBO Max subscriber numbers, so rather than offering future WB movies as part of the service, they may include a premier access feature of their own. Only time will tell.
What do you think? Do you think movies will go back to being released in theaters only or is the premier access model here to stay? Share your thoughts below.
Featured image via Marvel Studios
Joshua M. Patton is a father, veteran, and writer living in Pittsburgh, PA. The first books he read on his own were comics, and he's loved the medium ever since. He is the greatest star-pilot in the galaxy, a cunning warrior, and a good friend. His book of superhero short stories, Tales of Adventure & Fantasy: Book One is available as an ebook or paperback from Amazon.
Leave a comment