The Box Office Numbers for Black Widow Saw a Drop, But Is It As Bad As It Seems?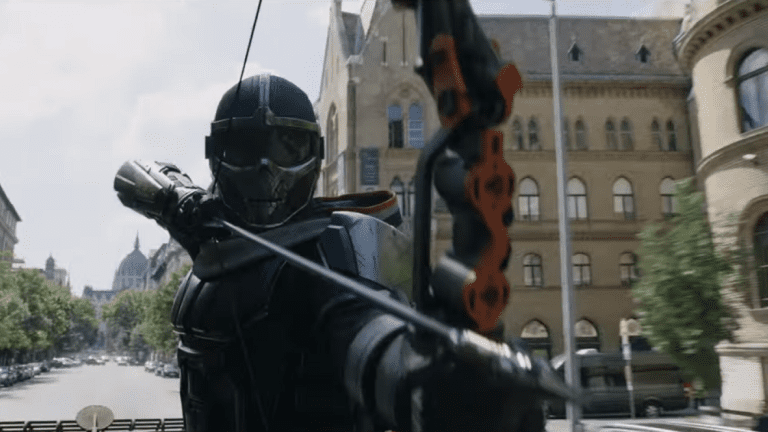 Every Marvel fan knows that opening weekend is where it's at. If you're a big fan of the franchise, few things will keep you waiting more than a day to see a new release, and Black Widow was no exception to the rule even though it was released both in theaters and on Disney+ with Premier Access. The box office drop for Black Widow in its second weekend was bigger than expected. In fact, it was the steepest for any MCU title out there. But don't let that fool you: The film is doing just fine. The real controversy lies in how the profits are shared, or in this case, not shared with movie theaters. Since the film is out in theaters and available on Disney+, this hybrid release model is changing the box office landscape in ways we may not understand quite yet.
The Box Office Drop For Black Widow Isn't All Its Made Out To Be
Image via Marvel Studios
The opening box office numbers for Black Widow were impressive, and not just for a post-COVID release. The Scarlett Johansson and Florence Pugh-led film earned a grand total of $215 million in its opening weekend, with a little more than $80 million coming from the domestic box office. This success was no surprise, though the predominantly male ticket buyers were when it came to the film's demographics.
The second weekend for Black Widow saw a steep drop, bringing in a total of just above $26 million domestic. This marks a drop of -67%, the biggest one of any MCU film. Second place is Ant-Man and the Wasp, which saw a decline of 62% on its second weekend. So far, both films are looking nearly identical in terms of numbers, with Black Widow just barely beating its first weekend numbers and barely losing for the second weekend. Could Black Widow end up with a similar final worldwide gross of $622 million like Ant-Man and the Wasp?
Why There Is So Much Discourse About This Drop
Image via AMC Theaters
After its successful first weekend, most of the conversation around the film's release was about how successful dropping the film in theaters and on Disney+ was. With the recent drop, the tables of talk have turned and are now shaming this simultaneous release strategy. However, it's important to note that Disney+ hasn't revealed the Premier Access numbers this past weekend. Theaters are pretty mad about the drop off. All fingers are pointing to Disney, and the National Association of Theater Owners is begging to leave their hybrid release model behind as we start to heal from the impacts of the coronavirus pandemic.
The final film confirmed as having this release strategy is the upcoming Jungle Cruise, starring Emily Blunt and Dwayne Johnson. This could see a big win, as the film is appealing to a more family-friendly audience. The Rock and Emily Blunt are both big stars in their own right, so this is as high-profile a summer blockbuster as any. This is the exact demographic that Disney+ can appeal to with the Premier Access release. Why spend upwards of $100 at the theater on tickets and popcorn when you can have a stress-free evening at home for only $30? And, the kids can watch the movie again and again. (And, Disney keeps all that revenue.)
It's tough to tell if this strategy will stay for even longer. If Disney+ isn't transparent about every weekend's numbers, how do we know if it's a success or not? The general public's reaction to the immediate streaming has been mixed, with some (like those with big families) loving the change. Others (like me, a solo movie watcher) don't think it's worth it and would rather head to a theater.
Are These Headlines Trying To Attack The Film?
Sadly, it's not uncommon to see people try to tear down Marvel films. Especially women-led Marvel films. When Captain Marvel was released in 2019, it was, by all accounts, a massive success. It earned $1.128 billion worldwide with $426.8 million domestic. Despite the massive turnout, "fans" still tried to boycott the film and claim that it was a flop. Online haters went as far as leaving fake and negative reviews about the film online, claiming that it was ruined by a "terrible" performance by lead actress and Academy Award winner Brie Larson. Despite their attempts, the film was largely critically acclaimed, and Larson's role was beloved by many non-trolls.
There have been a few attempts at doing the same thing to Black Widow, but nothing as large-scale ever came to fruition. But by acting like the film is "flopping" with such a steep box office drop, it perpetuates the idea that female-led Marvel films are destined to fail. But these heroines will keep on bringing in the cash, and the franchise has finally realized how big of a demand there is for our favorite badasses.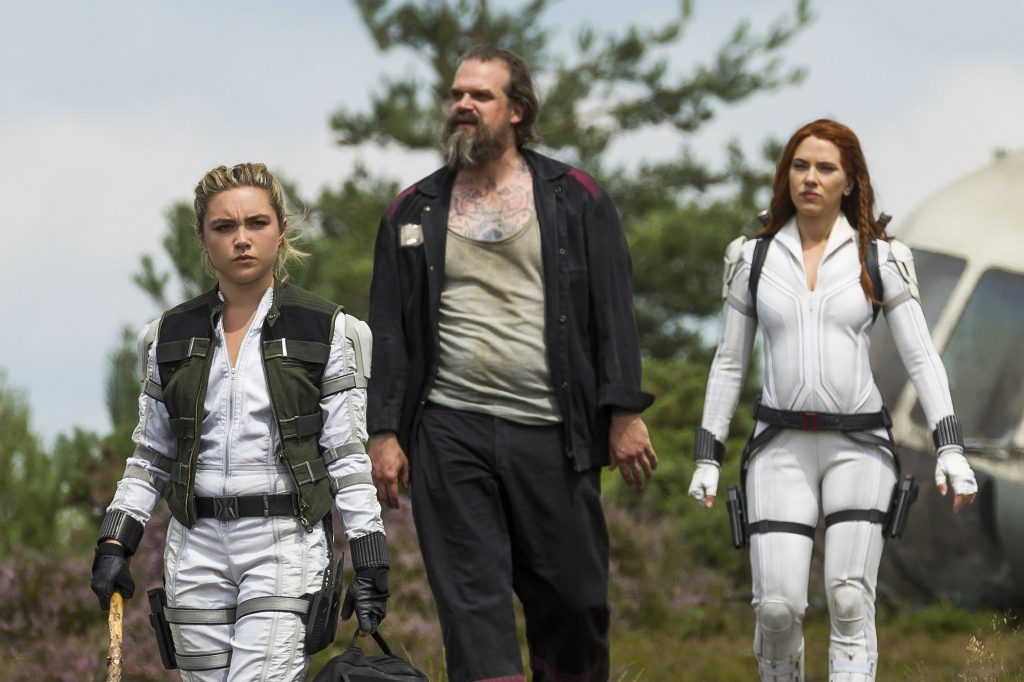 Image via Marvel Studios.
Post-Covid Releases Will Always Be Tricky, And The Black Widow Box Office Drop Is A Casualty Of This
Theaters are going to be slow to recover after being closed for so long. Cineplex only just opened up all of their remaining theaters this past weekend, which had even kept some closed for Black Widow's premiere. So, it's clear that the theater industry has a lot of building to do, but that doesn't mean it'll take forever. Sure, the second weekend Black Widow box office drop was steep. But so was the drop for F9 and almost every other film that has been released over the past few months. We're just happy to see movie theaters opening back up and to have the choice between Premier Access or sitting in a theater seat.
Readers, let us know if you have any thoughts on the box office drop that Black Widow saw after its second weekend. And if you managed to snag tickets, make sure to head over to our spoiler review of Black Widow to see if you agreed with our thoughts!
Featured image via Marvel Studios/Disney+.
Meghan Hale is the kind of movie lover that has a "must watch" that is a mile long... and growing. When she isn't talking about the latest film and television news she is writing one of her many in-process novels, screaming film trivia at anybody who will listen, and working as a mental health care professional. Follow her on Twitter @meghanrhale for some fun theories and live reactions to all things entertainment.
Leave a comment