Black Panther Sequel Wakanda Forever Has Started Production
The road to the highly anticipated Black Panther sequel has been long, winding, and a little bit heartbreaking. The original 2018 film was met with critical acclaim and more than a billion dollars. So, a sequel was more than an obvious next step. After the tragic and untimely passing of the actor behind the titular character, Chadwick Boseman, fans were unsure where a sequel would go. It would need to honor the late actor while also working within the constraints of the MCU. Finally, we have taken another step on the path, and the Black Panther sequel Wakanda Forever has officially started production.
Anticipated Sequel Black Panther Wakanda Forever Has Started Production
Wakanda Forever has been in the works since the success of the first film. Though, we suspect it has been in the Marvel plan for quite some time beforehand, knowing just how well the franchise likes to look ahead. It was initially supposed to film in 2020, but the world had other plans. The film's reimagining started shortly after Boseman's death, and filming was pushed from a planned March 2021 production to a summer of 2021 one.
The film is now in production, beginning at Pinewood Studios in Atlanta. This filming space is no surprise, as Marvel has leased the studio for ten years, starting in 2020. While confirming the beginning of production, Kevin Feige explained that the entire process continues to be emotional with the absence of Boseman. He added that their film would "make Chad proud," and we would expect nothing less.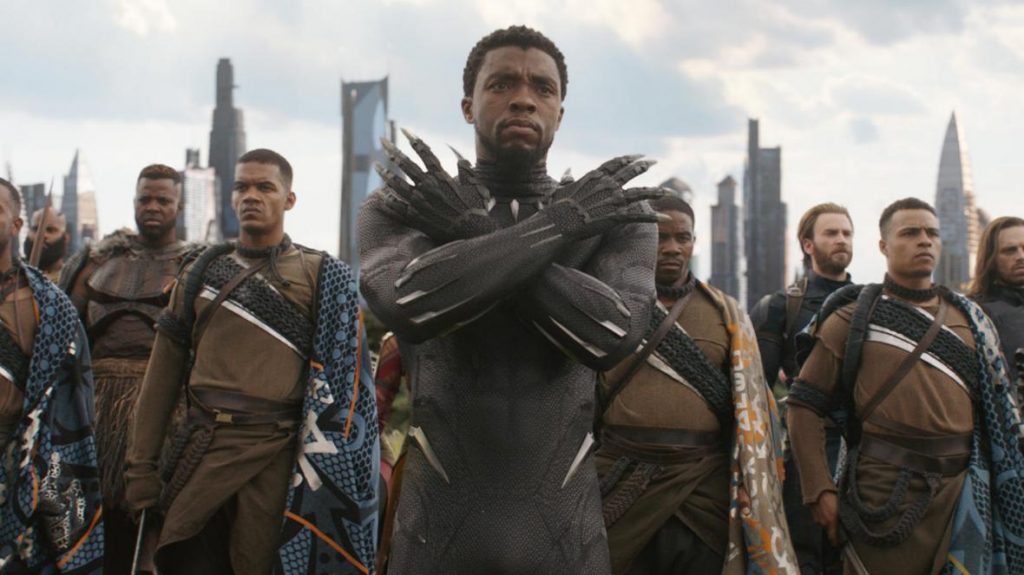 Wakanda Forever is right. Image via Marvel Studios.
What A Sequel May Focus On After Shifts In Franchise
We last left the character of Black Panther in Avengers: Endgame. Our hero returned from Thanos' snap in time to fight against the infamous villain and assisted the Avengers along with some other important Wakandan heroes. While the character will have an animated role in the upcoming series What If…? this Endgame ending is the last we'll see of him. Marvel has made the decision not to recast the character out of respect for Boseman.
Whatever comes next for this series of films will have to focus on somebody else. Fortunately, Wakanda is filled with strong and fleshed-out characters who are more than worthy of some focus. There is Lupita Nyong'o's Nakia, whose allegiance to her country and desire to fight for good make her a total badass. Then there is Danai Gurira's Okoye, the head of Dora Milaje. We could watch her fight for hours. We also have Shuri, played by Letitia Wright, the younger sister of Boseman's T'Challa.
But where to land focus? Word has already come out that suggests a bigger role for Shuri. Will she be taking over the mantle, or will the film create a new hero for her? I guess we'll find out.
We're thrilled to hear that the Black Panther sequel entitled Wakanda Forever has started production. If your heart is still aching about the history behind this film series, revisit our retro review of Black Panther and reflect on the beauty of Chadwick Boseman's influence on Marvel.
Readers, let us know what you hope to see from Wakanda Forever when it drops on July 8th, 2022. The countdown is on!
Featured image via Marvel Studios.
Meghan Hale is the kind of movie lover that has a "must watch" that is a mile long... and growing. When she isn't talking about the latest film and television news she is writing one of her many in-process novels, screaming film trivia at anybody who will listen, and working as a mental health care professional. Follow her on Twitter @meghanrhale for some fun theories and live reactions to all things entertainment.
Leave a comment