Black Panther 2 Director Reveals The Film's Role In Making A Rihanna Comeback Possible
After years of being on hiatus, Rihanna comes back with a brand new single for Black Panther 2, and the film director discusses how the film made it all possible.
We're only a few weeks away from the worldwide premiere of Black Panther: Wakanda Forever. The film is the most-anticipated sequel of the blockbuster film Black Panther in 2018. This would also be the first Black Panther film after the untimely death of Chadwick Boseman, who originated the role in the Marvel Cinematic Universe.
Black Panther 2's director and actors mentioned that the film is a tribute to Boseman. The sequel will also feature a Wakanda who lost its king in line with Boseman's passing. Now that T'Challa is gone, Wakanda has never been so vulnerable, which paves the way for new threats, like Namor.
The original film made a huge cultural impact. It was the first mainstream superhero film that featured a cast mainly led by POC. But aside from this, the film's soundtrack was critically acclaimed and loved by many fans and listeners. Kendrick Lamar was heavily involved with the first film's soundtrack. With Black Panther 2 coming, fans also expect the sequel's soundtrack to be as great as the first one.
True enough, the first trailer of Black Panther 2 featured a revamped version of Bob Marley's "No Woman, No Cry." The Nigerian artist Tems covered the song, and it fits perfectly with the morose yet hopeful tone of the trailer. But aside from the rising artists, the sequel collaborated with another top musical artist. After her five-year musical hiatus, Rihanna finally released a new ballad called "Lift Me Up" for Black Panther 2.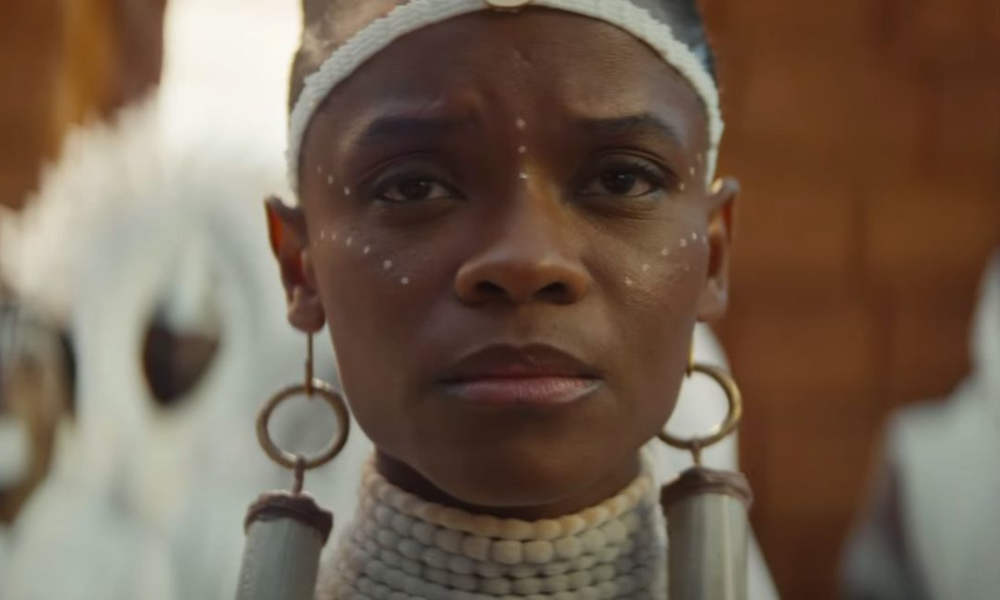 Marvel Studios
Black Panther 2 director on Rihanna's involvement in the sequel
The news shocked Marvel and Rihanna's fans worldwide. And it seems like we have to thank Ryan Coogler for making this collaboration possible.
In Screen Rant's latest event, which Coogler attended, he spoke in detail about how the collaboration came to be. According to Coogler, Rihanna's "Lift Me Up" is a collaboration project between the film's composer Ludwig Göransson, the Nigerian artist Tems, and Coogler.
Coogler mentioned that he's a fan of Rihanna's works. He notes that she has a lot of accomplishments, whether in her music or business career. But the director highlighted that they wanted to find an artist who could resonate with the film's story, themes, and essence. Read Coogler's statement below:
But the truth is we were looking for a great artist who could tell the story of the film, embrace the themes of the film, and present them to the audience in a different packaging. That's what Kendrick did so beautifully with the first film, and this film is different. It made sense that it would be a woman, and it made sense that it would be someone who could speak to not necessarily the words but the feeling of motherhood, because that's a major theme in this film. And I think it timed up that she was in that kind of space in her life, and she was open. It was really the trailer, I think, when she saw the performances that everybody was putting down. That was what kind of put her over the edge and say, 'Hey, I want to see this film. I want to see if I can figure this out.' …But the truth is, once she played us the record, she said straight up, 'I did this for Chad.' It was him, man. And sitting here thinking about it, it's hitting me right now… Chad brought us all together, you know what I mean? He just keeps on and keeps on giving. I'm just really thankful that Rihanna was the latest gift to join the family, and I can't wait for folks to see how it's used in the film."
Rihanna's "Lift Me Up" couldn't be more fitting with Black Panther 2's storyline. As Wakanda faces a new threat after they lost King T'Challa, they needed to band together stronger than before. King Namor's introduction in the film signals a war between Wakandans and the kingdom of Namor. But aside from this, the song also resonates with Boseman's passing.
Facing new threats, Wakanda is getting new allies like Dominque Thorne's Riri Williams aka Ironheart. After her appearance in Black Panther 2, Thorne will reprise her role as Riri Williams in her solo series, Ironheart.
Black Panther 2 will hit the theatres on November 11, 2022.
Paul is many things. He's a fan of anime, superheroes, and everything in between. He dedicates his downtime to annoying the heck out of his cats and dog.
Leave a comment