Black Adam Wrapped Filming, The Rock Thanks Cast And Crew While Giving Us Some Clues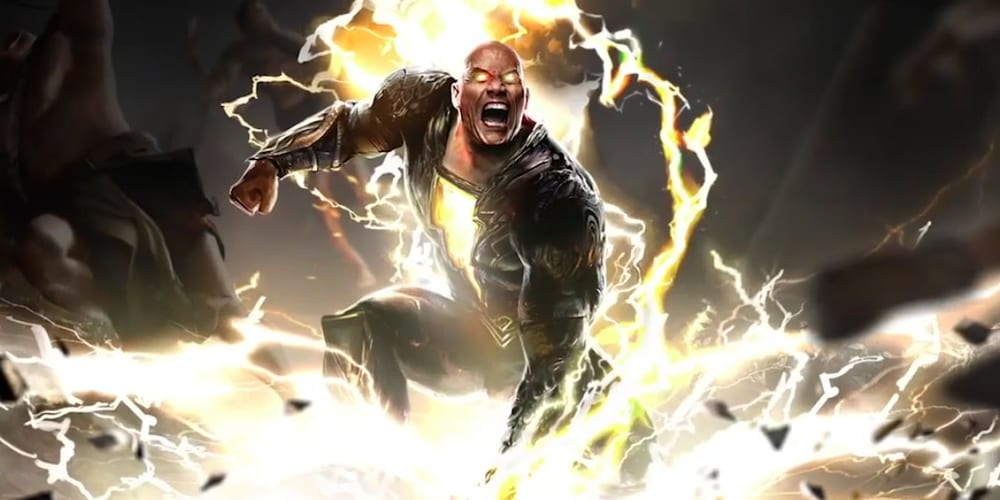 It feels like only yesterday that Dwayne "the Rock" Johnson announced his fellow cast and team members during the DC Fandome Black Adam event. Now, in a video thanking everyone who brought Black Adam to life, the Rock is back announcing that they wrapped filming. But even in his video and Instagram post, Johnson's left some interesting remarks. Mainly that "the hierarchy of power in the DC UNIVERSE is changing," apparently. But what else can we learn from this video?
Black Adam
Wrapped Filming Gives Us Clues About a Major Scene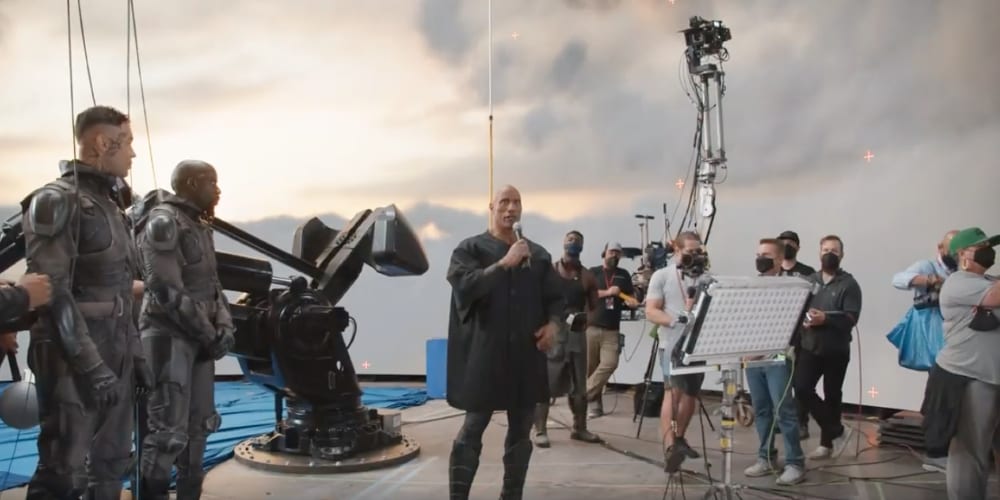 (Image via Screenshot)
As the Rock raffles off ten thousand dollars to crew members and tells them how he can't wait for the world to see Black Adam, we get a great look at the set and some of the extras involved. Firstly, there we see two of the extras dressed in fighter pilot gear. This makes sense because, secondly, the set is a painted backdrop of clouds along with some blue screen platforms. At the beginning of the speech, we can still see thunder effects in the clouds behind and around the crew. Also, there's the piece of movie-making technology that hasn't changed in one hundred years: a giant fan for wind.
Now, as far as when the scene occurs, that's hard to say. Filmmakers don't shoot movies in sequential order of scenes. So, just because this was the Rock's last day of shooting, that doesn't mean it's the end of the movie. We also can't see if he's wearing the full Black Adam costume…or can we? He's definitely wearing the boots. Then again, that black tunic could also be a part of his wardrobe. Maybe this is the first action scene!
Regardless, now that Black Adam has finished filming, the movie that felt like it was rumored to happen for the past five years is definitely happening. And with SDCC and DC Fandome 2021 coming up, we should see a trailer soon.
Featured Image: DC/Warner Bros
Roman Colombo finished his MFA in 2010 and now teaches writing and graphic novel literature at various Philadelphia colleges. His first novel, Trading Saints for Sinners, was published in 2014. He's currently working on his next novel and hoping to find an agent soon.
Leave a comment