The Best Movies of 2012, From Dramatic Oscar Bait to Vampires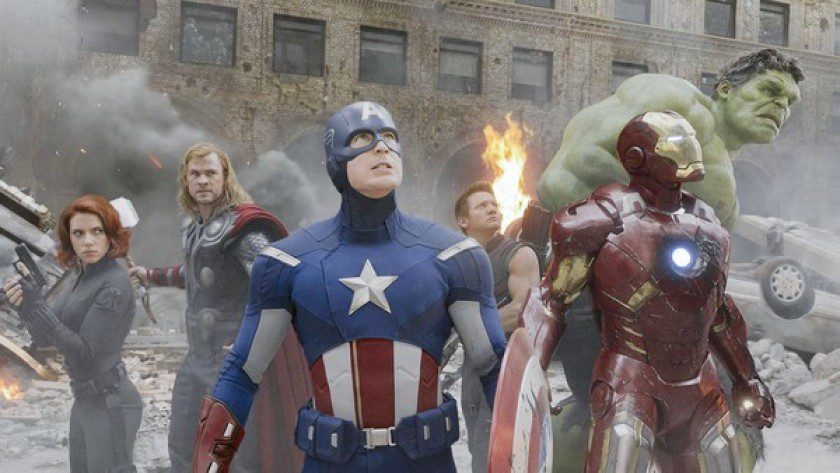 Think back to the year 2012. What do we remember? Was it the insane apocalyptic expectations based on centuries of incorrect predictions, aided by Roland Emmerich's 2009 film, 2012, that wondered if the world could crumble to a pile of nothingness? Was it Barack Obama winning his second election? For some of us, it might even be the summer Olympics that took place in London. But when we look back on 2012, we don't just remember these historical, cultural moments. We remember the movies, too. So, to look back in time, we thought we'd go over the best movies of 2012, in no particular order.
The Best Movies Of 2012, Because It's Never Too Late To Watch (And Rewatch)
In reminding myself of all of the wonderful (and not so great) films released in 2012, I was taken aback by the diversity in their genres. This was a year where franchise films were running rampant and either starting up or coming to a thrilling conclusion, but there was also a splash of originality. Our list of the best movies of 2012 includes some expected features and some underrated gems, but all of them deserve a rewatch almost a decade later.
Django Unchained
We don't get very many western films anymore, and this film manages to remind us of their potential. Quentin Tarantino is an incredibly polarizing director, and there are as many fans declaring his genius as there are haters who claim that his films glorify violence and sexism. We can see elements of both, but this film still manages to fall somewhere between good and great.
Django Unchained follows Jamie Foxx's Django Freeman, a slave desperate to reunite with his wife, Broomhilda von Shaft. When he joins the company of Dr. King Schultz, a traveling dentist/bounty hunter, he begins the process of revenge and rescue.
This movie is a little bit brutal for the taste of many, but it has found its way on this list partly due to a surprising amount of subtle comedy and an unsurprising amount of flawless performances. Foxx blows us away with his layered performance of Django, and he is supported by an Oscar-winning role by Christoph Waltz as Schultz and a terrifying take on Monsieur Calvin J. Candie by Leonardo DiCaprio. Samuel L. Jackson and Kerry Washington also give unforgettable performances.
Image via Columbia Pictures.
The Hunger Games
As mentioned, 2012 was a time where franchise films were rising. But even more than that, the fame of the Young Adult adaptations was also at an all-time high. It seemed only natural that The Hunger Games would be one to make it to the big screen, and its adaptation was a success. Based on Suzanne Collins's book series of the same name, the films ended up making nearly $3 billion at the box office, and it all started with the 2012 on-screen introduction.
The stories follow Jennifer Lawrence's Katniss Everdeen, a young woman who must enter the deadly Hunger Games. This yearly game show features children killing each other for sport in an all-out Battle Royale. The rich place bets, sponsor tributes and watch with more intensity than we do with the Olympics. What follows is an intense story of revolutions, unjust governments, and fighting for what we love.
While the film was not without its flaws, it manages to be a more than adequate adaptation of source material that viewers worldwide devoted their time to. When we remember the ages of the YA adaptations, The Hunger Games beats out almost all other attempts, such as Divergent and The Maze Runner. And while the main storyline is over, we're already excited to see the prequel movies, which begin filming next year!
The Dark Knight Rises
This film is the first on the list to make me feel amazed at how much time has passed since its release. The follow up to the legendary The Dark Knight and the finale of Christopher Nolan's Batman trilogy, this film surpassed expectations despite the pressure it had to be great.
The Dark Knight Rises sees Christian Bale's Batman up against Tom Hardy's Bane, a revolutionist who wants to liberate the world of pain. He needs to join forces with Catwoman, a.k.a. Selina Kyle (Anne Hathaway), and find other allies to take down this menacing foe.
We love this film for its pacing, performances, and the anxiety that comes from watching such a dramatic showdown. Its development went through a lot, especially after the passing of Heath Ledger, forcing rewrites and hesitation on going forward with the film at all. We'll always be excited for more Batman, but if this had been the last instance of the caped crusader on screen, we could rest easy.
Image via Warner Bros. Pictures.
Avengers Assemble
You wouldn't be reading a Comic Years article about the best films of a year if we didn't include some Marvel Cinematic Universe picks. Avengers Assemble, also referred to as The Avengers, was the first big installment in the now-massive franchise. It saw all of our favorite original heroes joining together, including Iron Man, Thor, and Black Widow, as they fight against Loki's desire for fame and respect.
The stakes rise in every Marvel film, but this earlier feature still manages to keep us on our toes. Loki might not be as terrifying as Thanos or Kang, but the intimate portrayal of betrayal is intoxicating to watch. No matter what stage in the MCU we find ourselves in, this will always be one worth re-visiting. And when we do, we're struggling to keep our tears to ourselves, knowing that the group will never be all in the same place again.
The Hunt
We all know who Mads Mikkelsen is now. He's been featured in the MCU, Star Wars, and will be taking over Johnny Depp's role in Fantastic Beasts. His filmography seems impressive for the big franchises he has found a home in, but his earlier and less well-known work is even better.
2012's The Hunt (not to be confused with the 2020 film of the same name that is different in every possible way) is about Mikkelsen's Lucas, a kindergarten teacher who is wrongfully accused of childhood sexual abuse. His town quickly turns against him, showing the damaging consequences of false accusations and mass hysteria.
The Danish drama is less known in North America, but its overseas praise has shown it the love it deserves, including the Best Actor Award at the 2012 Cannes Film Festival.
The Perks of Being a Wallflower
Another adaptation of a Young Adult novel, this film brings Stephen Chbosky's 1999 novel to life. Directed by the author himself, The Perks of Being a Wallflower is a brutally honest look into the hardships that coming of age can come along with.
Charlie Kelmeckis, played by Logan Lerman, is learning to live with his own mental health struggles after the suicide of his best friend. If this wasn't hard enough, he's also about to start high school. Here he meets Ezra Miller's Patrick and Emma Watson's Sam, who become sources of light in his chaotic life. Grounded by its raw approach, the film manages to take its serious topics and make them seem breezy while simultaneously not taking away from the heaviness of each theme.
This movie could have easily joined our list of honorable mentions or not had been featured at all if it weren't for the decade of love that it continues to receive, proving its longevity that most YA films don't have. Its release was a box office success but continues to pick up even more new lovers, making it a bildungsroman to remember for generations to come.
Image via Summit Entertainment.
Seven Psychopaths
I watch a lot of movies, amounting to hundreds every year. So, naturally, plenty of people ask me to recommend oddball movies or personal favorites that don't always make the yearly roundup lists. My go-to recommendation over the years has become Seven Psychopaths, and I've yet to hear a negative word about it, which is why it makes our list of the best movies of 2012.
The film, directed by the dark comedy king Martin McDonaugh, features a perfect cast of uncomfortable humor. The ensemble includes Colin Farrell, Sam Rockwell, Woody Harrelson, and Christopher Walken. Oh, and we can't forget Bonny, the real star of the film that caused some of the marketing to rename the film to Seven Psychopaths and a Shih Tzu.
Colin Farrell's Marty, a screenwriter struggling to write anything worthwhile, is the core of this story. When he inadvertently becomes the target of a ruthless criminal, he'll need to put blind faith in some threatening characters. It's filled with as many surprises as there are jokes, and you'll walk away wondering why you didn't watch it sooner.
Honorable Mentions From The Best Movies of 2012
When deciding to round up the best movies of 2012, I figured the toughest part would be to pick a list of phenomenal films. Instead, the toughest was choosing which ones to include and which to leave off. 2012 is filled with everything from adaptations, youthful fun, dramatic intensity, and superheroes. Suffice to say, we have a lot of honorable mentions.
While some franchises began, others concluded. This is the year that brought us The Twilight Saga: Breaking Dawn – Part 2, which wasn't necessarily a screenwriting miracle but did catch us by surprise. The Hobbit: An Unexpected Journey and The Amazing Spider-Man also debuted this year, giving us a blend of anticipation and some feelings of unfulfillment. Other honorable mentions include Chronicle, The Place Beyond the Pines, The Master, Wreck-It Ralph, Skyfall, Moonrise Kingdom, and 21 Jump Street. We told you that there was a lot that had to be left off!
Our list of the best movies of 2012 is a hard one. Some are objectively great, while others are impossible not to make it on your list of personal favorites. We want to hear from you to see if your top picks made it to our list or if there are any that you're sad to see excluded. As always, drop your thoughts in the comments!
Featured image via Marvel Studios.
Meghan Hale is the kind of movie lover that has a "must watch" that is a mile long... and growing. When she isn't talking about the latest film and television news she is writing one of her many in-process novels, screaming film trivia at anybody who will listen, and working as a mental health care professional. Follow her on Twitter @meghanrhale for some fun theories and live reactions to all things entertainment.
Leave a comment