Ben Affleck's New Movie "Air", The Story of Nike and Air Jordans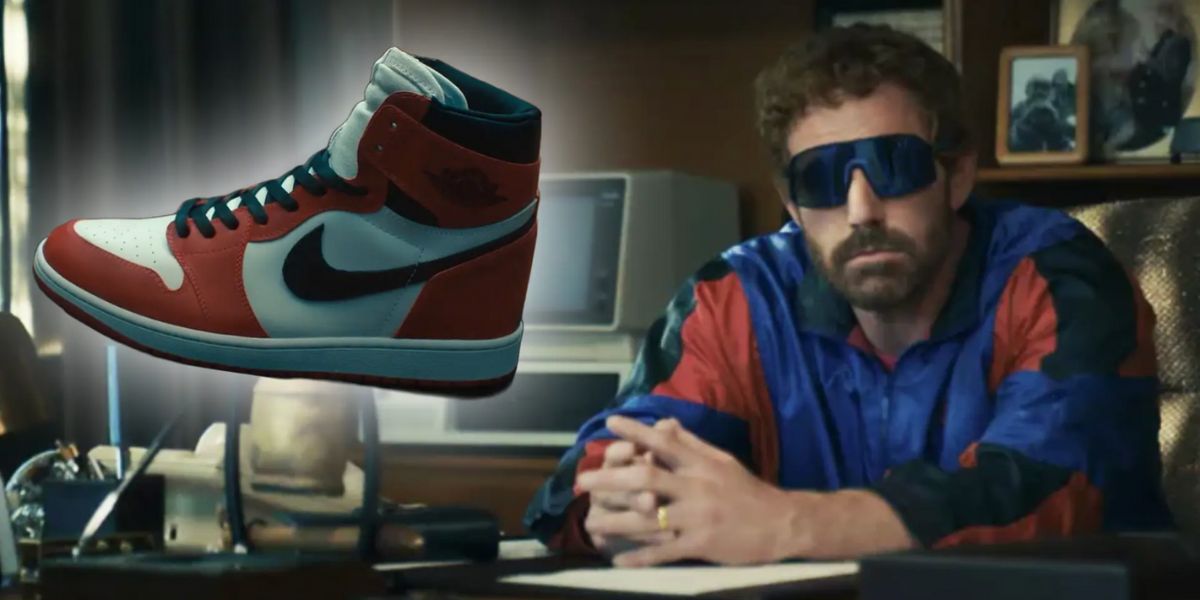 Ben Affleck's new movie Air describes the story of the greatest sneaker business in history. It was the 1980s, and Michael Jordan promised to be a big star. In this context, sneaker companies were fighting to see which players could wear theirs. Nike was just struggling to sign a powerful player, but it didn't have the reputation it has today. However, it closed a deal that still leaves hundreds of millions in revenue today. 
The film is called Air and shows the story of how a Nike executive managed to sign Michael Jordan. At the time, Adidas and Converse were the brands at the top, and Nike had to risk a lot to get the deal done. 
Starring Matt Damon and directed by Ben Affleck, Air tells the story of how the former NBA star and Nike negotiated. It's a fresh, fast-paced, fun movie that doesn't leave viewers time to blink. Let's take a closer look at this fantastic film.
Air Ben Affleck's New Movie Inspired in Nike-Jordan Huge Deal
Warner Bros. Pictures
Ben Affleck's new movie is titled Air. It will tell how the famous Air Jordan sneakers, created by Nike for the Chicago Bulls star, began. In this movie, the actor and filmmaker take us to one of the key moments of the 80s, when Michael Jordan's career took off.
The film stars Matt Damon as a Nike marketing agent and basketball expert, Sonny Vaccaro. The executive tries to convince Michael Jordan to sign an exclusive agreement with the company. The difficulty lies in that, at that point, Jordan was working with Adidas, the brand that held the basketball monopoly. 
This Ben Affleck's new movie shows the art of marketing and negotiation. It is an example of how sometimes you must push your limits to achieve your goals. Matt Damon's character will do everything he can to convince Jordan's entourage to sign for Nike, even if it means endangering the company itself.
Ben Affleck's character will be the co-founder of the Nike brand, Phil Knight. One of the main stakeholders for his air majesty is to sign the deal with the brand. As a viewer, you already know he will get it considering the line exists and is still trending in the sneaker world. However, Ben Affleck's new movie keeps you on your toes, yearning for its protagonist to succeed in the deal.
Other Air Details
Warner Bros. Pictures
As for the details of the movie Air, even though it revolves around the figure of Jordan, his presence is not important in the plot. At that time, he was just starting his career and had not won his first championship, but he was getting all the individual awards. In this Ben Affleck's new movie, we will see how his mother takes the reins of negotiation with the different brands. We will see all those involved struggle to make this deal happen during the development.
The plot is curious because it shows a very different advertising and market. We currently use social media to boost our campaigns and channels, such as Whatsapp and Telegram. However, we will see that the campaigns in that instant were very different and greatly impacted the market.
Alex Convery produced this Ben Affleck's new movie and also acts as a screenwriter. Yet, the production was guided 100% by Affleck. As for its release, it is already in theaters since April 5 of this year, 2023. For many, it represents the era of the American dream, where big companies moved big campaigns for massive results.
The cast of this Ben Affleck's new movie is represented by Jason Bateman, Ben Affleck, Marlon Wayans, Chris Messina, Viola Davis, Damian Young, Billy Smith, Al Madrigal, Jessica Green and as the main protagonist Matt Damon.
Featured Image Via Warner Bros. Pictures 
I am a circus aerialist influenced by Dick Grayson and Spider-Man. Fortunate to write about the characters that inspired me. I also have a Bachelor's degree in Political Science and a Master's degree in International Trade.
Leave a comment