Avatar 2 Movie News From Composer
It's almost here. Fans have been waiting almost ten years for the sequel to James Cameron's 2009 film Avatar, and now we're on the cusp of it. There's Avatar 2 movie news coming from almost every direction! The film will be called Avatar: The Way of Water, and, just like its original, the film faced plenty of setbacks and delays.Originally, 20th Century Studios were going to release the first sequel in 2014 but pushed it back because the team wanted to make more edits. They then pushed the film series back to 2015, 2016, and 2017. In 2016, Cameron announced he'd release the films in 2018, 2020, 2022, and 2023.
Once again, 20th Century Studios delayed the film because it required more production and visual effects. So, they pushed the film back to 2020, 2021, 2024, and 2025.Sadly, the COVID pandemic struck, pushing the film series back once again! Finally, 20th Century studios released the first trailer for the film earlier this year. Plenty of people were excited to see the return of this epic film. As such, there's been plenty of Avatar 2 movie news floating around. A lot of it appears to be rumors, but the producer for the franchise, Jon Landau, did give some hints. In a post on social media, Landau hinted at the musical work going on for the film. Here's what we know.
Avatar 2 Movie News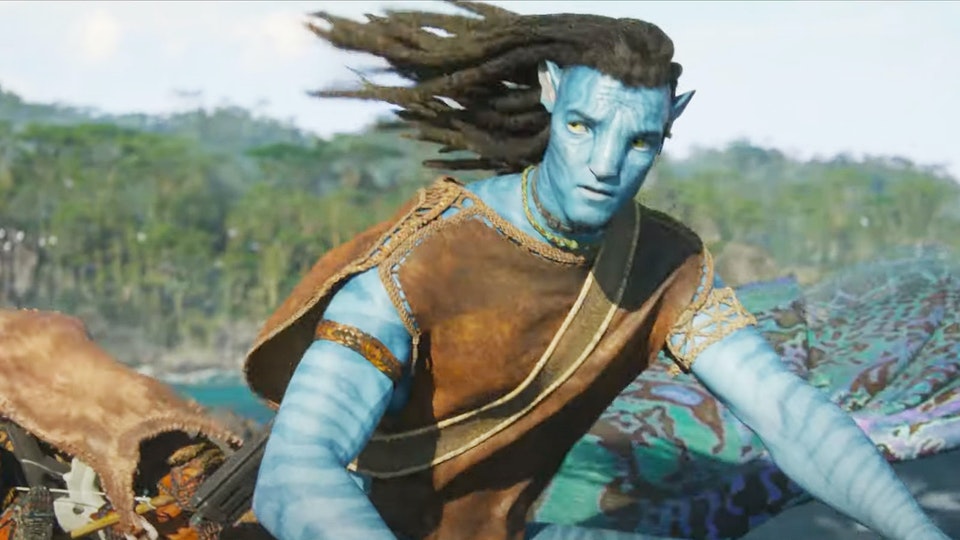 Image: 20th Century Studios
Currently, our first piece of confirmed Avatar 2 movie news is that plenty of actors from the original movie will return. These are Sam Worthington, who plays Jake Sully, and Zoe Saldaña, who plays Neytiri. Previously, Sigourney Weaver starred as Dr Grace Augustine, and she will appear again in this movie. However, she will play Jake and Neytiri's adopted child.
Additionally, Stephen Lang will reprise his role as Colonel Miles Quaritch. In the original 2009 film, Quaritch was the main bad guy. In an exciting piece of Avatar 2 movie news, Lang revealed he would be the main villain for all four movies. There's also Joel David Moore, who is returning as Dr Norm Spellman. Other returning actors include Matt Gerald, Dileep Rao, Giovanni Ribisi, and CCH Pounder.
However, the film isn't shy about new talent either! Hollywood star Kate Winslet will appear as Ronal, while Cliff Curtis will play Tonowari. For the humans, Edie Falco will be General Ardmore, and Michelle Yeoh will be Dr Karina Mogue. In other Avatar 2 movie news, Jemaine Clement, David Thewlis, CJ Jones, Oona Chaplin, and Brendan Cowell will also appear in the movie.
In a recent Instagram post, Landau teased some of the behind-the-scenes work going on for the movie. He mentioned that the composer, Simon Franglen, had recently started "scoring sessions" for the film. Franglen took the reins for the film after the first film's composer, James Horner, died in a plane accident in 2015. It might not be a huge update, but seeing a little piece of Avatar 2 movie news is enough to get us excited about the movie
The Way of Water Interview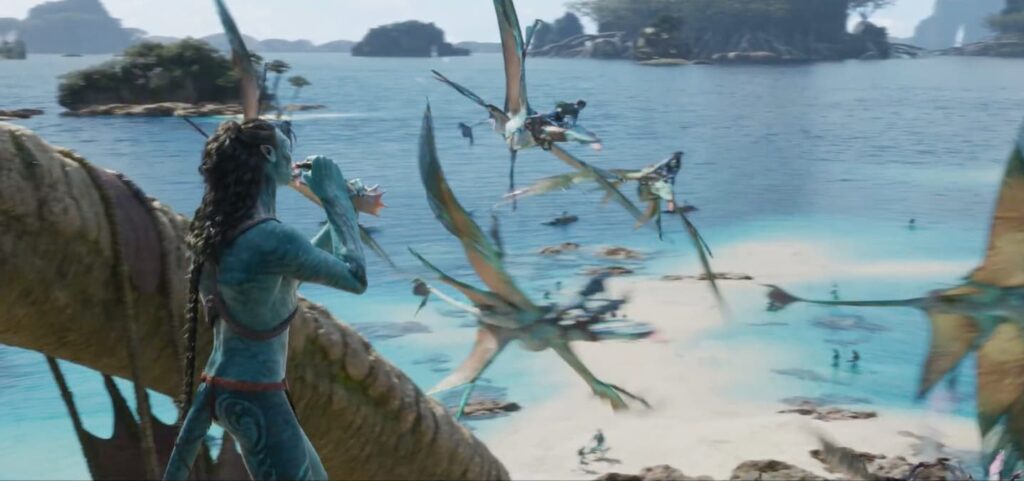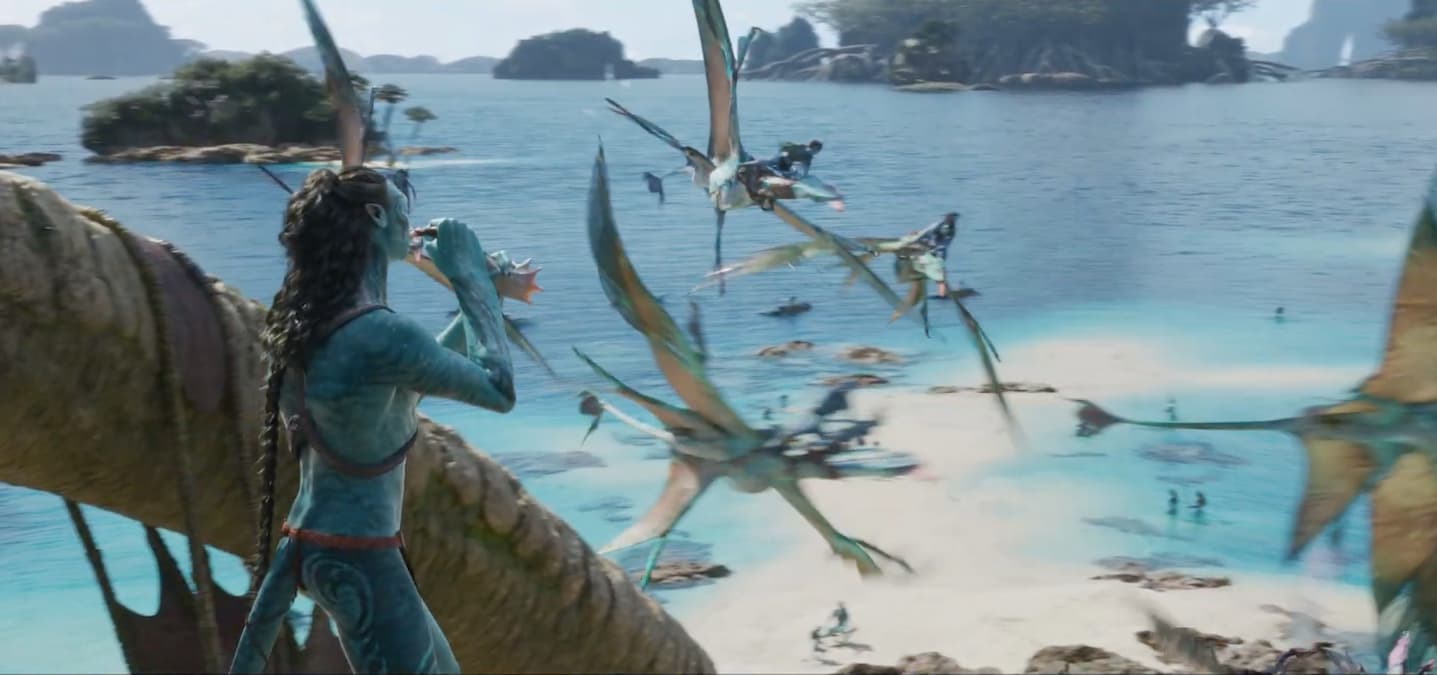 Image: 20th Century Studios
Last year, actress Kate Winslet spoke about her work on Avatar: The Way of Water. She compared director James Cameron's work on the film to his previous film, saying:
"The Jim Cameron on Avatar, he is calmer. I will say that he's just much more stepped into his true self, I think. That's because of experience. That's also because he's done Avatar before, so he knows this world, and he knows these characters. He's invented that way of filming. There's a level of confidence that has grounded him in a much more comfortable place, just for him."
Clearly, this level of confidence will work well for the film, and we can't wait for more Avatar 2 movie news. Winslet then went on to say:
He was brilliantly collaborative on Avatar, honestly. I was awestruck by how much time he allows for the actors to often just meander over a scene if it doesn't feel like it fits quite right. And obviously, safety had to come first. Listen, if there's a proper world collapse and we really are all set on fire, and there's another global pandemic any minute now, I can tell you with my hand on my heart, one of the people I would want to be within that bunker is Jim Cameron. He's very much safety first. I felt really good working with him. I'm so excited for Avatar.
Evidently, she's not the only one who's excited! The film drops on December 16th.
Hi! I'm Arvyn, and I'm an English teacher from the UK. I've been teaching English online for over 4 years to students from all across the world and all ages. Outside of work, I'm a huge fan of reading, video games, and playing with my adorable kitties. See ya!
Leave a comment