Ariana Grande and Cynthia Erivo In Wicked Movie Musical Directed By Jon M. Chu
It looks like Glinda and Elphaba will be defying gravity on the big screen soon! Grammy award-winning pop star Ariana Grande and the indomitable Cynthia Erivo will be the stars of a movie musical based on the popular musical, "Wicked." As someone who regularly belts out "Defying Gravity" and has seen the musical several times, I am so excited that this is happening! Let's get into Cynthia Erivo and Ariana Grande in Wicked movie musical.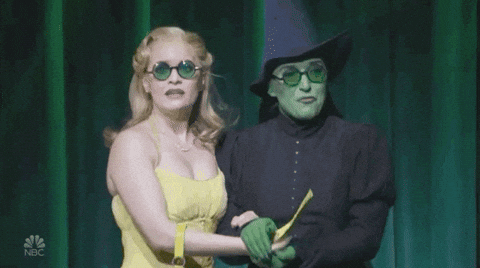 "Wicked" first premiered on Broadway in 2003 and it was a massive success, going on to be nominated for 10 Tony Awards with Idina Menzel nabbing the Tony for Best Actress. It was based on Gregory Maguire's book, Wicked: The Life and Times of the Wicked Witch of the West, which was a retelling of L. Frank Baum's The Wizard of Oz. Besides the 1939 film starring Judy Garland, no other movie has been made that was based off of characters from Baum's work, which is why fans are looking forward to this new version, especially one that has such a talented team. Both Grande and Erivo shared photos on their social media accounts and director Jon M. Chu (fresh off of In the Heights) tweeted their reactions (tearing up right now).
Goooood Newwwws!!! The incredible #CynthiaErivo and @ArianaGrande will be our Elphaba and Galinda in @WickedMovie @UniversalPics Get ready for a match up like you've never seen!!! In pink and green!!! pic.twitter.com/t1eH82mCe7

— Jon M. Chu (@jonmchu) November 5, 2021
Grande got her start on Broadway in the musical "13" and rose to fame in shows like Disney's Victorious. She has become one of the world's biggest pop stars, churning out hits such as "Thank U, Next," "No Tears Left To Cry," and "positions." Erivo has almost reached EGOT status, winning an Emmy, Grammy, and Tony for her portrayal of Celie in the 2015-2017 revival of "The Color Purple." Will the Wicked movie be her chance at an Oscar? We'll just have to wait and see!
The Wicked movie musical doesn't have a release date yet, but it's been a long time coming. The project was first introduced in 2004 and ever since, it's been stalled or delayed for various reasons. Grande will play the "good" witch, Glinda, and Erivo will play the "wicked" witch, Elphaba. Chu will direct and Stephen Schwartz, who penned the music and lyrics to the Broadway show, is adapting the screenplay with Winnie Holzman. Marc Platt, who produced the Broadway musical, is set to also produce the film. While we don't know who else will be in the cast, we do know that the fans don't want James Corden.
I'll leave you with this video of Ariana Grande singing "The Wizard and I" back from 2018:
What do you think of the casting, such as Cynthia Erivo and Ariana Grande, in the Wicked movie musical? Let us know in the comments below!
Featured image via NBCUniversal Television
Keilin Huang is a freelance writer that likes the Oxford comma, reading from her neverending pile of books from the library, and Reeses peanut butter cups. She thanks her Dad for introducing her to his Superman comics and probably majored in Journalism because of Lois Lane. Contact her at [email protected]
Ariana Grande
james corden
jon m chu
movie musical
wicked
Leave a comment