Andrew Garfield Spider-Man Return Could Happen According To The Actor
After months of bald-faced denials to preserve the surprise, "Peter 3" is finally opening up about his experience returning to the character in Spider-Man: No Way Home. Yet, according to a new interview, the Great Andrew Garfield Spider-Man Return might not be completely finished. With the success of the film, folks at Sony are looking to capitalize on Amazing Spider-Man goodwill (that just happened to come six years later than they wanted). As we reported last week, Sony is reportedly looking at Emma Stone for a Spider-Gwen project. Even if Andrew Garfield does not return as Spider-Man again, he'd probably have to play back as his Peter to die and tell Gwen "with great power comes great responsibility." Yet, Sony would almost certainly not bring Andrew Garfield, an Oscar contender this year for tick, tick…BOOM!,  just to kill him in the first act.
Since the return of Andrew Garfield and the Tobey Maguire Spider-Man, the question on Sony producers' minds is "How many Spider-Men can we play with at once?" The newest film is a bit of a fluke. The only reason it's doing pre-pandemic box office numbers is because this is a film literally 20 years in the making. Part of what makes seeing the other Spideys so special is that we never thought we'd see them suit up again. Yet, the first lesson of franchise filmmaking is to never let a spin-off opportunity go to waste.
Despite his many denials, Garfield remained steadfast that he's as Spider-Man first. He had nothing but praise for both Maguire and the new Holland films, which only exist because of the dismal reception The Amazing Spider-Man 2 got when it released. No one could blame him if he wanted to hang up the webs for good.
So, Will the Andrew Garfield Spider-Man Return Again or Not?
Image via Sony Pictures
Now that the Spiders are out of the bag, both Garfield and Maguire are free to talk about returning to the character that helped make their careers. Yet, we comic fans are spoiled, especially those of us who get to write about them for a living. Naturally, instead of just gushing about what we were given, the question about whether or not Andrew Garfield is up to return as Spider-Man in something new is on everyone's lips. We get an answer to the question, however, in a new interview from Variety.com.
"I mean, yes, definitely open to something if it felt right. Peter and Spider-Man, those characters are all about service, to the greater good and the many. He's a working-class boy from Queens that knows struggle and loss and is deeply empathetic. I would try to borrow Peter Parker's ethical framework in that, if there was an opportunity to step back in and tell more of that story, I would have to feel very sure and certain in myself."
One thing about Garfield is that he seems endlessly magnanimous and positive even in the face of, frankly, insulting questions. The answer that preceded this one was whether or not he felt that No Way Home was "about a sort of redemption" for his Spidey. Say what you will about the "Amazing" films, Garfield's Spider-Man is not in need of redemption. There is some genuine critique about how cool and aloof his Peter was compared to the character Spidey fans know. There are also very legitimate complaints about how Sony tried to shoe-horn spin-off setup into an already complicated movie. But Andrew Garfield chose to play Spider-Man as a true-to-the-comics version of the character, complete with wisecracks and swagger while in the mask.
Garfield Understands the Character, Not Just Spidey but Also Peter Parker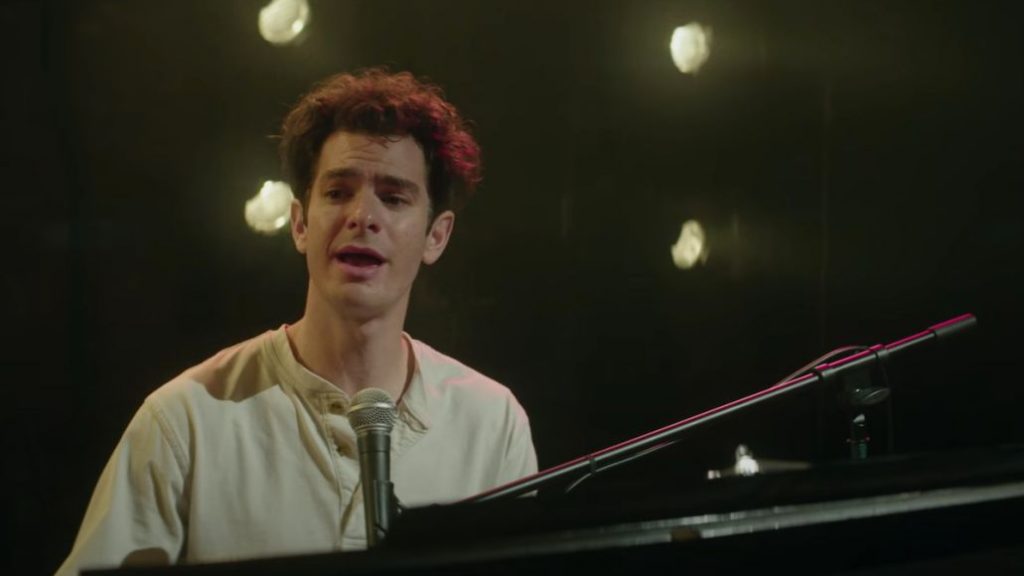 Image via Netflix.
If we really parse his answer, we see that while Andrew Garfield appears open to return as Spider-Man, he does have conditions. Along with feeling "very sure and certain" in himself, his answer suggests that he'd need to feel that way about the story as well. The story in Spider-Man: No Way Home is a big MCU Event™, but it was also a study on what it means to be Spider-Man. The main criticism of the MCU Spider-Man is that being under-the-wing of Tony Stark flew in the face of Spidey being a simple kid taking on a heroic mission bigger than himself. His vague "inheritance" from Stark also set fans off by saying that giving Peter Parker access to Stark Tech just didn't fit with who Spidey is as a character. (Though, let's be honest, he's always been into Stark for his money.)
Yet, what makes your humble correspondent excited for the prospect of the return of the Andrew Garfield Spider-Man is the other part of the actor's answer. Peter Parker is a well of empathy. Yes, his origin story has him (as a kid, mind you) learning the lesson of power and its relationship to responsibility. He didn't act, and his Uncle Ben died. Yet, unlike with Batman, it's not this guilt that motivates him to keep being a hero. In fact, in pursuit of being a hero, Peter Parker lost his best friend, the love of his life, and (at some point or another) everything else. Through all of this his commitment to saving lives, even those of his enemies, persists. That's what makes Spider-Man a hero, not his webs or spider-sense or super-strength. To play Spider-Man again, Andrew Garfield would only need to know what he already does about this iconic character.
Spider-Man: No Way Home is currently in theaters and tick, tick…BOOM! is currently on Netflix.
What do you think? Will Andrew Garfield play Spider-Man again? Share your thoughts in the comments below!
Featured image via Sony Pictures
Joshua M. Patton is a father, veteran, and writer living in Pittsburgh, PA. The first books he read on his own were comics, and he's loved the medium ever since. He is the greatest star-pilot in the galaxy, a cunning warrior, and a good friend. His book of superhero short stories, Tales of Adventure & Fantasy: Book One is available as an ebook or paperback from Amazon.
Leave a comment