Andrew Garfield In Morbius – How It Could Lead To Amazing Spider-Man 3
There is a lot about the Spider-Man: No Way Home movie that warms the hearts of all fans of the friendly neighborhood web-head. Yet, one of the most heartwarming moments in the film is the slight "redemption arc" of the second Spidey to hit the big screen. The response to this from the fans may explain why Morbius was delayed so much. There is reason to suspect that Andrew Garfield may be in Morbius briefly, and how this film could set up The Amazing Spider-Man 3. Some leaks and rumors purveyors have hinted at this possibility, and it makes a lot of sense, especially since Sony is trying to have their Spider-Verse and be in the MCU, too.
Why Andrew Garfield Might Be In Morbius (And Not Tobey Maguire)
Image via Sony Pictures Releasing
Of all the Comic Book Movies coming out in 2022, it's amazing that Morbius seems to have the tightest script and story security. Other than what's been in the Morbius trailers, we don't really know what's going to happen in this movie. Yet, the first trailer showed a new love between Marvel and Sony. Michael Keaton's Adrian Toomes AKA the Vulture appears in the trailer, in his prison outfit from Spider-Man: Homecoming and seems to know Jared Leto's Michael Morbius. Also, over two years ago, fans took set photos showing Spider-Man set dressing on the Morbius shoot. The design is very reminiscent of the Sam Raimi Spider-Man films, but now I think the Amazing Andrew Garfield will be the Spidey in the Morbius movie.
In No Way Home, when Peter 3 (Andrew Garfield) meets Peter 1 (Tom Holland), he tells us what happened after the end of The Amazing Spider-Man 2. Suffering after the death of Gwen Stacy, this version of Spider-Man "stopped pulling my punches." The set dressing suggests that the wall-crawler is wanted and a murderer. This seems to match more with the description of how the Amazing Spider-Man universe unfolded than the Tobey Maguire Spider-Man.
Also strengthening this idea is that Spider-Man seems to be missing. While the multiversal events of Spider-Man: No Way Home unfold over just a few days, it's all made up sci-fi magic. It's possible that Spider-Man's absence here is related to No Way Home (and this movie was supposed to come out before the third MCU Spidey). They could make it so that while it was just a few days for Garfield's Spidey, he was gone for an extended time. I suspect the post-credits scene of Morbius will show Andrew Garfield returning as a newly invigorated Amazing Spider-Man.
How Morbius Could Lead to The Amazing Spider-Man 3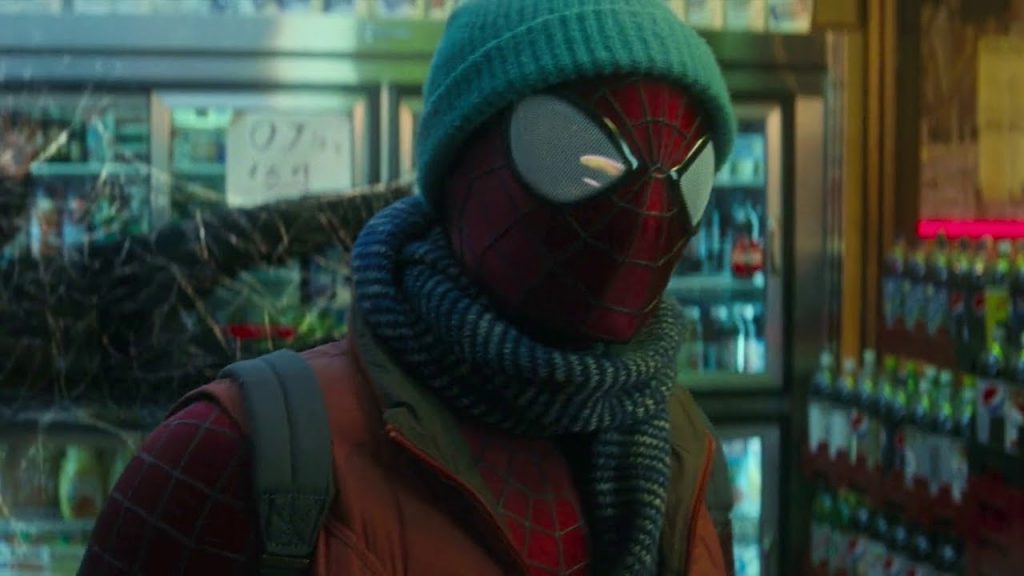 Image via Sony Pictures Releasing.
We know that Sony Pictures is stepping up its Spider-Verse with a Kraven the Hunter movie, Across the Spider-Verse Part 1, and other projects tied to the Marvel characters they own. It seems like Tom Holland will stay in the MCU for now, but the response to the return of the old Spideys means Sony has their own live-action web-head to play with. Garfield seems to go to the Paul Rudd health spa, as he hasn't really aged in 10 years. He's the perfect choice to play Sony's Spidey, especially since it sounded like the Tobey Maguire version found a happy ending being Spider-Man and living with MJ.
Sony may have also learned a lesson from their time with Marvel Studios. If this is the Amazing Spider-Man universe, it's possible that all these characters will form a Sinister Six of their own to take him down. Lastly, with Tom Hardy's Venom hopping the multiverse, it makes sense he could end up in this universe (especially since Morbius mentions Venom in a trailer). Whatever happens, Sony is (hopefully) going to focus on these characters first, introducing the Spider-Man as the tease, not the other way around.
The biggest failing of The Amazing Spider-Man 2 was all the set-up in the film for future villains. It confused an already complex movie and teased characters that fans wanted to see but not at the cost of the story they were watching. So, if these solo films like Venom and Morbius can lead to Andrew Garfield finally getting The Amazing Spider-Man 3, that will be some nice poetry.
If Andrew Garfield and his Amazing Spider-Man shows up in Morbius, it will likely be brief. The buildup to Amazing Spider-Man 3 may start with Morbius but it will likely carry on through many movies.
Morbius releases in theaters on April 1, 2022.
What do you think? Do you think Andrew Garfield will show up for a cameo in Morbius? Do you think Morbius and all the other Sony Marvel projects are building up to The Amazing Spider-Man 3? Let us know your thoughts, reactions, and you own theories in the comments below.
Featured images via Sony Pictures.
Joshua M. Patton is a father, veteran, and writer living in Pittsburgh, PA. The first books he read on his own were comics, and he's loved the medium ever since. He is the greatest star-pilot in the galaxy, a cunning warrior, and a good friend. His book of superhero short stories, Tales of Adventure & Fantasy: Book One is available as an ebook or paperback from Amazon.
Leave a comment