80 For Brady Release Date, Plot, And More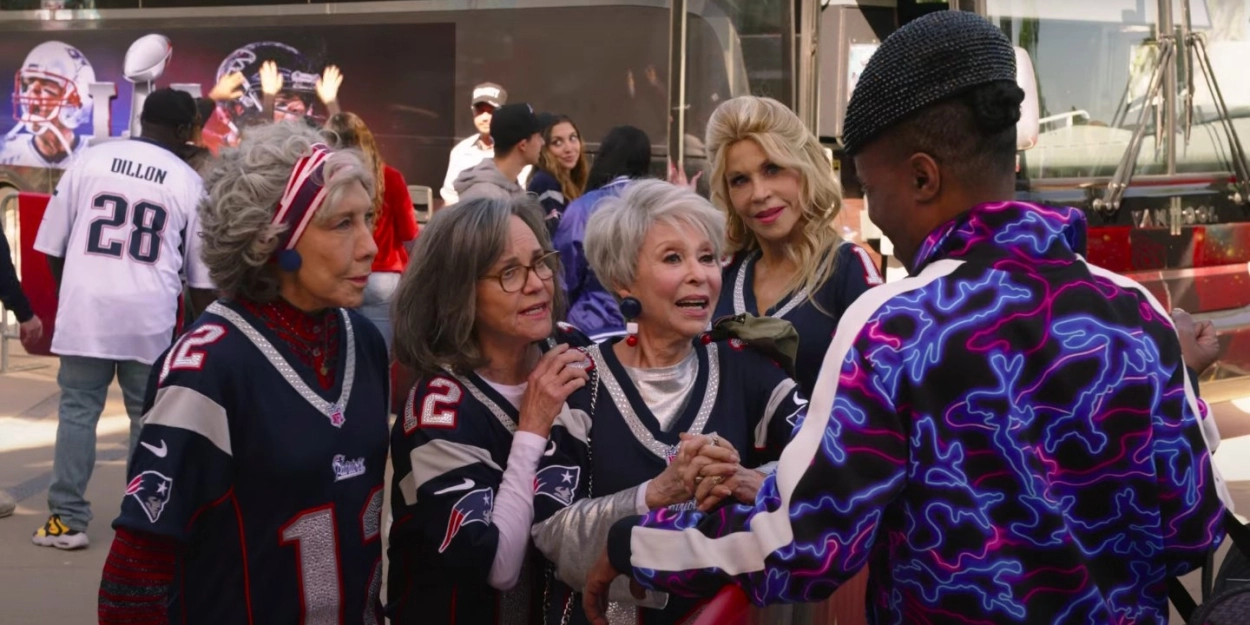 We might be quite far off from the release date of 80 For Brady, an upcoming comedy film, but that hasn't stopped people from being super excited about it. And for a good reason! The film stars legendary actors Jane Fonda, Lily Tomlin, Rita Moreno, and Sally Field. As you might've guessed, it centers around this group trying to meet NFL star Tom Brady at Super Bowl LI in 2017. Naturally, hijinks and hilarious scenes follow as these octogenarians attempt to see Brady. They'll stop at nothing, even breaking the law, to see the GOAT (Greatest of All Time) NFL player!
Alongside these iconic actresses, there are plenty of other famous faces. From the trailer alone, we can tell that it will be a fun adventure! But what's the plot? Who are the other cast members? What's the release date for 80 For Brady? Keep reading to find out more!
80 For Brady Trailer
In the trailer for this movie, we see the four women kicking back to watch a Patriots game. They're all having a good time. However, Lily Tomlin's character has an idea to take things one step further – seeing the Super Bowl for real. Of course, none of the quarter owns tickets and with the Super Bowl being the biggest sports event in the USA, getting their hands on tickets will be hard. As a result, they start a journey to get into the 2017 Super Bowl, no matter what! 
Additionally, the 80 For Brady also reveals some of the famous faces from the movie. Naturally, a movie with this name has to feature Brady himself! He's joined by Rob Gronkowski, Guy Fieri, Billy Porter, Harry Hamlin, Danny Amendola, Julian Edelman, and many more. Many other leading NFL players will also appear in the film. Of course, there is also the leading quartet, with no less than 12 Oscar nominations. In fact, Fonda and Tomlin have starred in numerous films and television shows together. Their most recent collaboration was the Netflix show Grace and Frankie, which ended earlier this year.
Behind the camera for 80 For Brady, we have Brady, who will be a producer. Kyle Marvin is also producing and will be the director, following his work on WeCrashed and The Climb. Both Emily Halpern and Sarah Haskins wrote the film, with Marvin rewriter their screenplay. Also, John Debney created the music, John Toll worked on the cinematography, and Colin Patton was the editor. In addition, Allyson B. Fanger created the costumes, and Wynn Thomas was a production designer. Clearly, it's quite a set of stars in the film and those behind the scenes!
Tom Brady Movie Release Date
Image: Paramount
Paramount will release the film on February 3rd, 2023. You can catch it in cinemas, with a streaming date unclear at the moment. However, since Paramount is the studio releasing 80 For Brady, it's almost certain to premiere later on their streaming service, Paramount+.
Also, Paramount gave the following synopsis of the film:
80 FOR BRADY is inspired by the true story of four best friends living life to the fullest when they take a wild trip to the 2017 Super Bowl LI to see their hero Tom Brady play. Starring Academy Award® nominee Lily Tomlin, Academy Award® winner Jane Fonda, Academy Award® winner Rita Moreno and Academy Award® winner Sally Field, with 7-time Super Bowl Champion and producer Tom Brady, 80 FOR BRADY is in-theatres February 3, 2023.
Interestingly, it appears to be based on a true story. Of course, like most films, the story is likely massively embellished, adding more humorous moments to make the audience laugh. Even so, it looks like it will be a cracking film, and we can't wait to see it!
Hi! I'm Arvyn, and I'm an English teacher from the UK. I've been teaching English online for over 4 years to students from all across the world and all ages. Outside of work, I'm a huge fan of reading, video games, and playing with my adorable kitties. See ya!
Leave a comment