65 2023 Film Gets New Release Date
Many cinema fans are highly anticipating the upcoming 2023 film 65, even though it's not coming out for a while. Foremost, this is because it features Star Wars actor Adam Driver, and it appears very different from many films we've seen before. Earlier this week, Columbia Pictures dropped a trailer and release date for the movie, along with some plot details. However, things have probably changed since they've pushed it back. Thankfully, this change is only minor, as Columbia Pictures has only delayed it by a week. Now, the 65 2023 film will come out on March 17th, 2023.
However, this isn't the first time that the studio has delayed the film. In 2020, Columbia Pictures first announced the film, with Adam Driver in the main role. Additionally, the studio also revealed Scott Beck and Bryan Woods would produce, write, and direct the movie. The co-producers are Zainab Azizi, Sam Raimi, and Debbie Liebling. Also, they case Ariana Greenblatt as Koa and Chloe Coleman as an unknown role. A few months later, the studio began filming in New Orleans and then in Louisiana in 0221/
At the time, the studio aimed to release it on May 13th, 2022. Later, they pushed it back to April 29th, then a whole year to April 14th, 2023, April 28th, and finally, March 10th. Currently, it's unclear why Columbia felt the need to keep delaying it, although it's likely the VFX had a part to play. Either way, we're excited to see it! You can check out the official trailer for the 2023 film 65 below.
65 2023 Film Trailer
During the trailer, we hear Adam Driver, who plays Mills, talking about the danger outside. We see him flying a spaceship, which includes thirty-five other people, and an asteroid hits. Suddenly, Mills's spaceship, along with a single survivor, crashes on an unknown planet. This is a girl called Koa, and the pair are working together when Mills notices danger outside. In his own words, "there's something alien out there." Now, you might think this is just a regular alien movie – but that's where the 2023 film 65 has a twist! Later, the trailer reveals that the alien is a dinosaur and that Mills landed on planet Earth 65 million years ago, which is where the name comes from. During the trailer, we see Koa and Mills fighting against the dinosaurs while also scavenging resources. Clearly, it will be a film full of action and suspense.
Previously, Adam Driver starred in the three Star Wars sequel films and House of Gucci. Ariana Greenblatt starred in A Bad Moms Christmas and will also appear in the upcoming Barbie film. Currently, we don't know who Chloe Coleman will play, although she appeared in Avatar: The Way of Water. The studio hasn't announced any of the other cast members. 
However, we do know some details about the crew for the 2023 film 65. Salvatore Totino will work on cinematography, and Josh Schaeffer will be the editor. Additionally, Danny Elfman created the music. The production companies are Columbia Pictures, Bron Creative, Raimi Productions, and Beck/Woods. Additionally, Sony Pictures will distribute the movie, which has a rumored budget of $91 million.
Adam Driver's New Movie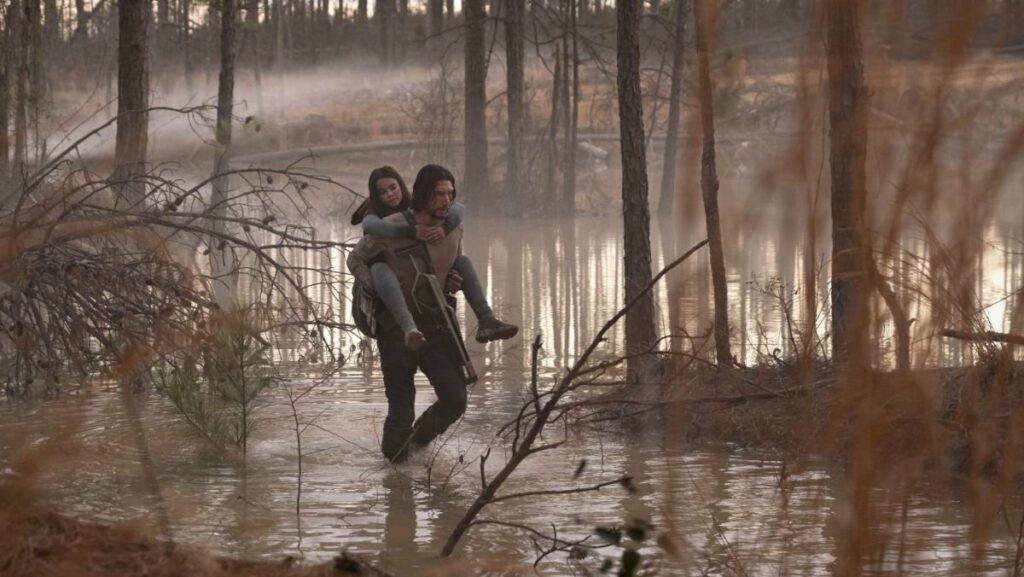 Image: Columbia Pictures
The official synopsis for the 2023 film 65 reads:
"After a catastrophic crash on an unknown planet, pilot Mills quickly discovers he's stranded on Earth… 65 million years ago. Now, with only one chance at rescue, Mills and the only other survivor, Koa, must make their way across an unknown terrain riddled with dangerous prehistoric creatures (including dinosaurs) in an epic fight to survive."
It will be a pretty action-packed ride, and we can't wait to see it! Alongside this movie, Adam Driver will also appear in the film Ferrari. This film is about Enzo Ferrari, who founded Ferrari's car manufacturing company. It'll also come out in 2023. The following year, Adam Driver will appear in Francis Ford Coppola's ensemble cast movie Megalopolis. So, it will be quite a few busy years for Adam Driver!
The 2023 film 65 will come out on March 17th of next year.
Hi! I'm Arvyn, and I'm an English teacher from the UK. I've been teaching English online for over 4 years to students from all across the world and all ages. Outside of work, I'm a huge fan of reading, video games, and playing with my adorable kitties. See ya!
Leave a comment