Your Official List of All the 2021 Academy Award Winners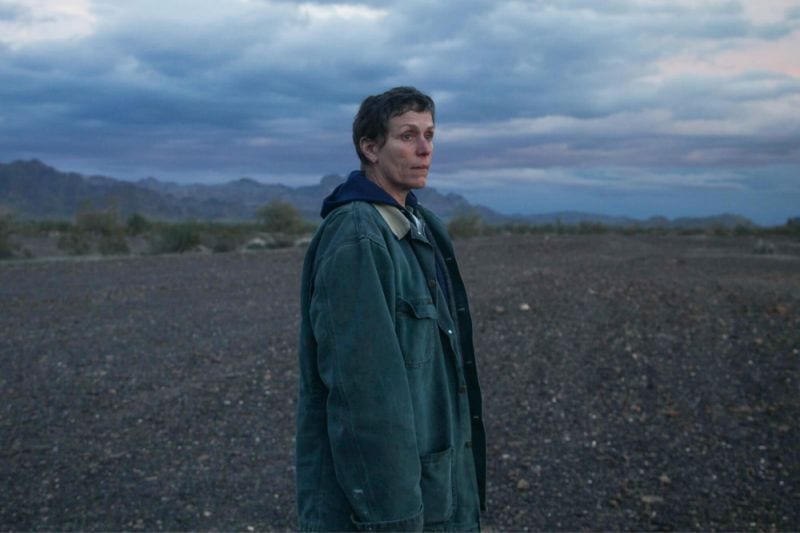 Well, folks, the night finally arrived. After one of the most interesting years in film history, we are able to celebrate the incredible achievements of the industry. Amongst the ongoing coronavirus pandemic, the world has turned to film as a way of distraction, coping, and entertainment. While we sit at home and stream movies on our tablets, hundreds of hardworking directors, actors, cinematographers, sound teams, casting crews, and more risk their lives every day to bring us art. To celebrate them, here are the official 2021 Academy Award winners!
Our List of the 2021 Academy Award Winners
Best Picture
The Father
Judas and the Black Messiah
Mank
Minari
Nomadland – WINNER
Promising Young Woman
Sound of Metal
The Trial of the Chicago 7
The little movie that could, Nomadland does not disappoint fans this year. Telling the beautiful story of Fern, this film takes us on a journey across places and people, reminding everybody that it is not what you have or what you do with your life that matters, but rather it is how strongly you feel and love. This win is not a surprise but still feels like a gift in the chaotic year we have had.
Best Directing
Thomas Vinterberg, Another Round
David Fincher, Mank
Lee Isaac Chung, Minari
Chloé Zhao, Nomadland – WINNER
Emerald Fennell, Promising Young Woman
Zhao becomes the second woman to win an Oscar for Best Directing. Not only is her win for directing Nomadland monumental and historic, but it also feels more than deserved. Zhao manages to take a massive glance inside of a type of living that is so easy to overlook, and she doesn't hold back. This win is a signal that Zhao will be somebody to look out for, and we'll be watching everything that she does after this. Of all the 2021 Academy Award winners, this is the one we'll remember forever.
Best Actress in a Leading Role
Viola Davis, Ma Rainey's Black Bottom
Andra Day, United States vs. Billie Holiday
Vanessa Kirby, Pieces of a Woman
Frances McDormand, Nomadland – WINNER
Carey Mulligan, Promising Young Woman
Using her speech to request a karaoke bar is the most Frances McDormand thing that she could have done. This win may not have been a shock to most, but after winning so recently for Three Billboards Outside Ebbing, Missouri, many of us expected Davis or Mulligan to take the win. Though, McDormand deserves every award that she is up for simply for her courageous acting spirit.
Best Actor in a Leading Role
Riz Ahmed, Sound of Metal
Chadwick Boseman, Ma Rainey's Black Bottom
Anthony Hopkins, The Father
Gary Oldman, Mank
Steven Yeun, Minari
The biggest "wow" of the night goes to Anthony Hopkins taking this award. While Hopkins flawlessly performed as a man going through the final stages of life, many anticipated the late Chadwick Boseman to win posthumously. As Joaquin Pheonix claimed in his presenting speech, we're only bummed that they had to pick just one.
Best Actress in a Supporting Role
Maria Bakalova, Borat Subsequent Moviefilm
Glenn Close, Hillbilly Elegy
Olivia Colman, The Father
Amanda Seyfried, Mank
Yuh-Jung Youn, Minari – WINNER
Yuh-Jung Youn quickly began leading the pack for this award in recent months, proving that audiences are excited to watch stories from people of all walks of life. We're thrilled for Yuh-Jung Youn to take this one!
Best Actor in a Supporting Role
Sacha Baron Cohen, The Trial of the Chicago 7
Daniel Kaluuya, Judas and the Black Messiah – WINNER
Leslie Odom, Jr., One Night in Miami
Paul Raci, Sound of Metal
LaKeith Stanfield, Judas and the Black Messiah
This win surprised nobody and came as a fantastic sentiment to how powerful of a film Judas and the Black Messiah is.
Best Original Screenplay
Judas and the Black Messiah
Minari
Promising Young Woman – WINNER
Sound of Metal
The Trial of the Chicago 7
Emerald Fennell winning the first presented award of the night was a fantastic way to start such an exciting year. Her unique approach to an unfortunately common crime in Promising Young Woman took our perception of revenge and anger to new heights, and this win comes as no shock.
Best Adapted Screenplay
Borat Subsequent Moviefilm
The Father – WINNER
Nomadland
One Night in Miami
The White Tiger
While many of us had Nomadland on our predictions list, The Father was always close behind, and justifiably so. We have seen plenty of films handling the upsetting reality of losing a parent to some of the cruelties of aging, but this one allows the story to be told in a fearless way.
Best Cinematography
Judas and the Black Messiah
Mank – WINNER
News of the World
Nomadland
The Trial of the Chicago 7
One of the biggest surprises of the night, many people thought that Nomadland had this award in its pocket. We're still gathering our reactions to see the turn of events that led to Mank winning this one. Though, the black-and-white cinematography did make the film what it is today, so while we're surprised, we aren't completely shocked.
Best Film Editing
The Father
Nomadland
Promising Young Woman
Sound of Metal
The Trial of the Chicago 7
Film editing is one of the jobs on a film that is often overlooked, but as presenter Harrison Ford proved, can make or break a movie. Sound of Metal surprised us in this category, as we thought that The Trial of the Chicago 7 had great odds. Though, we consider this a pleasant shock, as the film does not deserve to be overlooked.
Best Animated Feature Film
Onward
Over the Moon
A Shaun the Sheep Movie: Farmageddon
Soul – WINNER
Wolfwalkers
This category always felt like a lock, considering how often Pixar manages to nail their nominated films. And Soul is no different, giving us a new look at life and a better understanding of the meaning of a purpose. Though, it's worth noting just how special all of the other nominees are, especially Onward, Over the Moon, and Wolfwalkers. They navigate topics about grief, loss, and other tragedies in ways that animated films rarely do.
Best Animated Short Film
Burrow
Genius Loci
If Anything Happens I Love You – WINNER
Opera
Yes-People
Rarely do nominees in this category manage to find international acclaim from a mass audience in the way that this short film does. Thanks to Netflix, If Anything Happens I Love You was able to touch the screens of audiences that otherwise wouldn't have watched.
Best Live-Action Short Film
Feeling Through
The Letter Room
The Present
Two Distant Strangers – WINNER
White Eye
In presenting this award, Riz Ahmed compares short films to poetry. They are often overlooked but manage to do the incredible act of leaving an impact in less than 20 minutes. This category is one of many reminders that we need to pay attention to short films in the same way that we do with featured films. In addition to this exciting category, the winners gave a fantastic and intimate speech about police brutality, and we're happy that they had the platform to do so.
Best International Feature Film
Another Round – WINNER
Better Days
Collective
The Man Who Sold His Skin
Quo Vadis, Aida?
A touching tribute to appreciating life, Another Round is, at first glance, an odd pick to win. Surrounded by so many other powerful, emotional roles, this tale looks at the midlife crisis in a light that has never been observed before. Witnessing the true appreciation of Thomas Vinterberg's win, providing a heartbreaking shoutout to his daughter, makes this win all the more worthy.
Best Documentary Feature
Collective
Crip Camp
The Mole Agent
My Octopus Teacher – WINNER
Time
Documentaries help us learn and understand, and change the way that we think about feature films. Beyond entertainment, they impact us and the way that we look at the world. My Octopus Teacher wins for telling a story of the closeness we feel to creatures and the curiosity behind the environment, and we can't wait for new viewers to experience it after this win.
Best Documentary Short Subject
Colette – WINNER
A Concerto Is a Conversation
Do Not Split
Hunger Ward
A Love Song for Latasha
Colette is an intimate story of a woman who visits Germany after 74 years. Her ties to the location are horrific, and her ability to spend time in the Mittelbau-Dora concentration camp are a reminder of how we can never let this history repeat itself.
Best Original Score
Da 5 Bloods
Mank
Minari
News of the World
Soul – WINNER
Soul is a film about a lot of things, and one of them is jazz. The music breathes life into the film, and we would have been shocked if it didn't walk away with this award.
Best Original Song
"Fight For You," Judas and the Black Messiah – WINNER
"Hear My Voice," The Trial of the Chicago 7
"Husavik," Eurovision Song Contest: The Story of Fire Saga
"Io Si (Seen)," The Life Ahead
"Speak Now," One Night in Miami
Regardless of the winner, we were adding each of these songs to our Spotify playlists because they're all fantastic. To see Judas and the Black Messiah taking another award felt earned.
Best Sound
Greyhound
Mank
News of the World
Soul
Sound of Metal – WINNER
Riz Ahmed was able to present this award to the film that he starred in, which made it all the more exciting. Not only does this film have the word "sound" in its name, hinting at its ties to the category, it manages to look at the way that we hear films in a way that we don't see in other films.
Best Costume Design
Emma
Ma Rainey's Black Bottom – WINNER
Mank
Mulan
Pinocchio
Historically, most of the nominees in this category design costumes for various people, giving them plenty of outfits for a film that takes place over a period of time. This film, however, mostly takes place in a single day. So, it became essential that each outfit nail its intentions. Ann Roth's careful decisions in outfitting Ma Rainey and co clearly helped the essence of the film, making this a deserving win.
Best Makeup and Hairstyling
Emma
Hillbilly Elegy
Ma Rainey's Black Bottom – WINNER
Mank
Pinocchio
Ma Rainey is no ordinary woman. This meant that she couldn't have any ordinary makeup. The makeup and hairstyling on this film doesn't just stand out, but it helps to transform the film.
Best Production Design
The Father
Ma Rainey's Black Bottom
Mank – WINNER
News of the World
Tenet
Many of Mank's nominations were up for debate, but this category was the one that many of us expected a win. Old Hollywood is a massive, stylish, and inspiring space, and the production design crew nailed it.
Best Visual Effects
Love and Monsters
The Midnight Sky
Mulan
The One and Only Ivan
Tenet – WINNER
Many folks anticipated Tenet to take a lot home before the film released, but it quickly became apparent that its visual effects were its greatest strength. We aren't surprised with this win, but can't help but be reminded of its determination to release in theaters on time.
Image via Focus Features.
The 2021 Academy Award Winners Close Out a Tough Year
This year has been unlike anything anybody could have imagined. While we're sure that nobody imagined winning an Oscar during a pandemic in 2021, we're thrilled to see such a diverse year of Academy Award winners. It's been a tough year for everyone, including the entertainment industry. Still, remembering the power well-made and well-executed stories have to give us escape or something to think about is worthwhile.
Find out how the winners compare to our team talking about our Oscars predictions over on the Comic Years Podcast!
Featured image via Searchlight Pictures.
Meghan Hale is the kind of movie lover that has a "must watch" that is a mile long... and growing. When she isn't talking about the latest film and television news she is writing one of her many in-process novels, screaming film trivia at anybody who will listen, and working as a mental health care professional. Follow her on Twitter @meghanrhale for some fun theories and live reactions to all things entertainment.
Leave a comment