New Xbox Console Leaked By Accident?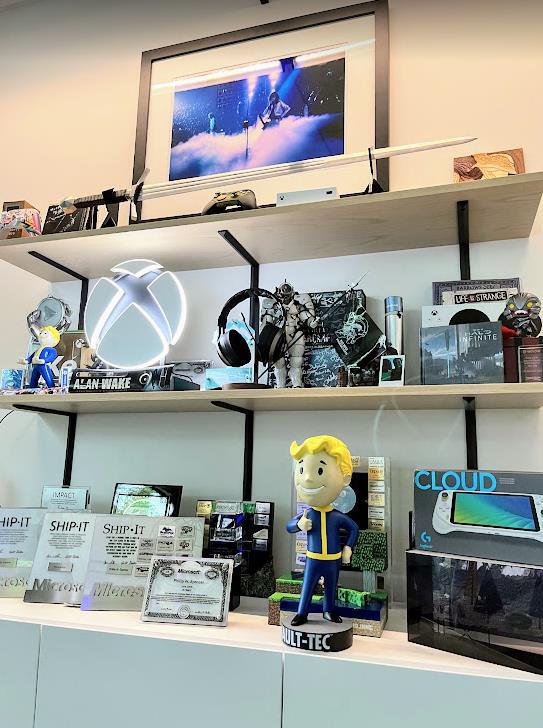 Xbox has had a relatively relaxed month so far. Nothing has made major news other than its Game Pass. However, it seems like a new Xbox console got leaked by Phil Spencer. Apparently, it's a prototype for a streaming platform focused on Game Pass.
Earlier today, Monday, Phil Spencer released a Twitter post celebrating Fallout's anniversary. The post featured a bunch of paraphernalia. We could see a couple of Vault Boys, a Halo Infinite case, and some Minecraft decor. That said, something else caught fans' attention. A new piece of hardware appeared at the top of the shelves. It's also something we'd never seen before. Thus, what could it be?
With the Game Pass family plan, it feels like Xbox is willing to strengthen the cloud service. Therefore, this piece of equipment could be a streaming platform for gamers. Fortunately, Xbox was quick to respond and clarify doubts.
So, let's see what we've got.
Possible leak by the head of Xbox?
Vault Boy left the shelter and stopped by my office to celebrate the #Fallout25 Anniversary. Congratulations to the @Fallout @Bethesda teams on this major milestone for an iconic franchise. pic.twitter.com/hGoN1sAQRK

— Phil Spencer (@XboxP3) October 10, 2022
Everything started with a seemingly innocent Twitter post. The tweet simply stated a happy congratulation to the Fallout and Bethesda teams. It celebrated the franchise's 25th anniversary.
The post featured a fun picture with a bunch of items. That included merchandise from Alan Wake, Fallout, Life is Strange, and Minecraft. However, something at the top was "odd," to say the least.
Here, let me zoom into it.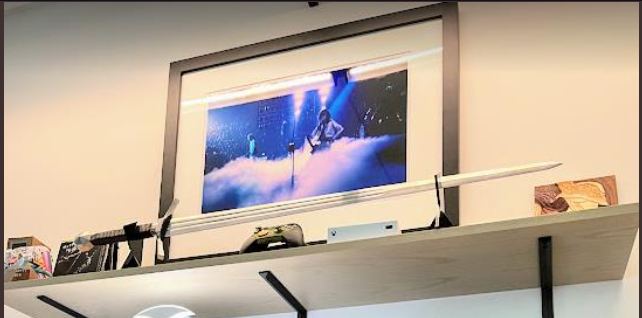 Do you see it? Right in the middle, it seems like an Xbox console. But, the controller by its side reveals something interesting. It's considerably smaller than your regular console. So, it's surely too small for discs.
That quickly led fans to comment about the hardware. Most agreed that it was a prototype for a new console.
Ayo, what the fuck pic.twitter.com/2jM0PIf4FF

— Lofty 🇬🇧 (@Lofty1177) October 10, 2022
Fan speculation was quick to come about a new Xbox console leaked
And, there's something even more interesting. The hardware model looks a lot like a leak from last year. Twitter user @PostUp_bbb posted the details below. The headline read the Xbox Stream box.
— Post Did!!! (@PostUp_bbb) July 31, 2021
According to the original post, the streaming device could plug into your TV. From it, you could stream from your home console or the Xbox Cloud. It was just a bit larger than a deck of playing cards.
Moreover, you could pair it with Xbox controllers, keyboards, and a mouse. It functioned with Wi-Fi and hardwired. Plus, it worked with streaming services, like Netflix, HBO, and Disney+.
Naturally, the post was met with skepticism and theory-crafting.
But, if you see the post's images and Spencer's picture, you'll notice it. They look incredibly similar. So, we might be looking at Xbox's latest piece of hardware. Still, we should be on the lookout for more news.
Xbox's official response to the supposed leak
Of course, Xbox's official Twitter account was quick to respond. They jokingly commented about putting old prototypes on the shelves.
Now what did we say about putting old prototypes on your shelf boss

— Xbox (@Xbox) October 10, 2022
But, this leads to an interesting development. A spokesperson talked with Digital Trends about it. And, it seems like the theories weren't too far away from the mark.
According to the statement, the device was an old Keystone prototype. They would pivot away from the current Keystone version. The goal was to refocus their efforts on Xbox Cloud Gaming.
So, it might sound like it's an abandoned project. Yet, Keystone's goal was to bring game streaming to any TV or monitor. As such, it's what many fans speculated: a streaming platform from Xbox.
Nonetheless, it seems like they've hit a roadblock. But, it's good to have the mysterious tweet solved this quickly.
Leave a comment