Ubisoft Trackmania Console Port Coming Soon
It's such a great time to be a gamer at the moment! From remakes and new titles, many wonderful new Ubisoft games are coming. Now, brace yourselves for some more exciting news! Word on the street is that Trackmania is making a grand entrance on May 4th. Yep, you heard it right! The massively popular racing game Ubisoft Trackmania console port is about to release, and we're here to give you all the juicy details.
So, what's the deal with the Ubisoft Trackmania console port? Well, for starters, it's a highly addictive and competitive racing game. Indeed, players worldwide have been vying for the top spots on the leaderboards. In fact, it's the kind of game that keeps you on the edge of your seat, with adrenaline pumping through your veins. And now, console gamers can join in on the fun too!
Now, let's talk about the game itself. Firstly, fans love Trackmania for its unique and customizable tracks. Basically, you can create your dream racecourse or challenge yourself with the pre-built ones. Moreover, the game offers a vast array of cars to choose from, each with its own set of physics and handling. So, whether you're into high-speed supercars or off-road monsters, there's something for everyone.
But wait, there's more! Another great aspect of the Ubisoft Trackmania console port is its thriving community. Essentially, players can share their creations and compete with others online. In other words, the game becomes a social experience, with racers worldwide showcasing their skills and creativity. And who doesn't love a little friendly competition, right?
Ubisoft Trackmania Console Port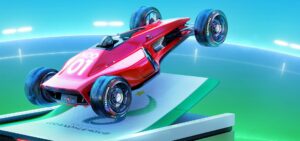 Image: Ubisoft
Now, you might be wondering about the console specifics. Currently, we don't have all the details. But, our sources tell us that the Ubisoft Trackmania console port will be available on major platforms like PlayStation and Xbox. Additionally, the game will likely support cross-platform play, allowing gamers from different systems to race against each other. Sounds fantastic, doesn't it?
Of course, we can always remember the graphics. Previously, the game was out only on PC. However, this Ubisoft Trackmania console port will undoubtedly deliver stunning visuals, as the game is known for its beautiful and diverse environments. From lush forests to desert canyons, the game's settings will transport you to different corners of the world. Furthermore, the cars are meticulously detailed, making the races more immersive.
Before we wrap up, let's address the elephant in the room: the leak. Surprisingly, it was an accidental leak from the Chinese site, Bilibili. Nevertheless, it's safe to say that the gaming community is buzzing with anticipation. After all, Ubisoft video games are pretty great! In fact, social media platforms are flooded with discussions about the Ubisoft Trackmania console port and what it might bring to the table. Hold on, because it's coming very soon!
Hi! I'm Arvyn, and I'm an English teacher from the UK. I've been teaching English online for over 4 years to students from all across the world and all ages. Outside of work, I'm a huge fan of reading, video games, and playing with my adorable kitties. See ya!
Leave a comment