The Super Nintendo World Park is a Dream Come True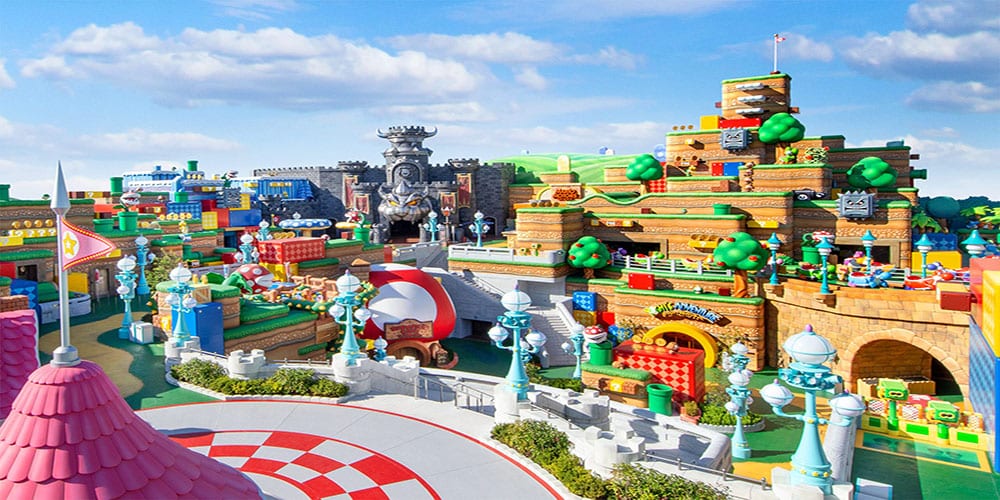 Super Nintendo World is the hottest topic in theme park fandom. If you're even remotely interested in Mario, Donkey Kong, and other classic characters, then this is for you. The project underway at Universal Studios Japan is finally ready for visitors. As theme park bloggers began exploring the land this week, fans like myself couldn't believe what they saw. From great rides to themed shops and environments, the park looks wonderful. Best of all, similar versions are coming to Universal Studios Hollywood and Universal Studios Orlando. The new Super Nintendo World park is a triumph of gaming, theme parks, and pop culture. Here's what you should know about the new attraction.
The History of the Super Nintendo World Park
Back in 2015, things weren't going well for Nintendo. If you've read my history of the Wii U article, then you'll know what era we're dealing with here. In order to address some revenue losses, Nintendo began exploring new ventures. Overall, the most enticing for the company and fans included a partnership with Universal Parks & Resorts. A licensing deal emerged and Mario and other popular Nintendo franchises suddenly became theme park features.
Much like the move to create a Harry Potter world, Universal viewed the deal as a promising venture. Nintendo, on the other hand, would get their characters more exposure and a hefty chunk of change for it. The deal resulted in a ¥40 billion ($351 million U.S.) collaborative agreement to create versions of the park in Osaka at Universal Studios Japan as well as Orlando and Hollywood in the U.S. Construction started way back in 2017, which goes to show just how ambitious this project is. The plan for a reveal and opening happened to fall right around the start of the 2020 Summer Olympics. The COVID-19 pandemic, however, delayed the Olympics, the park opening, and final construction projects to wrap up work on the park.
On December 26, 2020, annual passholders in Osaka received the chance to check the park out. Limited previews could not share photos or videos of the park until this week. Universal Japan planned the park to open on February 4, 2021, but COVID-19 resurgences pushed this back. That's a good call; many theme park diehards anticipate the Super Nintendo World park to be wildly busy for years to come. For now, we at least can see a bit of the park thanks to an embargo lifting this week.
Major Attractions – Rides and Power-Up Bands
The three main draws of the park in terms of attractions include two rides and an interactive park-spanning activity. These attractions, as well as a number of great walkthrough videos, can be found on Universal Park News Today's YouTube Channel.
Firstly, Mario Kart: Koopa's Challenge is what we've dreamt of for decades. You get to take on an augmented reality Mario Kart race. With AR goggles, Mario and other racers join you on the racetrack. The ride is considered a dark ride, meaning it takes place indoors and features a number of real statues and objects as well. The ridethrough also shows off an incredible queue display that keeps fans entertained as they wait to ride.
The second major attraction is Yoshi's Adventure, an omnimover ride that guides fans through some incredible sets. Omnimover rides, much like Disneyland's The Haunted Mansion, are not meant to be fast or thrilling. They instead take you through setpieces that you can enjoy and explore from a moving ride vehicle. The ridethrough for this attraction is equally beautiful, with outdoor spaces filled with Yoshi and many other Mushroom Kingdom favorites from the mainline Super Mario series.
Lastly, the park-wide interactive Power-Up Band Key Challenge is an app-based adventure you do as you move around the park. Around Super Nintendo World, you scan your band at different areas like a treasure hunt to defeat Bowser Jr. The Band is sold separately for those who want to try this challenge.
Super Nintendo World Park Merch and Food
No theme park experience is complete without adequate dining and shopping areas. The new Universal Japan land features a number of great places to eat themed around Nintendo. Kinopio's Cafe seems to be the largest draw for hungry visitors. In the Universal Park News Today preview video for the park, there seem to be a fair amount of options for everyone. Even some more traditionally non-Japanese foods exist on the menu. Overall, the experience of dining at a theme park is more about the theming than the park. The fun spins on the food items and the entire eating area as a whole look incredible.
There's plenty of space to shop as well. A ton of great in-park merch is available for visitors to commemorate their trip and fandom. Like Disney parks, you can even meet some of the popular Mario characters outside the dining and shopping areas around the park. So far, we've seen meet-and-greet experiences for Mario, Luigi, Princess Peach, and Toad. Side note, Toad looks adorable round in his walkaround form. Be still, our hearts.
A Rival to Star Wars Galaxy's Edge?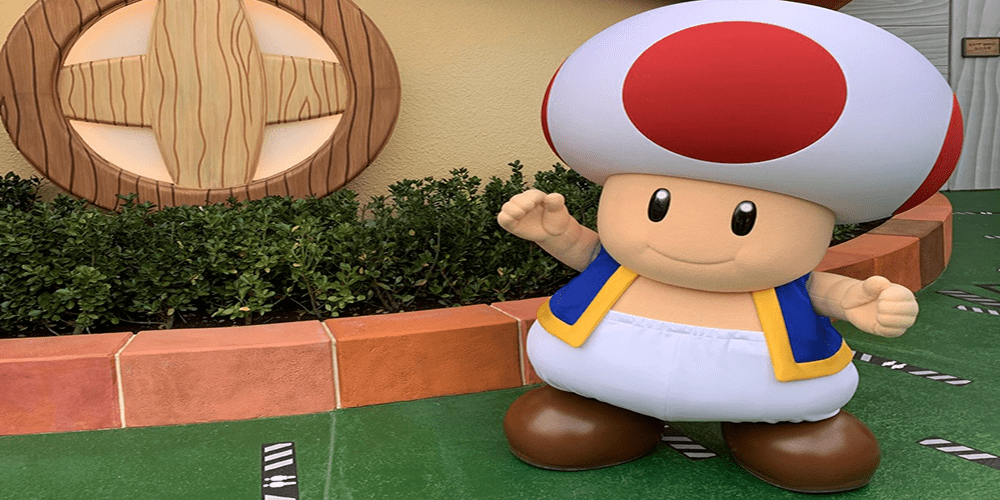 Image Credit: Universal Studios and Parks/Nintendo
When I wrote my Star Wars: Galaxy's Edge review a few years ago, the park only featured one ride. That alone, mixed with an incredible outlay for Batuu kept me entertained thoroughly. I haven't had the chance to head back for my annual trip to Disneyland this year (thanks, COVID) but I'm sure it's only improved. That said, the Super Nintendo World park looks to be real competition for the Disney experience. In Japan, Disney Sea is considered to be the best Disney park created to date. This new addition to Universal Japan, which is relatively far from Disney Sea, might be enough to convince people to spend a day away from the Mouse and explore Mario's kingdom.
I don't know if I'll ever have the chance to get to Japan to see this park, but luckily, the Hollywood and Orlando versions are nearing completion. For a diehard Nintendo fan like myself, a trip to experience this seems almost inevitable. If you have any takeaways from all the footage of Super Nintendo World released this week, then let us know in the comments!
Featured Image Credit: Universal Studios and Parks/Nintendo
Taylor is the Gaming Editor of Comic Years and a lifelong fan of video games. He holds two degrees in Political Communication and wrote a Master's Thesis on resistance movements, race, and the exploitation of college athletes. His wife and two Toy Australian Sheppards keep him sane.
Leave a comment