The Simpsons Video Games – Five All-Time Favorites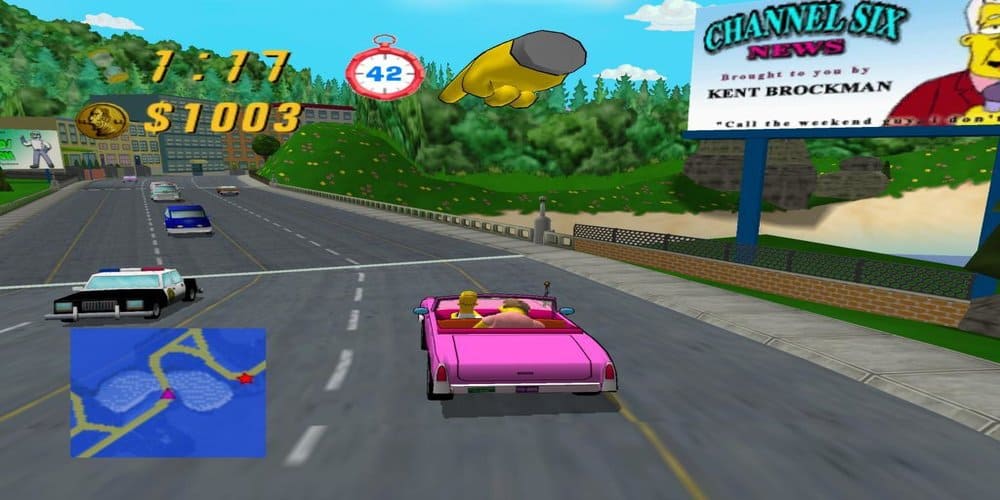 A lot of Disney+ subscribers are enjoying a trip down memory lane. More specifically, a trip down Evergreen Terrace and the complete archive of every Simpsons episode of its first 30 seasons. The Simpsons helped catapult adult animation into the mainstream, making room for others like Family Guy, South Park, and Bob's Burgers. In the 1990s and 2000s, everything from candy bars to graphic tees donned the Simpsons name. A huge part of the show's external marketing was making some pretty great games. Here's our list of the top five all-time The Simpsons video games.
The Simpsons Video Games
– Counting Down the All-Time Top Five
There are so many classic The Simpsons video games ranging from home consoles to classic arcade adventures. We can't go over every single classic, but we can break down the top five favorites we still play to this day. Let's get to it!
#5 –
The Simpsons
(1991) – Arcade Cabinet: The Start of The Simpsons Video Games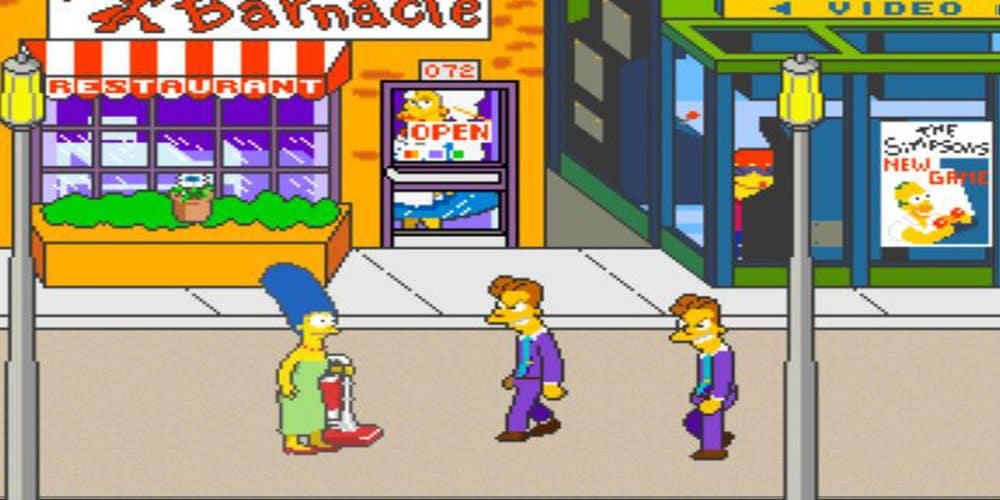 Image Credit: 20th Century Fox
The Simpsons (1991) debuted as a side-scrolling fighting game for 2-4 players. The arcade was still alive and well during this time, as was Simpsons fever across the United States. Each character has a key weapon: Marge gets a vacuum cleaner; Homer punches and kicks; Bart uses his skateboard; and Lisa strikes with a jump rope. When playing with a friend, you can combine for joint attacks, like Homer using Bart as a literal weapon. By collecting objects to throw, each character uses their weapon and other things found on the map to run through enemies. Like the popular Teenage Mutant Ninja Turtles arcade game, each enemy killed is a single point for your total score. 
Once the game made a name for itself in the arcades, ports for the Commodore 64 and MS-DOS followed. The game later arrived for PS Network and Xbox Live Arcade in 2012, without any love for the title having faded over the years. Popular YouTube account GameTrailers named this the greatest cartoon arcade game of all time. To this day, it's a favorite among collectors and retro gaming enthusiasts.
#4 –
The Simpsons: Bart vs. the Space Mutants
(1991) – NES
It's a little misleading to call this an NES game. The Simpsons: Bart vs. the Space Mutants actually arrived to a slew of consoles: NES, Amiga, Amstrad CPC, Atari ST, Commodore 64, ZX Spectrum, Sega Genesis, Sega Master System, and Game Gear. Why might you ask? Because it's that much fun. The Simpsons: Bart vs. the Space Mutants follows Bart on a 2D side-scrolling adventure. The Simpsons boy finds plans of an alien invasion with some X-Ray glasses he buys. His job is to collect all the items they need for their weaponry before they do. Bart has to convince his family and community members of the alien plan, all the while beating human-disguised invaders away. 
Simply put, the game is hard as hell. I mean, it's one of the more challenging NES games out there, and even on consoles like the Genesis, it's not any easier. Sort of like the South Park games from the last few years, The Simpsons: Bart vs. the Space Mutants is a dream come true for mega fans. There are tons of references to pick up on, and a lot of fun to be had exploring Springfield. Some call this their favorite The Simpsons video game, but it's just too difficult to be enjoyable. At least for someone like me who wants to have fun, and not stress and scream at my TV. 
#3 –
The Simpsons: Tapped Out
(2012) – iOS and Android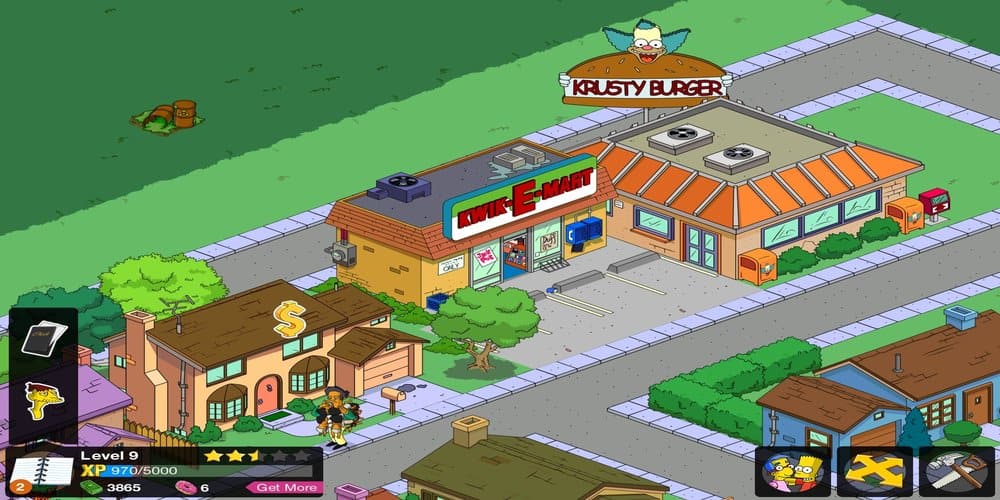 Image Credit: 20th Century Fox and EA
Around the start of the 2010s, every IP imaginable started putting out mobile games. No freemium game stole away more of my free time than The Simpsons: Tapped Out. After debuting in 2012, the game saw so many downloads that EA, the publisher, had to pull it off stores to restructure the game's code. So many people wanted to play the game for one reason: creating their own Springfield. The game allows you to create an entire city full of things like the Kwik-E-Mart and Lard Lad Donuts statue. Just like other The Simpsons video games, mega fans can find so many little details to love in this game.
You get a certain amount of points for completing in-game tasks. Points can also be purchased with "donuts," which a player acquires with real money. Different levels unlock new features for your city, a la any popular city builder game. Things like Krustyland and Treehouse of Horror items get added regularly, and the game is still going strong today. 
#2 –
The Simpsons: Road Rage
(2001) – PS2, Xbox, GameCube
The Simpsons: Road Rage follows the Crazy Taxi method of an open city where the player picks up fairs for cash. Instead of strange places and people, you get to drive around Springfield! Mr. Burns develops radioactive busses that are too dangerous to ride, so it's up to you to pick up characters and transport them around town. A ton of characters are playable, including Homer and the normal gang, as well as more obscure options like Snake and Smithers. The game's concept was so close to the premise of Crazy Taxi that after the game took off, SEGA sued Electronic Arts in a case which was settled out of court. 
The game's charm isn't the mechanics or graphics. The game is rough around the edges, but provides a full experience of driving around Springfield. To super fans of the show, that's enough to make it a must-own. Plus, Crazy Taxi is a really fun time, and only accentuated by The Simpsons IP. I love the little phrases all characters use in their driving, and there's a ton to unlock as you move through the game.
#1 of the Best Video Games-
The Simpsons: Hit and Run
(2003) – PS2, Xbox, GameCube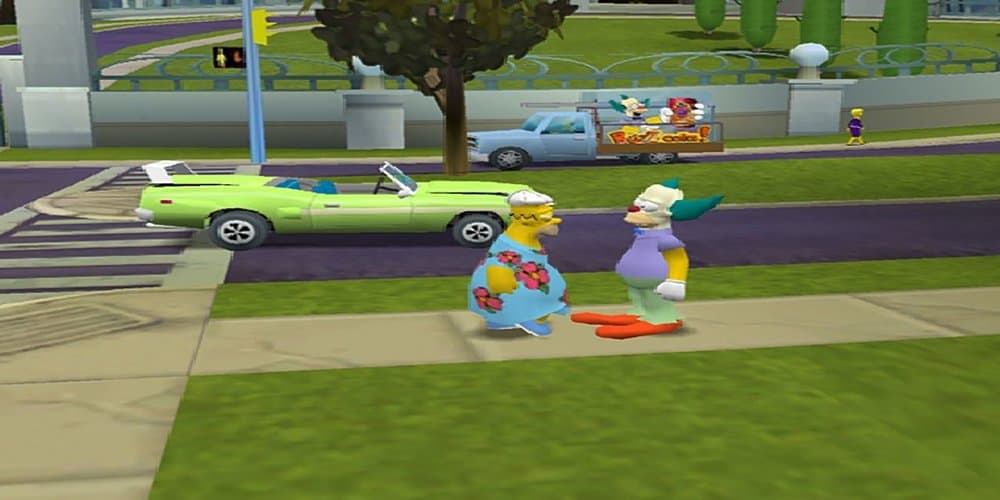 Image Credit: 20th Century Fox
Was there any doubt as to what would be first? Just like Road Rage copied the premise of Crazy Taxi, Hit and Run copies the premise of Grand Theft Auto. With different levels and a plot overarching smaller stories, the game is a really fun time. You move on foot as either Homer, Bart, Lisa, Marge, or Apu, and can also drive. If you want to hitch a ride, then you can call a character to come to pick you up. There are a lot of hidden items and fun things to discover in your exploration of the map.
The third-person view and sandbox-style map make the game feel somewhat limitless. Hit and Run is the closest thing we have to an open-world The Simpsons video game. It's a ton of fun to this day. Overall, it's an easy choice to top the list of our all-time favorites. 
Want to See More All-Time Favorites Countdowns?
We like to reflect on favorites of the past here at Comic Years. Whether it's The Simpsons or the best zombie video games of all time, we're all about nostalgia for great games. If you have a countdown you want to see from us, then let us know in the comments! Thanks for reading Comic Years for all things gaming, comics, and pop culture. Comment down below!
Featured Image Credit: 20th Century Fox
Taylor is the Gaming Editor of Comic Years and a lifelong fan of video games. He holds two degrees in Political Communication and wrote a Master's Thesis on resistance movements, race, and the exploitation of college athletes. His wife and two Toy Australian Sheppards keep him sane.
Leave a comment