The History of Call of Duty – The First Game in an Iconic Series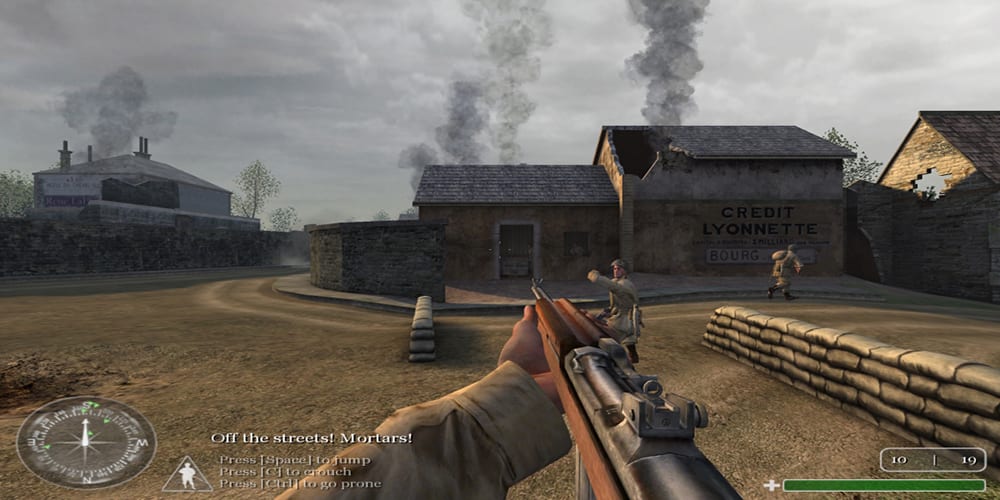 Call of Duty is one of the most impactful franchises in gaming's history. All first-person shooters owe something to this series. If you don't like the games now, then there's a good chance it's a popularity issue. Other than minor flaws, these games are year-in, year-out wonderful experiences. The campaign mode plays like a Michael Bay film. The multiplayer action is the series' bright spot. Overall, the game is a wonderful story of something good growing into something monumental. Even this newest addition to the game's offerings, Warzone, took the world by storm. It's a wonderful series that I think gets more flack than credit. To remember it all correctly, let's take a look at the history of Call of Duty, starting with the first game in the franchise.
Call of Duty History – Development of the First Game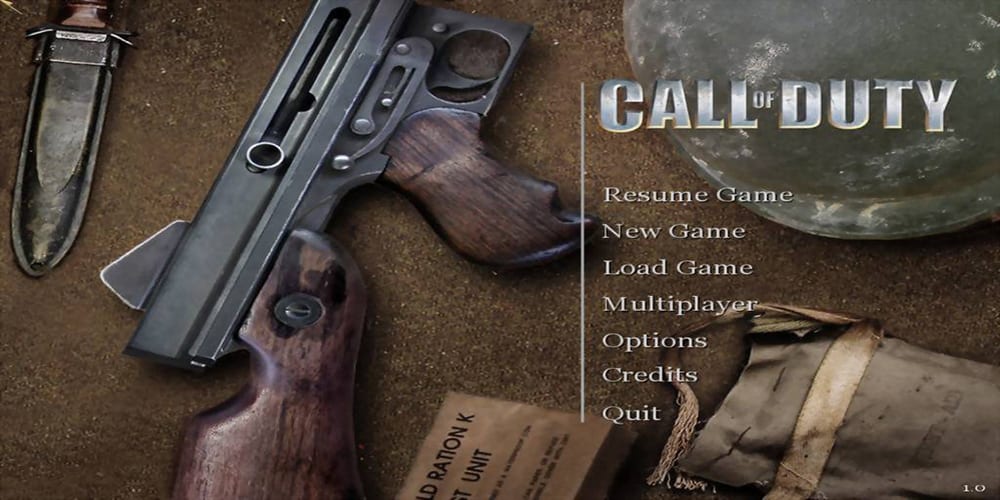 Image Credit: Activision
In 1999, the Medal of Honor series gave us a new look at historic first-person shooters. The games in that series are wonderful, but 2003's Call of Duty felt like something different. Instead of focusing on a single perspective of war, this new game from publisher Activision gave us three unique views. Players would see things from the Soviet, British, and American theaters of war. Focusing its efforts on World War II, the game rewrote what historical shooters could be. It all started in 2002 with a brand new studio and a team of 21 gaming professionals.
In 2002, Infinity Ward became a new studio formed from many leaders of the Medal of Honor game released that year. Within a year, the team grew from 21 to 27, still wildly smaller than today's team at Infinity Ward. The Quake III Arena engine, id Tech 3, would become the basis for an in-house animation system called "Ares." The goal of the game and this new technology was to emphasize two things: squad-based play and realistic depictions and representation of WWII weapons, vehicles, and sounds. Infinity Ward would also utilize AI pathfinding for the use of squad members moving around the battlefield effectively. It's the same technology that helps AI today find their way around barriers, blockades, and enemy lines.
The departure from scripted movements for the AI helped diversify what the game was every time you played it. Because the game would release for Microsoft Windows, there was also careful preparation made to allow mods in the game. The goal would not be to limit community interaction, but rather encourage it through an easy application of in-game mods.
New Gameplay Features that Defined a Genre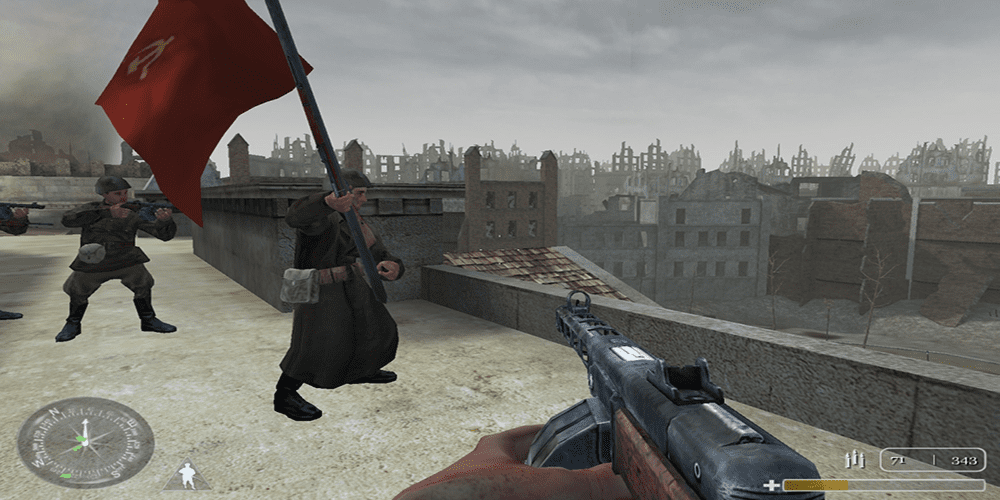 Image Credit: Activision
First-person shooters aren't something Call of Duty invented. Rather, the smaller details are what made this game great. Firstly, the UI for the player was very well organized. Something evident throughout the history of Call of Duty is the easy-to-follow objectives and map. With two weapon slots on top of a handgun slot, players controlled how they wanted to take on each mission. Unlike later games, you had to actually choose if you wanted to take a single shot or turn on automatic firing.
Shooting was made easier thanks to one of the first uses of in-game iron sights. If you aimed down with your weapon, you had a better aim. Nowadays, it's impossible to think of this feature as not being a part of first-person shooters. Overall, it's the minute details like this that made a huge difference. With a standard health bar and medkits scattered around the map, it was fairly easy to stay alive. One of the added challenges was the adoption of in-game "shellshock." This is the process of an in-game explosion giving you tinnitus and blurred vision for a brief time. It's a staple of many FPS games now.
Another major change for the genre was the idea of playing with your squad. Guiding your AI soldiers was very different from the "go it alone" style of other historical shooters. Using cover, flanking, and auxiliary attacks also helped diversity the gameplay experience.
Sales of the First Call of Duty Game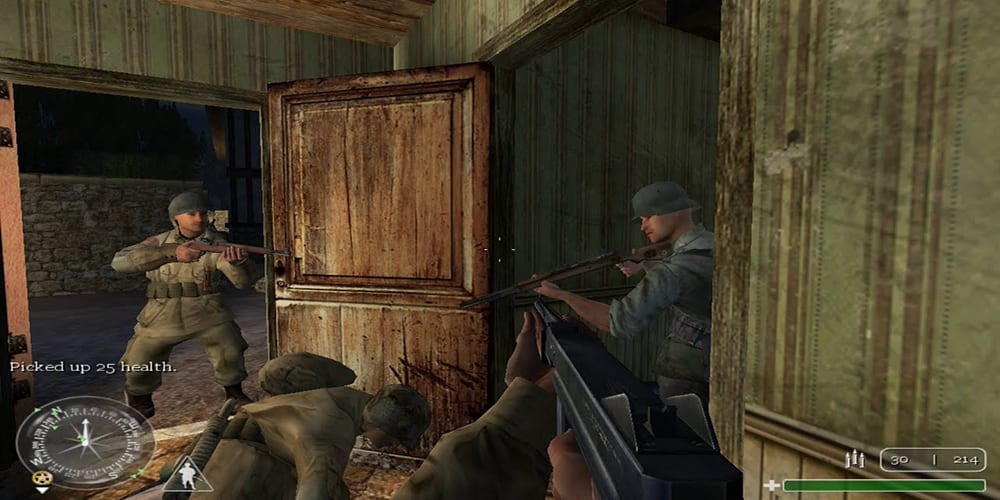 Image Credit: Activision
In the year it released, the first Call of Duty game was the 8th top game for PC. In the United States, the game sold just under 800,000 copies and made almost $30 million in its first three years. Between 2000-2006, the game is the 13th best-selling game for PC. The game sold well in the U.K. as well. By the end of 2013, the game sold over 4.5 million copies worldwide. In the days of the Xbox 360 and PS3, a port of the game arrived in HD. The game served as an add-on bonus for Call of Duty: Modern Warfare 2 and released in 2009. Many didn't feel that the game worked too well in HD, especially given the dated feel of the gameplay.
A Legacy Worth Remembering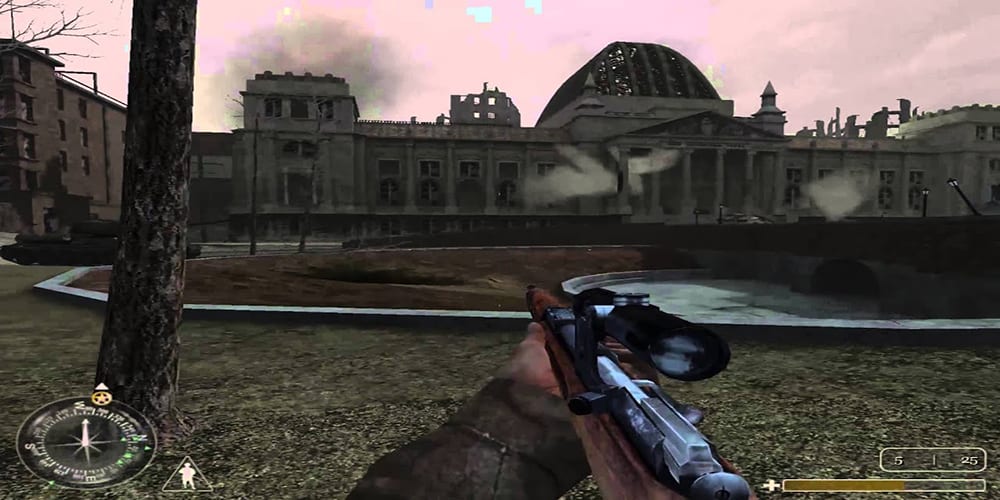 Image Credit: Activision
My first true Call of Duty experience in the series' illustrious history was Call of Duty 2. That game felt iconic to me at the time and still does. It borrowed many of the game-changing features introduced in this first title. In short, Call of Duty is a series about innovation. The new Warzone experience took battle royale and improved it just like the original game improved historical shooters. It's insane to think that we're nearing the 20th anniversary of this game. As we look ahead later this year to Black Ops: Cold War, it's important to remember where the series got its start.
Did you enjoy learning a bit about the history of Call of Duty? We have a piece on the history of Call of Duty 2 up for you to check out as well. Additionally, drop some memories of this iconic series in the comments. Thanks for reading Comic Years for all things gaming, comics, and pop culture.
Featured Image Credit: Activision
Taylor is the Gaming Editor of Comic Years and a lifelong fan of video games. He holds two degrees in Political Communication and wrote a Master's Thesis on resistance movements, race, and the exploitation of college athletes. His wife and two Toy Australian Sheppards keep him sane.
Leave a comment